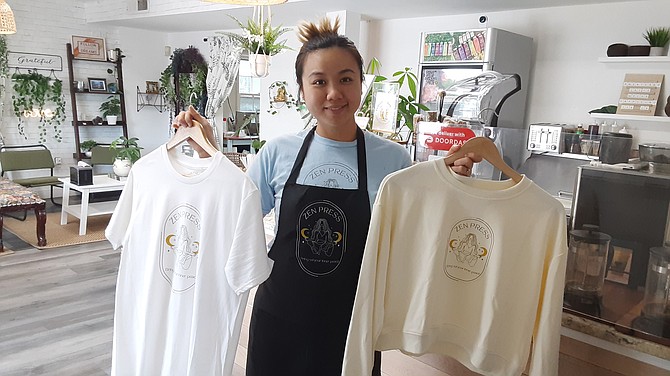 The "Zen," at the Zen Press Juice Bar in Mount Vernon might be the mood crystals, the resident house dog named Cocoa, the Schnikerz Bar, or the logo which is "Bring out your inner peace." All of these elements, combined with the energy from owners Joann Wong and Nakornsri Sintaisong, are the magic behind this newcomer located along Richmond Highway just south of Little Hunting Creek.
Chaiya Ortiz has been in twice but already has a favorite drink, the Dirty Tumeric Tea Latte. She likes the taste, but also the uniqueness. "You don't see that anywhere," she said. Tumeric? From the spice rack?
"Tumeric is really good for you," said Wong. They've got it in a couple of drinks on the menu, and it's been known to help the skin, arthritis and digestion.
The next customer in the door was a regular too, and made it a point to say hi to Cocoa before ordering. 
"Everybody knows him," she said, before ordering a purple frozen drink called the Pitaya Smoothie.
It all sounds pretty exotic and that seems to be the formula that works in this part of Mount Vernon. Wong brought her experience in another juice shop in Washington, D.C. and signed the lease on this location last October. She and Sintaisong put their energy 
into it and opened the doors on Feb. 22, 2022 which was 2/22/22. They did that on purpose because they are two women that pulled it all together. Wong admitted a good part of the energy came from her business partner. "She is more spiritual," Wong said.
On the menu there are dishes like the Guilt Free Egg Sandwich, Zen Rolls, Pad Thai, and the Strawberry Dream, to name a few. The drink menu features cold-pressed juices, shots and detox programs. In addition to the juices, they have coffee, espresso drinks, beet latte, turmeric lattes, and matcha which can be made with regular milk, oat milk or almond milk and teas.
A friend named "becca," with a small b, came in one day, suggested some desserts and now fills the dessert display with her homemade treats. She has a bakery called the Sunfluor Bakery. One of her creations is the Schnikerz Bar, which is a play on the other Snickers bar in the candy aisle of the local 7-11. "It's a lot better tasting, you feel less guilty about it," said Wong.
If you go…
Zen Press Juice Bar & Café
8120 Richmond Highway
(703) 852-3929
www.zenpressjuice.com/