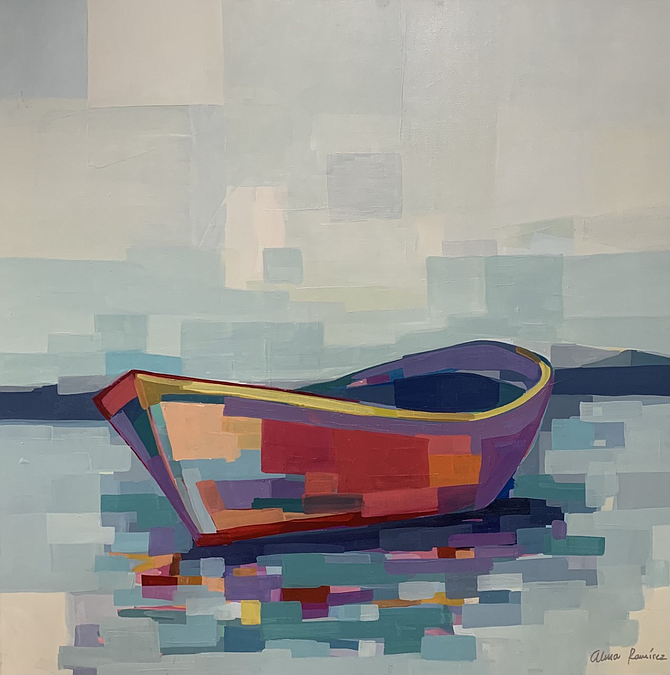 Boardwalks, crashing waves and the smell of Coppertone all scream beach vacation for some, but the artists with the Nepenthe Gallery in Hollin Hall had other ideas with their "BEACH," exhibit featuring both beach and summer-themed works of art.
There's an idle fishing boat done in the style of cubism, an early 20th-century style made of simple geometric shapes, and interlocking planes. Then there is the St. Frank Surf Board, a collaboration with Jim Garland flashing the Hawaiian hand sign they call "shaka," which means everything is alright  in the islands. Other meanings of this sign, with the pinkie and thumb extended, can be interpreted as "Hang loose," "Right on," "Thank you," "Things are great," "Take it easy," and that's part of the feeling behind the BEACH exhibit.
"These artists capture the essence of BEACH in various different ways — images of waves and water are at once powerful and peaceful; scenes along the water conjure up memories many of us have of vacations with family and friends; marine life is somehow romantic for most people and feels playful and carefree," said Carrie Garland, gallery owner, "Often times the bright colors used when painting near the sea and beaches are fun and lively," she added.
Other themes are beach balls, plastic beach pails and oyster shells. Artists include Judy Heiser, Ann Sklar, Susie Webster, Susanne Fyffe, Flying Edna, Jennifer Lian, Leslie Hatton, and Florida artist Alma Ramirez. 
The grand opening for Nepenthe's special exhibit will be held on Thursday, May 26th from 6 to 7:30 p.m. at the gallery in the Mount Vernon area of Alexandria.
Nepenthe Gallery
7918 Fort Hunt Road, Alexandria.
www.nepenthegallery.com