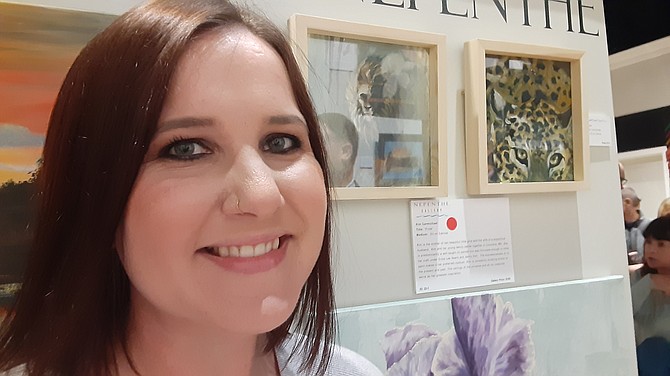 Mount Vernon art lovers flocked to the second floor in Hollin Hall recently for the grand opening of the Nepenthe Gallery that features artwork by 38 artists who specialize in everything from watercolors, oils, sculptures and glasswork.
Of the 38 artists, 6-8 of them are from the immediate area and gallery owner Carrie Garland noted the talent that lives in Mount Vernon. "The turnout shows us there's lots of art enthusiasts here," she said, pointing out that it will be a place to take arts classes as well as a gallery. 
Judy Heiser was one of the local artists that lives around the corner and teaches art at the Torpedo Factory. She had four abstract paintings on display, including one called "Unstructured," and another called "Roads to Everywhere," that she described as "almost kind of a city but it's not there, it's a wild ride," she said. The Unstructured painting was her impression of water, sunlight and environment. "I just let it go, it becomes more of a mood," she said.
Around the corner, Kim Carmichael painted a lion, which was named "Pride," and a jaguar she called "Alone." She's loves animals and recognizes the danger facing some species. "It breaks my heart, they're a beauty that should be kept alive," she said. It was her first gallery display. "It's so exciting, I'm nervous now," she said.
Garland put it all together this winter keeping in touch with artists she's known through the years, or they are friends of friends. 
Sonia Gadra came from Frederick, Maryland. Gadra is a "copiest" at the National Gallery in Washington, D.C. She displayed her version of a Van Gogh called "Green Wheat Fields." When she does copies, she gets involved with the history of the painter. "It's difficult to decipher what they had in mind," Gadra said.
Garland's children came in from New York to experience the opening. They saw their mother's determination over the past few weeks. "I knew it was going to be packed, both of our parents are go-getters" said Ellie Garland who was perusing the room with her brother Benjamin, a musician.
Nepenthe Gallery
7918 Fort Hunt Road
Alexandria, Virginia 22308
(703) 314-5399
Hours: Tuesday-Saturday, 11am - 6 pm