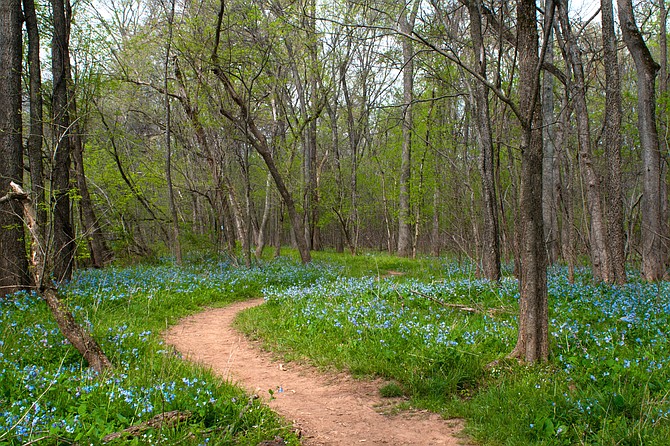 New research into the health benefits of being in nature prompted the Wall Street Journal reporter Betsy Morris to do a story titled, "For Better Health During the Pandemic, Is Two hours Outdoors the New 10,000 Steps?"
As good as getting your steps in, where you exercise also counts. Spending time in forests can lower cortisol levels, reduce anxiety, lower blood pressure, and increase cognitive functions.
In one study out of Stanford University, two groups took 45-minute walks. One group walked in a natural environment, and the second walked on a tree-lined thoroughfare in the city. According to Professor of Environmental Science Gretchen Daily, those that walked in the more natural environment scored better on mood, creativity, and memory than the city walkers.
In a study published in Nature's Scientific Report in 2019 with 20,000 participants, those that spent two hours a week in nature reported better health and well-being.
An easy way to find some near-by nature is to look on Google maps, locate a park near you, and see if it has a trail through the woods. If you would like a more in-depth nature experience, here are two suggestions:
Bull Run/Occoquan Trail – this 18-mile trail starts at Bull Run Regional Park and ends at Fountainhead Park. It is one of the great treasures of Northern Virginia. Bull Run Marina and the end of Yates Ford Road by Hemlock Park are also entry points to this trail. This hike is beautiful, paralleling the Bull Run and Occoquan Rivers.
Ira Gabrielson Trail – Starting at Algonkian Regional Park and going 12 miles to Riverbend Park, this beautiful wooded trail parallels the Potomac River.
With many of us feeling stressed and having cabin fever, this spring is the perfect time to take some water and snacks and explore one of the great nature trails of Northern Virginia. The physical and mental benefits of such a hike will be beneficial for days. And you will have new experiences to share with others.
Long before science connected health with time in nature, some intuitively knew that time in nature was vital. Ira Gabrielson, the founding Director of the US Fish and Wildlife Service, hiked most of the Potomac shoreline and published books on the area's flora and fauna. In 1959 he helped found the Northern Virginia Regional Park Authority (NOVA Parks), the original conservation organization of our area.
Under Gabrielson's leadership as Chairman, NOVA Parks acquired significant areas along the Potomac, Bull Run, and Occoquan Rivers (and reservoir).
As you improve your health this spring with a renewing hike in the woods, remember the conservation leaders like Ira Gabrielson that made that hike possible.