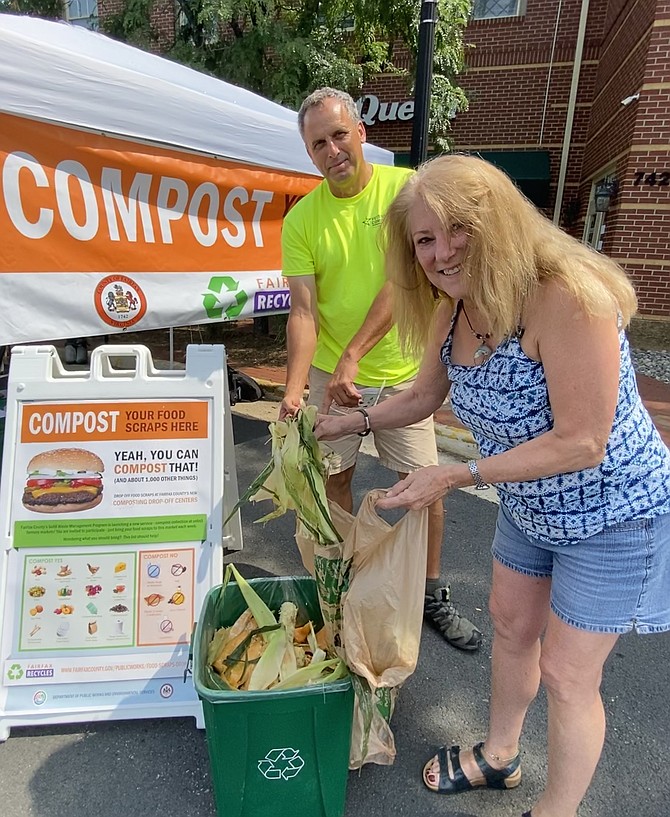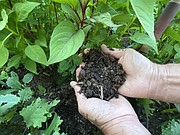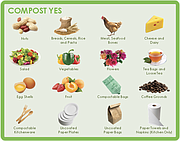 Fairfax County residents have another option for managing organic wastes such as fruit and vegetable peels, food left on dinner plates, coffee grounds, and even paper towels and napkins. Rather than grinding some of these in a garbage disposal and sending the particles to wastewater systems or tossing them in the trash where they end up as a significant contributor in landfills, people can re-purpose food waste. Instead, they can help create what some consider a magic soil amendment, compost. Composting is one method to reduce methane, a potent greenhouse gas emission generated from organic waste in landfills.
Fairfax County Park Authority is one month into hosting composting pilot programs at four of its Farmers Markets. The pilot locations are the Wednesday Mount Vernon Market at 2501 Sherwood Hall Lane, Alexandria; the Thursday Herndon Market at 765 Lynn Street Herndon; the Saturday Burke Market at 5671 Roberts Parkway, Burke; and the Sunday Mosaic District Farmers Market, operated by FRESHFARM at 2910 District Ave., Fairfax.
"An estimated 25-30 percent of the food we buy is wasted," said Sharon North, Fairfax County Department Public Works and Environmental Services. "While there are many strategies to reduce uneaten food, composting is the best solution for sustainably managing wasted food. Food scraps, when properly composted, provide an excellent soil amendment. Composted organic waste can be used as a natural fertilizer, putting nutrients back into the soil."
THE CONCEPT for the novel program came about during discussion at the July 21, 2020, Fairfax County Board of Supervisors Environmental Committee Meeting. At the time, Mount Vernon District Supervisor Dan Storck discussed many environmental initiatives, including expanding county staff's work to recycle and reuse compost.
"It's clear as a community, as a society, as a world that we have to move our environmental efforts along. In fact, it's critical that we accelerate our environmental efforts. In spite of and maybe even because of COVID-19, we are learning a lot of lessons about what pandemics are, what worldwide events can do to us as a planet, the harm that they can create, the death toll that they can wreak," said Storck during the Committee Meeting. "I'm here to say to you that what we're likely to face with respect to global warming and climate change will be ten times worse over the next couple of decades. So, this isn't just a nice thing to do. This isn't just a want to do. It is a must-do."
The discussion ultimately led the Board to the pilot program. "In November 2020, the Fairfax County Department of Public Works and Environmental Services, Solid Waste Management Program (SWMP) launched a pilot program for residents to collect food scraps at the I-66 Transfer Station and the I-95 Landfill Complex," said North. The two permanent sites accept food waste seven days a week.
SUMMER OF 2021, SWMP expanded the food scrap compost program to include farmers markets. It coordinated with Fairfax County Park Authority to identify host markets that would be good candidates. They also cited one program at the year-round market run by FreshFarm in Fairfax. North said adding the market locations provided another option for Fairfax County residents who wanted to compost food waste, particularly if they had meat, dairy, and other items that do not do well in a backyard composting system.
"Food scraps collected through the pilot program are taken to commercial facilities that manage them in a more industrial process…They also can accept compostable take-out containers, plates, cups, and utensils," North said.
At the Thursday Herndon Farmers Market, Fritz Gottschalk of Veteran Compost welcomed market shoppers to his table. "We come here to talk to folks who come to the market. We pick up their food scraps from their homes and run them through our composting process. We use the compost on the farm or feed it to the worms and distribute it back to our residential customers," Gottschalk said.
Asked what can go in the compost bin, Gottschalk said if the food is on your plate and that includes meats and grains, put it in the bin. Other items include coffee grounds, paper towels, napkins, the cardboard part of the toilet paper roll, and compostable food containers, flatware, plates, and cups. No cooking grease, though, no paper towels from the garage or bathroom, tissues, or pet waste.
According to Gottschalk, the farm is at Woodlawn Estate in Alexandria, where Arcadia Center for Sustainable Food & Agriculture is located. Arcadia is a nonprofit organization dedicated to creating a more equitable and sustainable local food system through four programs. One is its Veteran Farmer Program that trains military veterans for new careers in agriculture. http://arcadiafood.org/programs/veteran-farmer-program
Gottschalk said the majority of Veteran Compost employees are veterans. "We work with them to get a job making compost, making something out of nothing," Gottschalk said. The stated goal of Veteran Compost is "To fuel our growth with people and material that others pass over."
John Dudzinsky, Farmers Market Manager at the Herndon site, said that Veteran Compost provided a good opportunity for homeowners to dispose of their food waste. The company and the program fit in well and helped with environmental sustainability. "Our Farmers Market welcomes the veteran-owned composting business," said Dudzinsky.