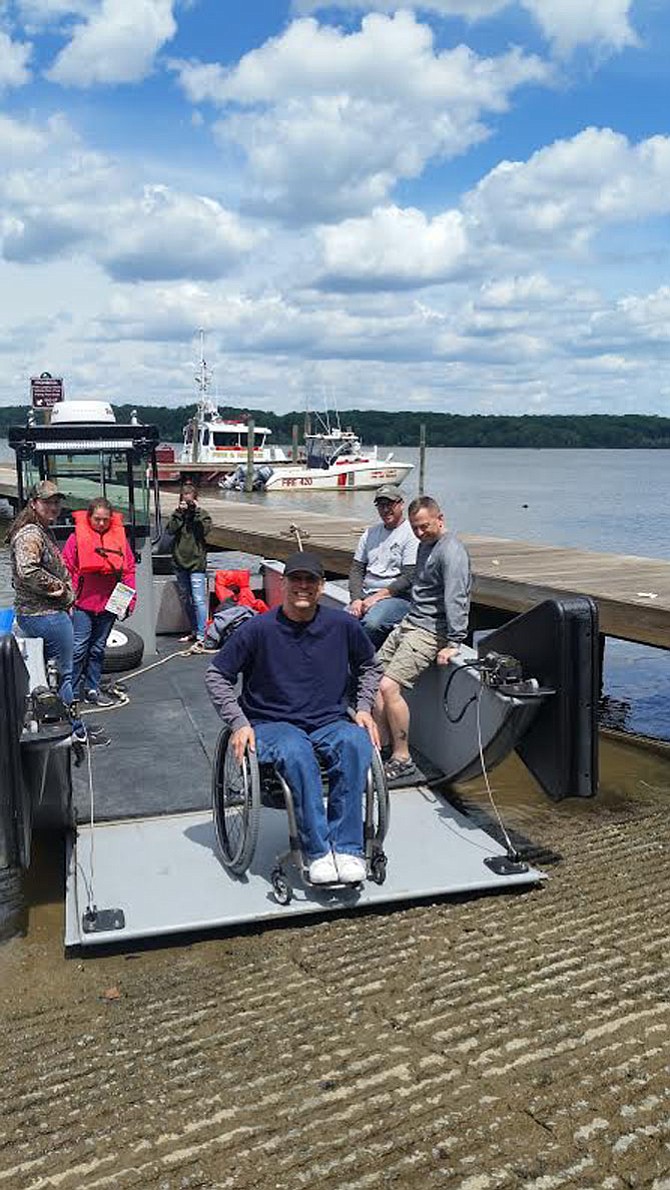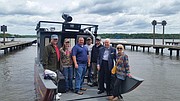 One of the first lessons in the military is to leave no man behind. It's a value and a priority that stays with service members long after they leave the military. In this spirit of "taking care of your own," U.S. Marine Corps veteran Ed Moore of Alexandria started Veterans Fishing Adventure — a local non-profit organization that provides free fishing and boating trips for veterans and their families, concentrating in hosting veterans with mobility issues.
"In the military, especially the Marine Corps, everyone becomes part of your extended family," Moore said. "And, if you see anyone in your family who needs help, you do it without question, without wanting anything in return."
The idea for Veterans Fishing Adventure came to Moore and his 15-year-old daughter, Hailey, as they were watching a television show about fishing — which does happen to be a frequent family bonding activity for the Moore family.

"We were watching a television show together earlier this year about two double amputees fishing," Moore said. "Hailey noticed that these two guys, who were two Marines, were sitting pretty far away from the pond. She said, 'Dad, that's not fishing. How can we get them on our boat to go fishing?'"
In a matter of months, the Moores are well on their way to annually providing hundreds of veterans with free boat rides — to include fishing on the Potomac and Chesapeake Rivers. The completely volunteer-run non-profit organization's first boat ride was on May 6.
There will be no "off season" for these free boat rides, either, which Moore predicts will consistently provide special moments of tranquility for all aboard.
"Water is very calming," Moore said. "Way back when I was in the Marine Corps, I was on ships in Japan and Korea. It was just a neat thing to be out on the ocean. All your problems seem small when you're near the water. When you walk near the water, you get a sense of being free. You don't think about the tough stuff. You smile and think about how beautiful it is."
Hailey Moore has seen many of those smiles firsthand in the months since Veterans Fishing Adventure started.
"It's been really cool to see the facial expressions of people when they are getting on the ramp to come up to the boat," Hailey said. "Their faces just light up. There is something calming and reassuring about being on the water. You see sighs of relief."
Moore explained that the boat they're currently using is a borrowed one, and it's unique in that it allows for wheelchair access. They'll use this boat to provide complimentary rides while they await and assist in the building of the vessel they plan to use permanently.

Once completed, the Veterans Fishing Adventure vessel will have just about every feature imaginable to make for a comfortable ride for veterans of all ages and capabilities.
"At the beginning of this year, our idea was just a thought," Ed Moore said. "We put it on paper, and next thing you know, the major manufacturer, Battle Boats, had signed on to hand build a new boat for us. It's now about four weeks away from being finished. It's a very technical craft so the whole front of boat folds down on the shore, allowing guys in wheelchairs easy access. This boat is so advanced compared to anything that's out there. No one in the United States has anything like this."
The new boat will adhere to all guidelines set forth by the American Disabilities Act (ADA). It will have no propeller, so that, in the unlikely event that someone falls off, there is minimized risk of injury. Additionally, it will also have indoor heating and cooling so that Veterans Fishing Adventure can offer rides year-round.
The boat, which will have a Corvette motor, will fit eight to 10 passengers. It will also have a jet propulsion system so that the captain will be able to access all tributaries during the fishing expeditions, without fear of getting stuck.
After communicating with multiple military organizations and networking with friends and people he knows through his own business, Ed Moore has rallied more than 100 volunteers to regularly travel to Hopewell, Va., where the manufacturer Battle Boats is currently working on the Veterans Fishing Adventure flagship. These volunteers don't just travel all these miles to southern Virginia for moral support either; they join the Moores in rolling up their sleeves and helping to physically put the vessel together.
"Just so many people want to be involved," Ed Moore said. "It's all volunteers — Active Duty military, veterans, and other members of the community. We've had little kids help out. I'm so proud of my daughter Hailey for putting this together with me. We are just so fortunate to be involved with it, and we will be christening the boat as soon as we can."
As one of the volunteers helping, Hailey said the hands-on experience has been both rewarding and fun. She has enjoyed spending her weekends differently than other high school students do.
"It's really fun working on the boat," she said. "Working out measurements and figuring out where everything needs to go has been challenging but also really interesting."
Before Ed Moore can christen the new boat, it will have to complete two successful sea trials. From there, the organization will also begin to fundraise and promote on a larger scale.
"Once we get the big boat on the water, we will start doing those really big events," Ed Moore said. "We already have the ability now to take donations from the website and through social media. We have people interested helping us apply for grants and are now working through that process for additional funding. If in the next 20 years, if I can have some of these veterans chartering the boats, it would be incredible."
That kind of enthusiasm and veteran participation doesn't seem so far off for Veterans Fishing Adventure. As it stands with its current borrowed boat, the young nonprofit has already hosted hundreds of veterans, including one man who was on the beaches of Normandy for the landmark invasion during World War II. They've welcomed multiple veterans confined to wheelchairs — just like the wounded Marines on television that inspired the whole boating-fishing venture in the first place.
"With the response we've had already, there is no telling what this will turn into," Ed Moore said. "Once we have the new boat, we are looking at hosting probably 200 people a month for two-hour, or longer, rides. And, the rides won't all be the same. They'll be tailored to our passengers. Some people don't like fishing, but just want to be on the water. We've already had guy who has been in a wheelchair for more than 25 years. He used to jet ski, waterski. And, we got to watch him fly down the ramp, all smiles. He was so excited to get on the boat."
The organization is open as to the destination of each trip. They will sail to the Ferris Wheel at National Harbor, or cruise around the National monuments.
In the event that Veterans Fishing Adventure offerings become so popular that they find themselves swamped with requests, Ed Moore sees no problem.
"If word spread fast, I'm not overwhelmed," he said. "I'll just build more boats. That's what being a Marine is all about."