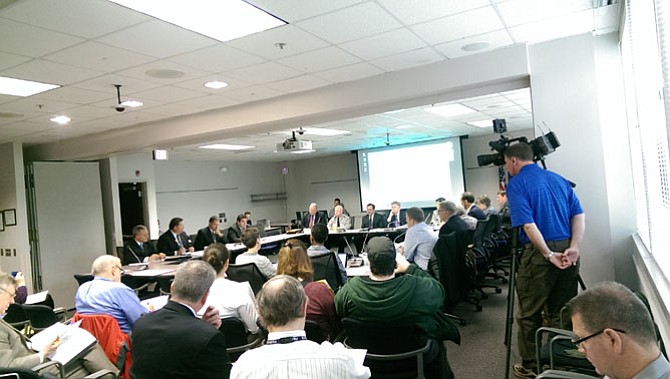 Fairfax County Supervisors and the Public Safety Committee met Tuesday May 10 to review police use of force and communications policy recommendations from the Police Executive Research Forum (PERF) and Ad Hoc Police Practices Review Commission.
"The Fairfax County Police Department will continue to strengthen and improve transparency at all levels," Roessler said in the May 6 statement when releasing the long delayed report on communications from PERF. "We welcome the review as we further our re-engineering of information release policies and procedures to keep all members of our community informed."
A primary purpose of the meeting was for the supervisors to discuss the recommendations before working on a action item for their implementation. The board is scheduled to vote on the action item June 21.
At the beginning of the meeting, committee chairman Supervisor John Cook (R-Braddock) announced the recommendations concerning Freedom of Information Act requests, tasers and body cameras would not be part of the day's discussion. Consideration of body cameras in particular will be pushed back until next year.
Phillip Niedzielski-Eichner, chairman of the Ad Hoc commission Use of Force subcommittee, addressed the perceived speed of Fairfax County implementing recommendations from the commission and PERF (some recommendations overlap).
CITING the County's own matrix that breaks down each recommendation by topic, stakeholders and status, among other identifiers, Niedzielski-Eichner computed that 16 percent (11) of the commission's use of force recommendations have been implemented since the full set was presented to the Board of Supervisors Oct. 8, 2015. Only seven percent (14) of all the recommendations have been implemented, he said, while 59 percent are still categorized as "under review."
"Since this report is the only widely publicly available metric of progress against the Commission recommendations," Niedzielski-Eichner said, "is it any wonder that the community is left with the false impression — in my judgment — that the County may not be committed to implementing the Commission and PERF recommendations?"
Niedzielski-Eichner proposed creating a more public user-friendly project plan that gives a clear task description, the steps required, an estimated and realistic schedule to complete it and whose responsibility it is.
Board of Supervisors Chairman Sharon Bulova was receptive to the feedback. She said the County's matrix may not be the easiest to follow, and putting it in another form might be more encouraging for community members to weigh in.
On the topic of transparency in communication, release of an officer's name in a lethal use of force incident sparked lengthy discussion. PERF's recommendation for waiting five days after the incident was shorter than the Ad Hoc commission's recommendation of within a week. Chief Roessler said he would prefer to wait up to 10 days in order to complete a thorough risk assessment for the officer involved and his or her family.
Commonwealth's Attorney Raymond F. Morrogh explained there is some restraining complexity in how he is and is not able to talk about a criminal case while an internal investigation is ongoing. But he said it is lawful to release a "carefully worded factual statement" regarding each incident.
Det. Sean Corcoran, president of the Fairfax Coalition of Police Local 5000 and a member of the Ad Hoc commission, said release of an officer's name who's involved with a lethal incident can elicit "vile things put out there on the internet."
"Why does the name release become a lightning rod?" Corcoran said. "Who benefits?"
Merni Fitzgerald, chair of the Ad Hoc commission communications subcommittee, responded that officers and the police department shouldn't have anything to hide. With information about the officer provided besides the name, they would be identifiable anyway, she argued.
"The key is being frank and upfront" Fitzgerald said. "Transparency and openness must be guiding principles."
IN THIS AREA, PERF recommended "a general presumption of disclosure" in its final report. "This change avoids taking a blanket approach to withholding information and emphasizes that the decision to release must be made on a case-by-case basis."
PERF's Director of Applied Research and Management Tom Wilson quoted former Washington, D.C. Metropolitan Police Chief Charles Ramsey, saying, "Transparency is the right thing to do. An officer cannot expect to shoot someone and remain anonymous."
The next Public Safety Committee meeting is scheduled for July 19. Oversight, including establishing an independent civilian auditor and civilian review panel, will be on the agenda for discussion.


The full report of findings and recommendations from the Police Executive Research Forum is available online at www.fairfaxcounty.gov/police/inside-fcpd/pdf/perf050516.pdf. The report from the Ad Hoc Police Practices Review commission is available at www.fairfaxcounty.gov/chairman/pdf/adhoc-final-10.8.15.pdf.