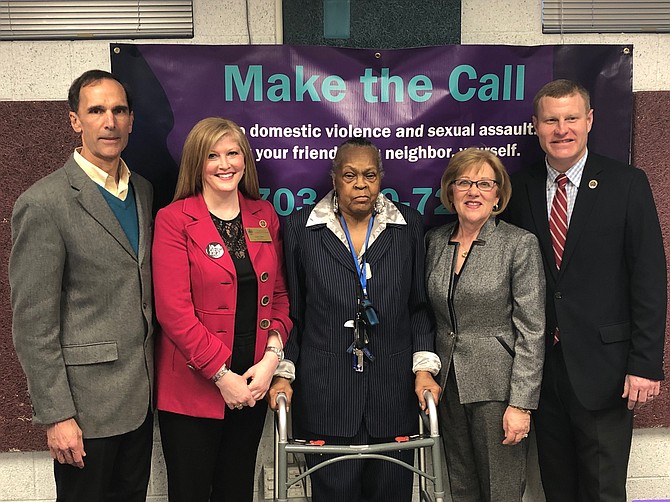 As I reflect on Women's History month, I am inspired by all the influential leaders in our Mount Vernon District. You have met many of them over the years, as we highlight Community Champions in our newsletter. Also, women's history is woven through our Mount Vernon history, with the Suffragist Memorial, the Lucy Burns Museum and the Mount Vernon [Estate] Ladies' Association.
Just this month, we recognized Mary Paden for her outstanding contributions to the 
underserved in our area through the South County Task Force and Affordable Housing Advisory Council. Mary is never afraid to take on a difficult challenge and she has helped many with her relentless efforts to lift up everyone around her.
Lt. Veva Wallace-Spalding is 16-year veteran with the Fairfax County Police, the Mount Vernon Police Station Assistant Commander and the first African American Commander in Fairfax County. Mount Vernon is where she started her career and she says it feels like home. Lt. Wallace-Spalding has a love for people and is proud to pave the way for others. 
In 2019, we recognized the efforts of the three musketeers (as they call themselves) Lisa Sales, Mattie Palmore and Karen Stone, who worked tirelessly to bring the Artemis House Region 1 Domestic Violence Shelter to Southern Fairfax County. They each also work individually in our community on issues like getting the Equal Rights Amendment passed in Virginia, serving on the Commission for Women and Good Shepherd Housing, and advocating for special needs services for our students.
Retired Firefighter and Mount Vernon District volunteer extraordinaire, Shirley Short is an integral part of Team MVD. We could not manage the multitude of events, meetings or community outreach we do without her help and her sunny disposition. 
Another indomitable force in Mount Vernon is Holly Dougherty, President of the Mount Vernon Springfield Chamber of Commerce. Holly's leadership and dedication to working with businesses on the Richmond Highway Corridor has been instrumental in our growth and success.
Rising star Michele Togbe is the FCPS School Board Student Representative for the 2022-2023 school year. Michele is a senior at South County High School and will be studying at Brown University in the fall. She has three main focuses as student representative: transparency within students' voices, furthering civic education and maintaining an equitable lens. 
Other outstanding examples of Mount Vernon leaders include Mount Vernon School Board Member Karen Corbett Sanders, Communities of Trust Committee founder and former Fairfax County NAACP President Shirley Ginwright and Lorton Volunteer Fire Chief Maria Severa Pangelinan. 
There are many, many other unsung heroes changing lives every day, from teachers to social workers, stay-at-home moms to CEO moms, the women in our lives nurture, guide, shelter and prop us up every day, sometimes quietly, sometimes boldly, but each in their own way. 
Across the County, we are celebrating women's contributions to history, culture and society. The 2023 theme, "Celebrating Women who Tell Stories," highlights women who have used their voice and creativity to share stories that educate, inspire and entertain individuals. Read more here: 
https://www.fairfaxcounty.gov/
, search Women's History.