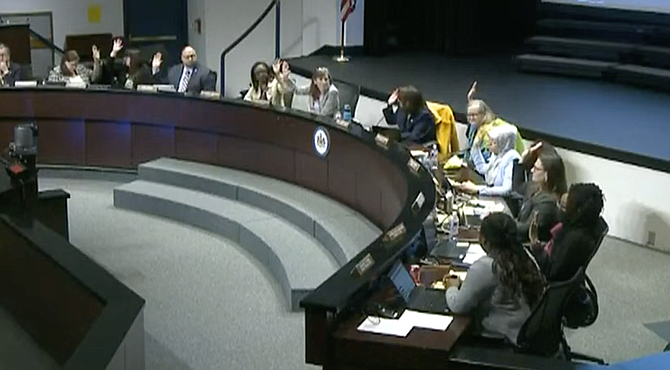 The Fairfax County School Board voted 11-0 to approve the FCPS Collective Bargaining Resolution during its March 9 meeting. Vice-Chair Tamara Derenak Kaufax (Franconia) was away from the dais at the vote. According to FCPS, "Collective bargaining is a process by which an employer (such as FCPS) negotiates with a group of employees (a bargaining unit) that is represented by a bargaining agent (such as a union or association) over terms and conditions of employment."
"We know that our actions tonight, albeit the beginning of a process, will make us more competitive," said Karen Corbett Sanders (Mt. Vernon).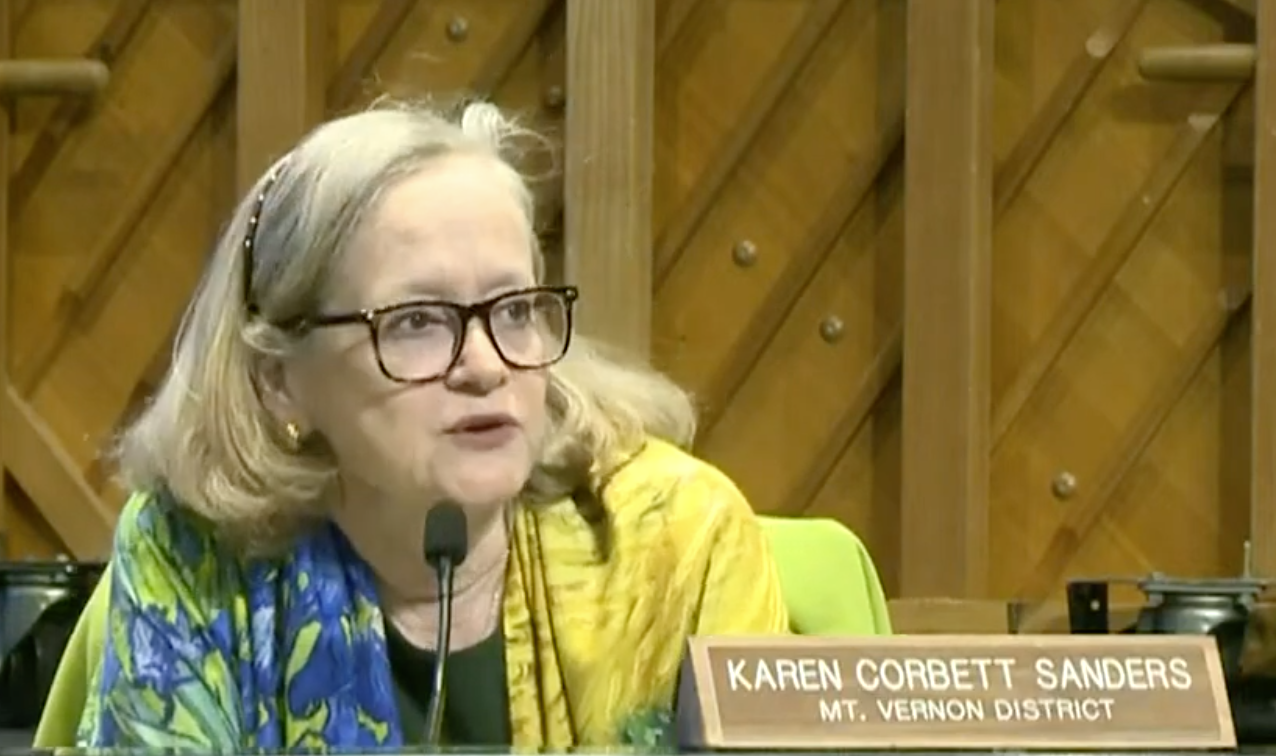 Karl Frisch (Providence) introduced the motion seconded by Stella Pekarsky (Sully). The rationale for the vote extended beyond collective bargaining discussions focused solely on employee compensation and working conditions but how such would enhance educational quality for FCPS students.
"This vote is a demonstration not only of our commitment to improving school staffing, pay, and morale but also better outcomes for students," Frisch said. "Everyone wins when teachers and staff have pay increases, better working conditions, reduced turnover, and workers have a seat at the decision-making table."
Frisch said. "Our family's stable middle-class status was a direct result of their hard work and the transformative power of collective bargaining. Our tireless educators and staff deserve nothing less." 
Pekarsky said there should be no doubt where FCPS stands. "We stand for our employees to have a voice and a seat at the table."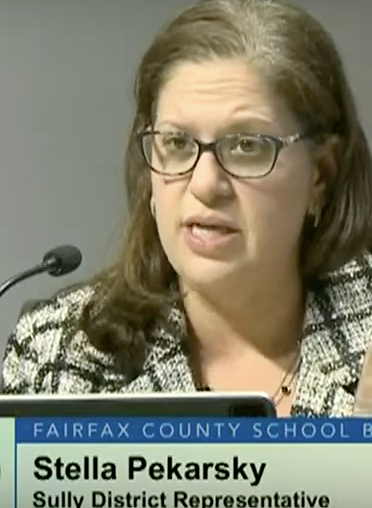 The Virginia General Assembly approved Virginia House Bill 582 in 2020, which became effective  May 1, 2021 — letting county, city, town, and school boards opt-in to allowing bargaining collectively with employees upon adopting an authorizing ordinance or resolution. House Bill 582 did not alter Virginia's ban on public employees striking. 
With the passage of its Collective Bargaining Resolution,  the Fairfax County School Board can recognize an employee bargaining agent for a unit for the first time. The School Board will recognize three bargaining units: (1) licensed instructional staff, (2) operational employees, and (3) administrators and supervisors. Substitutes and temporary employees are excluded from bargaining units.
The school board proceeded "thoughtfully," Frisch said, by initiating a process using an interest-based model to draft the resolution. According to the Virginia School Boards Association  (VSBA), there are two types of collective bargaining: positional, also known as "adversarial," and integrative, or interest-based. VSBA defined the interest-based bargaining approach as "centered on jointly identifying issues and exploring the different possible solutions. The parties present problems that must be solved and work together  to find solutions." Positional bargaining is a negotiation strategy that entails clinging to a fixed idea or position. 
Seventeen certified employee associations were invited to join a collective bargaining workgroup to draft the FCPS resolution. Frisch described the process as "painstakingly collaborative, deliberate, and transparent, making the resolution more thoughtful and durable." The workgroup met 23 times for over 61 hours, according to the  FCPS Collective Bargaining Proposed presentation on Feb. 28, 2023, 
"We stand to ensure our schools can recruit and retain staff and provide a world-class education for all students," said Pekarsky, who seconded the motion. 
The FCPS certification process is the next step. Employee organizations interested in becoming certified for exclusive representation of any of Fairfax County Public Schools' bargaining units should contact Lydia Martinez, director of the Office of Labor Relations, at Lmmartinez1@fcps.edu.
In August 2022, a Gallup poll indicated that 71 percent of those polled approved of labor unions, the highest percentage since September 1967. FCPS says that joining or participating in a union or association in a bargaining unit will be entirely up to the individual. Employees have the option of joining or not joining. Those who choose to join a union/association that charges dues are charged a fee set by the union/association, which may change over time.
Employees who choose not to join a union/association will not be required to pay dues. Once an agreement is reached with a union/association (bargaining agent) serving as the exclusive representative for a bargaining unit, the terms of the agreement apply to all employees in the bargaining unit, and the bargaining agent represents all employees in the specific collective bargaining unit they represent. 
School Board representative Karen Corbett Sanders (Mt. Vernon) proposed a follow-on motion that the Board directs the superintendent and her staff to develop a process for considering additional bargaining units and bring that process to the Governance Committee by July 1, 2023, for consideration. Abrar Omeish (Member-at-Large) seconded.  According to Corbett Sanders, some  FCPS employees were concerned that there might not be opportunities to introduce additional bargaining units beyond the three established.
"We heard that especially from our bus drivers and transportation workers," Corbett Sanders said. She reminded all that when the school board embarked on the process three years ago, it talked "about the importance of starting small with a manageable number of bargaining units." 
"We never suggested that it was going to be a fixed process," she said.
County Precedent
The Fairfax County Board of Supervisors established a precedent for the school board's resolution when the Board of Supervisors  approved its October 19, 2021, Collective Bargaining Ordinance.  The Labor Relations Administrator (LRA), a neutral party, would enforce the rules established by the supervisors' ordinance. On June 7, 2022, County Executive Bryan Hill appointed, and the Fairfax County Board of Supervisors confirmed Sarah Miller Espinosa as the county's Labor Relations Administrator (LRA). The ordinance establishes separate bargaining units for (1) police, (2) fire and emergency medical services, and  (3) general government employees, except those excluded by definition in Section 3-10-2 of the ordinance.