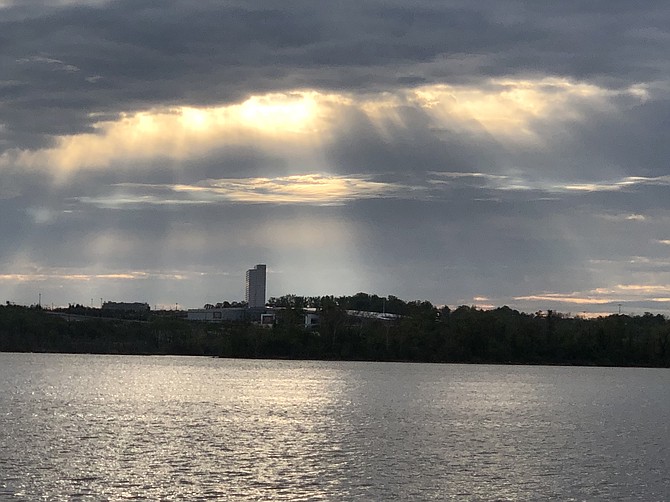 The MGM casino that dominates the skyline across the river from Old Town Alexandria could be a sign of things to come in Virginia. When Democrats seized control of the General Assembly in 2019, one of their legislative priorities was the Virginia Casino Act, which allows for five casinos in Virginia. Four of them have already opened or will open soon.
But where will the fifth and final casino be located? That's a million-dollar question at the Capitol, where Petersburg and Richmond are fighting with each other to persuade lawmakers to allow them to hold a referendum.
"It's likely to be a brawl," said state Sen. Janet Howell (D-32). "It's likely to have every lobbyist in Richmond involved."  Howell, from Fairfax County is chairwoman of the Senate Finance Committee.
Lobbyists of every stripe packed the committee room for the initial discussion this year, when lawmakers are poised to make a decision about which city should be allowed to hold a referendum. Voters in Richmond have already rejected a casino once, giving Petersburg a strong argument to lawmakers that they deserve a shot for voters to weigh in. Some have argued that lawmakers could choose to allow a casino in both places, although state Sen. Joe Morrissey (D-16) says the problem with two casinos is that neither will strike it rich.
"No fancy hotel, no music venue. There won't be a show for Springsteen to come to or any other artist," said Morrissey. "It'll be a pedestrian vanilla casino both in Richmond and in Petersburg."
Last week, the Senate Finance Committee rejected Morrissey's bill as some senators expressed a preference for Richmond to have a second referendum before Petersburg can hold a first referendum. Over in the House of Delegates, thought, Del. Tim Taylor (R-63) passed the House and is now under consideration in the Senate. 
"This bill is not about partisanship," said Del. Kim Taylor (R-63). "This bill is about our collective ability to put politics aside and support a project that will uplift a community that has been overlooked and struggling for decades."
Because senators have already rejected a version of Taylor's bill, several potential outcomes are possible. They could change the bill to allow Richmond to have a second referendum or they could allow a casino for both Richmond and Petersburg. In the meantime, lobbyists on both sides are invoicing for overtime. 
"A thing I don't like in this bill is that there is a restriction on Richmond going forward until Petersburg gets to go first. I don't like that, and I wish that wasn't in the bill," said Del. Mark Sickles (D-43). "The other body has defeated this bill, so its passage over there is highly questionable. And so therefore my vote in favor of this today is to keep this process going to find a way to serve both cities."
MANY PEOPLE view casinos with suspicion, describing the industry as a predatory threat to low-income people who don't understand that the house usually wins. One of the people who testified against allowing Petersburg to hold a referendum was Belinda Baugh, a pastor in Petersburg who worries that gambling harms vulnerable people. She says it's obvious any time you see people at one of the machines in gas stations or horse tracks.
"They take their last $25 trying to turn it into $500 and then they are knocking on the church's doors or they are knocking on the doors of the nonprofit organizations and asking us to help them.," said Baugh. "I'm asking you to please reconsider and rethink."
Del. Paul Krizek (D-44) has introduced a bill that would set up a Problem Gambling Treatment and Support Advisory Committee at the Department of Behavioral Health and Developmental Services. Krizek says the idea is to reduce the adverse effects of problem gambling.
"In just the last few years, we have considerably expanded gaming in the commonwealth with the recent opening of temporary casinos, sports betting, historical horse racing machines, online Lottery and much more," said Krizek. "As more gaming opportunities are legalized and expanded in Virginia, we must prioritize protecting Virginians from gambling addiction, especially young people."
...
...
He wants to see one in Petersburg now that voters in Richmond have rejected a casino in a referendum. But Richmond City Councilwoman Kristen Nye says that's not the end of the story.
"Legislation regarding Petersburg having a referendum I think should be delayed until Richmond has an opportunity to have a second referendum."
Lawmakers will be placing their bets when the General Assembly gavels into session later this month.
In recent years, Virginia has slowly allowed more and more legal gambling. Now the state may be about to move into uncharted territory with as many as four casinos that could be up and running by 2025.
This week, lawmakers received a new report detailing how multiple casinos might eat into each other's profits, especially if they are close. Sen. Lionel Spruill is a Democrat from Chesapeake who asked Tracey Smith at the Joint Legislative Audit and Review Commission about what would happen to a Petersburg casino if another casino were to open in Richmond.
"Without Richmond, Petersburg would be on a larger scale. So I'm trying to figure out why we would want to downscale the Petersburg market?
"Senator, that is probably a policy call. Both Richmond and Petersburg would have smaller casinos in the combination scenario than if they were to have their own casino and not another one in that market."
Lawmakers are going to need to strike a balance between casino interests that want to make money and local governments that are eager for the new tax revenue.