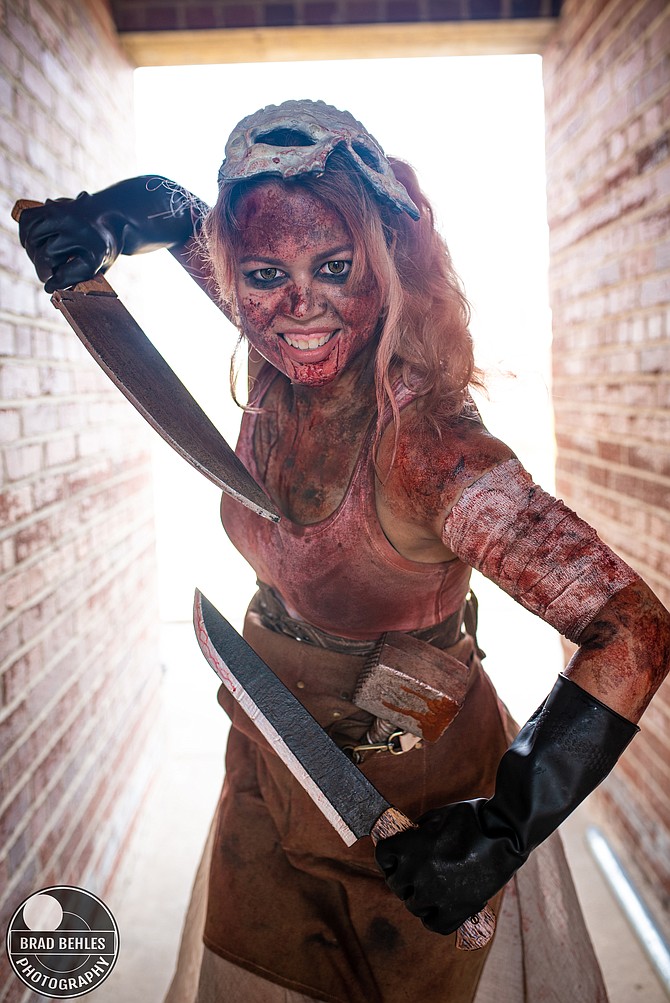 As far as haunted houses are considered, the haunted house at the Workhouse Arts Center in Lorton is one of the best, and this is due to the seasoned scare veterans that use their horror skills in a productive way.
Levi Peterson is one of those scare professionals. He was into the haunts of Halloween when he was a child, and now he dons a butcher's outfit at the Workhouse, scaring everyone with his razor gloves similar to Edward Scissorhands. 
"There is nothing better to me than hearing guests laugh together after they just screamed their heads off in my section," Peterson said.
His horror skills came in handy years ago when he was in the Air Force, volunteering for the haunted hallway with his squadron. He learned to use power tools and sew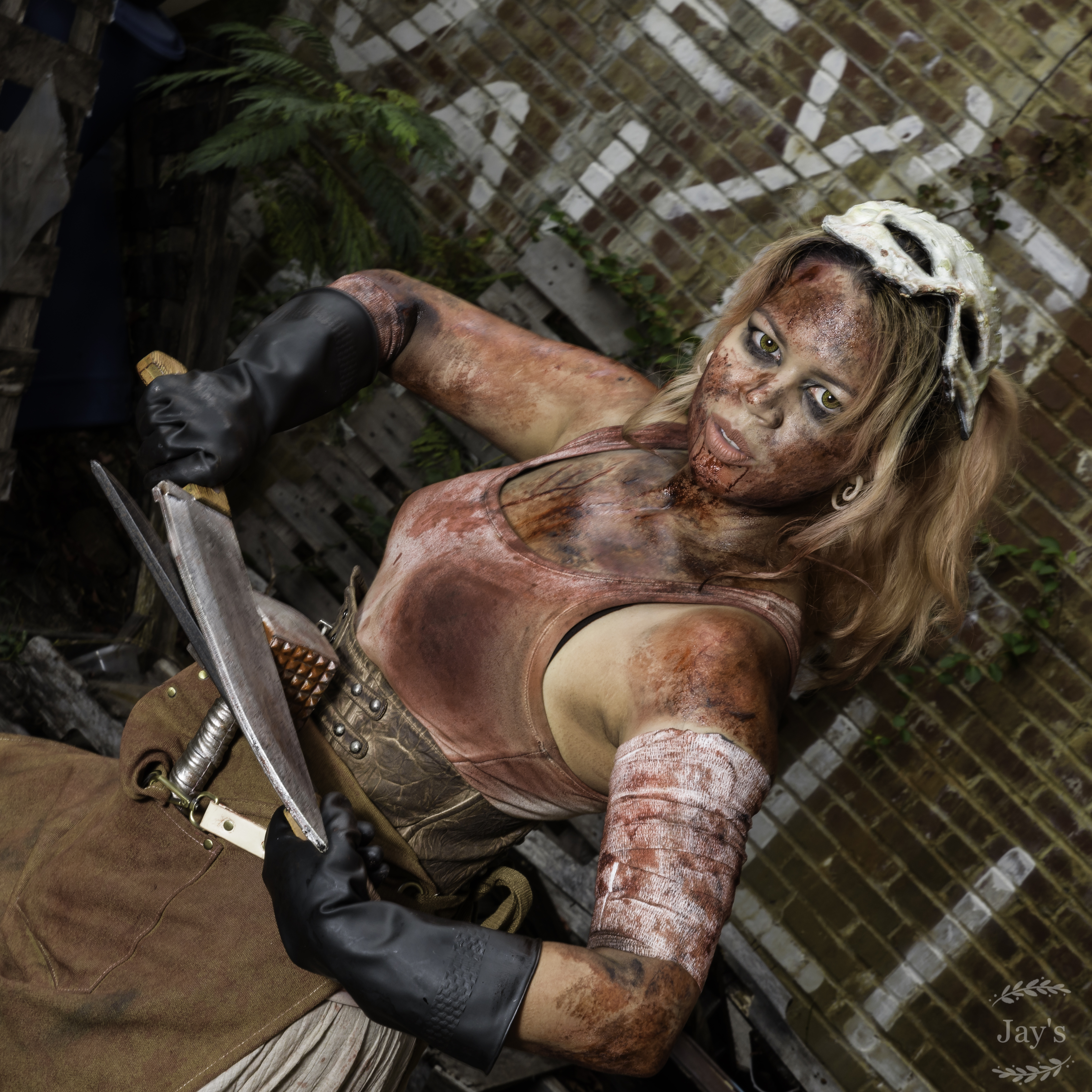 Racheal Norbergwhen he was young, so these skills come in handy at the Workhouse's haunted house, where he enjoys the screams.
Last year, a couple was so scared, the boyfriend started running and tripped up his girlfriend. Peterson made sure the woman was okay, and then chased the boyfriend through several rooms. "All in all, I think myself and my fellow actors chased him the equivalent of half a city block, and he was screaming the whole time," he said.
Scare actress Rachael Norberg was in on that chase too. Armed with knives, hammers and power tools, she also remembers the guy shoving his girlfriend out of the way. "I see this guy sprinting out with my buddy chasing him screaming, so I grab one of my power tools and start chasing him with it, and we ended up with like four actors chasing this guy into the next section of the haunt," she said.
Norberg is in her third year at the Workhouse Haunt and has a life-long obsession with Halloween and the horror genre. Like Peterson, she also works on both the creative team and as a scare actor.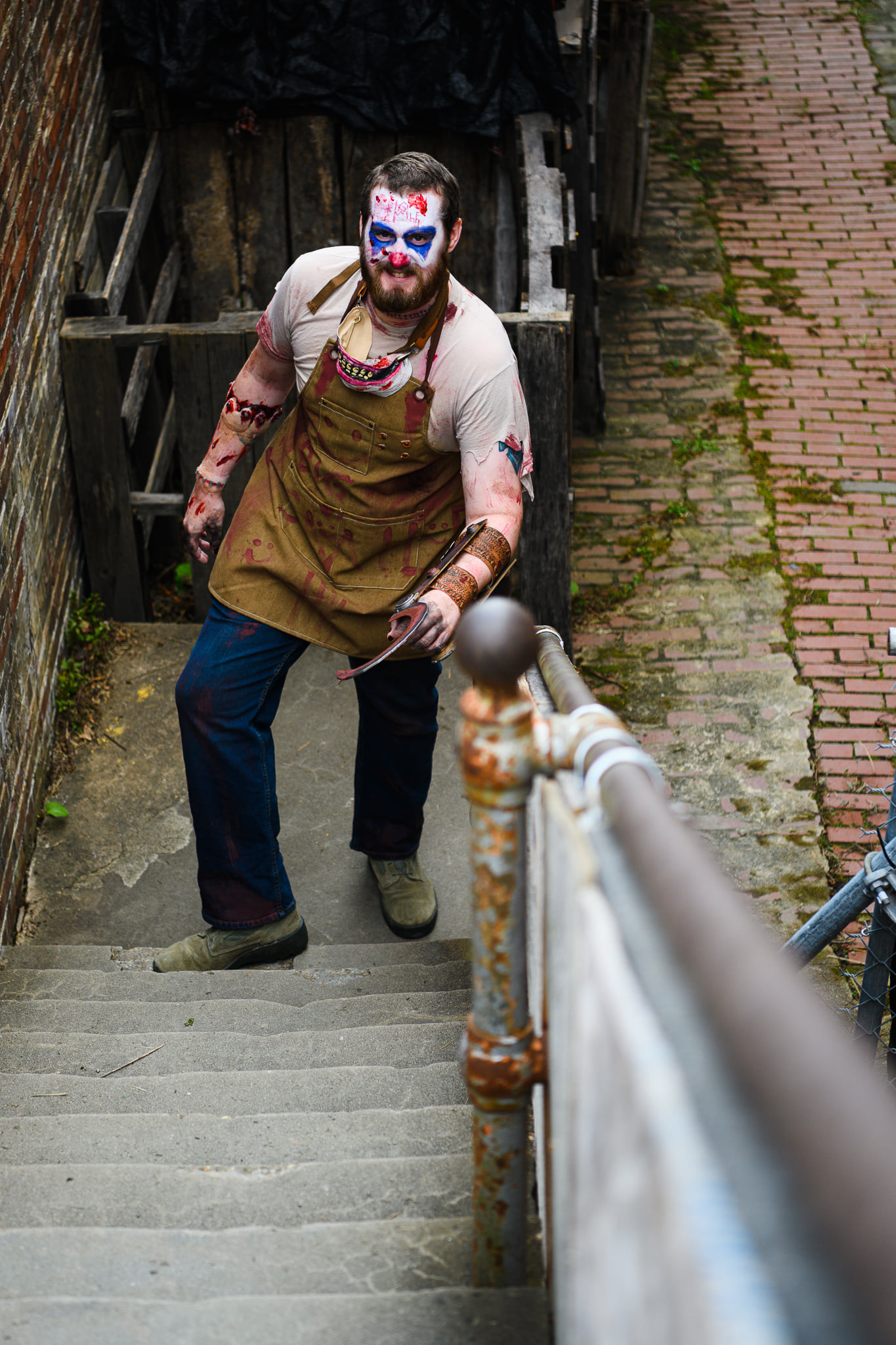 Norberg worked in theater for many years and now has a "regular" job in Washington, D.C. but still manages to put in the hours at the Workhouse in October. "I was able to dabble in this as a teenager and during college, but I hadn't really had the chance as an adult until the Workhouse," she said.
It's a lot of fun each night, but it's a workout too. One time, Norberg tracked how much running with a pedometer, the meter recorded between 26-29 miles each night, which is marathon length, plus. "I used to be an avid runner and after the first few nights it felt similar to when I ran marathons," she said.
Both Peterson and Norberg like volunteering at the haunted house because it raises money for the arts at Lorton. "Knowing that I have been able to give back in some way to our local theater community has been an incredibly rewarding experience and has allowed other opportunities for many of us as creatives," Norberg said.
Volunteering Is Easy
At the Workhouse well before Halloween, everyone is welcome to apply for a role. "It's a very welcoming group," said Joseph Wallen, Director of Performing Arts at the Workhouse Arts Foundation. He's seen new castmates who didn't know a soul at the beginning but quickly made friends when they bonded as a team. "Everyone is welcome to apply and learn more," he added.
The hiring process is done over a period of a couple of weeks, starting in late summer. There's a detailed application and an orientation process where they get to know one another. Some end up working for the season and get the option of choosing between paid roles or receiving documented credit for volunteer service hours. Some schools in Fairfax County require service hours. "Others just join because they enjoy being involved with the team experience," Wallen said. It's an ongoing process. Safety protocols are the first part of training, followed by character and story elements.
Roll Call
"The Haunt" is intended to be experienced as a storyline that's presented in media res, a technical term out of Theater 101 for the actors to begin in the middle of things, rather than at the very start of the story. It is important that the performers know each part of the story arc as it unfolds, Wallen said. This fits the Workhouse, which started as a prison, where suffragists were jailed and tortured, and now is home for the arts.
As with all Halloween attractions, people are ready to get scared and each night is full of screaming and laughter. "Many on our team are returning performers and bring their friends and family that want to join the fun, so they have a good idea of what to expect," Wallen said.
Rumor has it all the volunteers get rewarded just after Halloween with a big party, but each night there's a mini party too, Wallen said. After a night of running and screaming, the crew is all fired up so they find ways to blow off the steam. "When the season is over, we do have a cast party where we share laughs and memories of experiences during this season and share informal ideas about next season's ideas and theme," said Wallen.
If You Go …
Workhouse Haunt 2022 Nightmare Harvest
Weekends from October 1st - November 5th
Fridays and Saturdays, 7-11 p.m. and 
Sundays, 7-10 p.m.
Rizer Pavilion, 9518 Workhouse Way, Lorton, VA, 22079