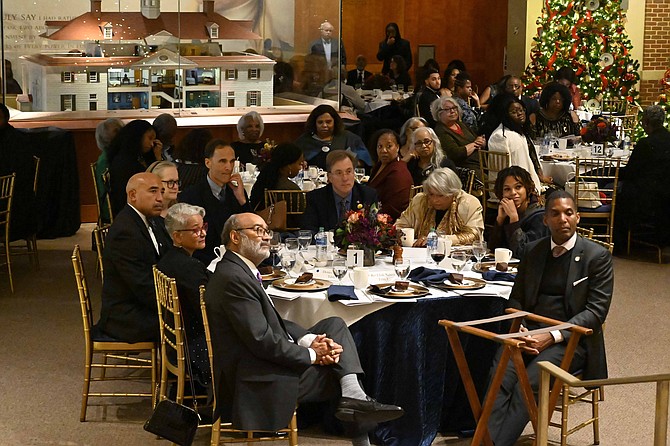 On Nov. 19, over 130 supporters of the Gum Springs Historical Society gathered at Mount Vernon's Ford Orientation Center for the society's gala honoring the founding of the Gum Springs community 189 years ago. 
Ronald L. Chase, the society's president and founding director of the Gum Springs Museum, opened the program, weaving together the themes of hope, love and giving and calling Gum Springs a national treasure. 
Reverend Clyde Nelson urged attendees to share the history of the community in his invocation.
The keynote speaker, Richmonder Gary Flowers, quickly captured the audience's attention, saying "We need a new frame and not look at what was." Flowers has long been active in public policy, especially civil rights, and hosts a weekday radio show on Richmond station WREJ 101, online at https://rejoicerichmond.com/shows/.
Flowers described efforts to preserve Jackson Ward, a historic African-American community in Richmond which in the late 19th century had many thriving Black-owned businesses, and in the early 1900s, became known as Black Wall Street, Flowers told the crowd. Locals have raised funds to build a replica of Abraham Skipwith's cottage there. Skipwith was a freedman who in 1793 became the first known Black property owner in what eventually became Jackson Ward.
Flowers also spotlighted Virginians Katherine Johnson and Dorothy Vaughan, whose stories were told in the 2016 film "Hidden Figures." The two women who were largely unknown prior to the movie, but in over 25 years in the U.S. space program "charted man to the heavens with pencil and paper," Flowers said.
Flowers used these as examples of the country's often untold history, what he called "the willful suppression of history," emphasizing that "the good, bad and ugly of the American empire was forged in Virginia."
He cited as inspirations the 1960s civil rights leaders Martin Luther King Jr., Ella Baker and Diane Nash, and urged that we "reframe and gaze deeply into what should be. What kind of America do we want?" he posited.
Flowers decried developers and others who too often see communities like Jackson Ward and Gum Springs as obstacles and ignore their significance and value. "Virginia Commonwealth University owns much of Jackson Ward because Black people got in the way," he opined, characterizing the attitudes of some that have undermined many minority communities. "Is Gum Springs in the way of development?" he asked. "We must look at all of us as valuable," he advised.
He encouraged everyone to put a higher priority on a high quality education for every person, health care for everyone, a living wage and voting rights for all. "It's not about white and black. It's about wrong and right," he said in closing.
In his follow-up, Chase commended the speaker and challenged, "We must transcend to a higher level."
The networking, dinner, speeches and silent auction took place amid Mount Vernon Estate's festive holiday decorations, including 12-foot trees decorated with some of the estate's gift shop products like cornmeal and grits in cloth bags from George Washington's still-operating grist mill. Throughout the evening, Keith Wilson provided a saxophone soundtrack, from jazzy mellow to upbeat tunes.
Among other notables, these officials attended: Virginia Sen. Scott Surovell, Del. Paul Krizek, Mount Vernon Supervisor Dan Storck, Franconia Supervisor Rodney Lusk and Mount Vernon School Board Member Karen Corbett-Sanders; Mount Vernon Planning Commissioner Walter Clarke.
The oldest Gum Springs resident, Ada Singletary, age 102, could not attend, but the second oldest, Kenneth King, age 91, livened up his table.
A Historic Community
Gum Springs, located near U.S. 1 in the Mount Vernon District, today has 2,500 residents, and "as many as 500 are descendants of the original families," said the event's written program. According to the Fairfax County African American History Inventory, in 1833, West Ford, a man formerly enslaved by Washington's family, purchased a 214-acre farm there after he was freed by Hannah Bushrod Washington, wife of the first president's brother, John Augustine. "Located close to the Mount Vernon Estate, the community was a sanctuary for freedmen and runaways. Samuel Taylor, a runaway slave established the first institution in Gum Springs, the Bethlehem Baptist Church. Assisted by Quakers, the first school was established at Bethlehem," the inventory notes. 
The Gum Springs Historical Society Museum and Cultural Center is at 8100 Fordson Road, Alexandria; telephone, 703-699-1198. Call ahead for hours.