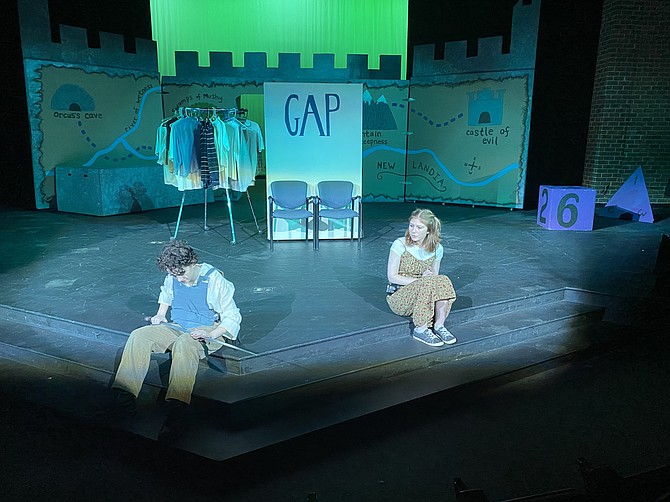 "What would a D&D adventure be if you didn't have to fight a dragon?" Dialogue like this in Mount Vernon High School's production of "She Kills Monsters" represented how funny yet sweet this show – brimming with compelling characters, fantastical creatures, and plenty of fight sequences – truly was. The show was hilarious, enlivening, and bittersweet, and kept the audience actively entertained the entire time.
A heartwarming story set in the 90s about a girl coming to terms with her sister's death by playing Dungeons & Dragons, "She Kills Monsters" premiered off-Broadway at The Flea Theater in 2011. It was later performed by the Steppenwolf Theatre Company in Chicago in 2013. The "Young Adventurers Edition," performed by Mount Vernon High School, ages the characters down and tones down the adult language.
There are many dynamic characters in the show, five of which form Tilly's Party. The actors in the Party, which exists only in the D&D world, played off each other well, creating amusing scenes with interesting interactions throughout the show. The small ensemble proved to be both the heart and (part of) the comedic relief of the show.
While "She Kills Monsters" is a show that requires a good ensemble of characters, there were a few standout performances. JJ Dunn had the difficult job of playing Tilly, the late sister who adored D&D. However, Dunn had no trouble performing both the comedic and tragic moments beautifully. Another actor who made herself known on the stage was Roni Baird as Agnes. Baird brought an interesting and full-hearted portrayal of this character, as Agnes attempted to cope with the death of her sister.
The show deals with a very tragic story; however, it had its comedic moments, many of which were provided by Kimani Moore as Vera, whose comedic timing and character choices were impeccable. Also notable was Micheal Hodges's fantastic performance as Orcus/Ronnie. Hodges expertly created a lighthearted and comical character who gave the audience many humorous moments throughout the show.
"She Kills Monsters" wouldn't be as good a production if it were not for the genius set made by Samantha Dresch, Levondre Jenkins, and the crew. The set, designed to look like a D&D Dungeon Master's screen, immersed the audience in the show and enlivened the D&D world. Also contributing greatly was the lighting crew (Elizabeth Snyder, Jack Dova, and crew), which used a variety of lighting techniques and helped in differentiating between the real and D&D world.
Taking the audience on an amazing adventure, Mount Vernon High School's remarkable production of "She Kills Monsters" was hysterical, captivating, and left audiences with a story they'll never forget. After all, as said in the show, "Isn't that all life truly is, a collection of stories?"