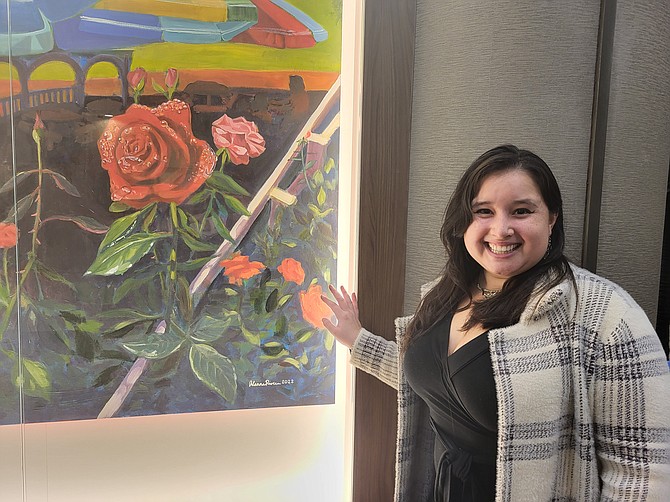 In an effort to spread the Torpedo Factory art around town and enhance the city's  "Vibrancy Initiative," program, a group of artists and officials recently did a mini "On the Road," art show at the Hilton Mark Center to further the arts effort in the west end of Alexandria.
"This brings the people together," said Vice Mayor Jackson. "It helps with our action plan for equity."
Hilton general manager Greg Langweg agreed, noting that the energy the art brings to the space in the lobby is a big factor. "Art is a conversation piece, food is a conversation piece, and we think the two together is a good combination," he said.
Alanna Rivera had her upbeat painting called the "Ice Cream Parlor," on display in one of the cases. "It's one of the ice cream spots at Harpers Ferry, I was trying to remember a calmer place," she said. Rivera is from Arlington and is new at the Torpedo Factory. 
So is Rashad Ali Muhammad, and his painting was a system of collaging that came off the canvas. His mother Kathi was there as well and remembers the artist emerging as a child. "At one point, he drew all over the walls, that's when we knew he was into art," she said.
Rivera and Muhammad were among the 15 artists at the event, with a few displays of their works, which were for sale as well. Whether a hotel guest sees a painting they like or someone who lives in the west end was there for a meeting, these are people who might not regularly go to the Torpedo Factory, so the shows are a way to reach a broader audience. It's a new opportunity for the artists as well. "We're meeting people where they are," said Jackson.
According to Brett Johnson, the director at the Torpedo Factory, more 'On the Road' exhibitions will be planned in 2023.
The City of Alexandria recently launched the "Vibrancy Initiative," program to shape the appeal at the Torpedo Factory. The goal of the Vibrancy Initiative program is to improve the efficiency of operations and sustainability of Torpedo Factory Art Center while also broadening and deepening its connections to the community and re-configuring the first-floor spaces to create a more dynamic public experience of the Art Center, city information said.