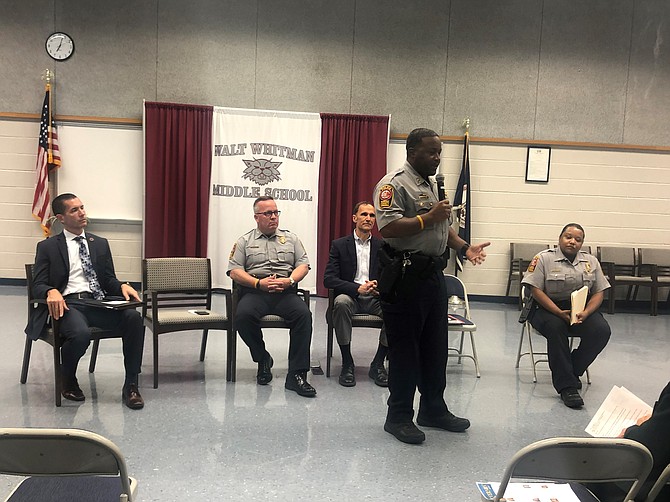 Last week I held an important community-wide meeting with Police Chief Kevin Davis
and Mount Vernon District Commander Fred Chambers to discuss safety and staffing in the Mount Vernon Police District, which also includes a large portion of the Franconia District. While some categories of crime are rising, Chief Davis explained that in many cases, the victims are known to each other, and most cases have been closed and the suspects arrested. Davis asked residents to be proactive by locking their homes and cars, reporting suspicious activity (703-691-2131) and creating Neighborhood Watch groups (703-360-8400). He also noted the best way to keep up with County Police information is to follow the police Twitter account: @FairfaxCountyPD. 
Mount Vernon District School Board Member Karen Corbett Sanders joined us for a discussion about the recent incidents in and near our schools. I also appreciated Sen. Scott Surovell joining us and reviewing new state laws and legislative efforts related to noisy car exhaust. The meeting was live streamed on Facebook and can be viewed here https://www.facebook.com/SupervisorDanStorck/videos
During our conversation, we discussed police staffing issues, recent events in our schools and current crime statistics. I recognized our excellent police force, officers and their many successes. The role of police officers in our community has evolved over time, with a focus on serving the community by making as many positive connections as possible. Davis noted that in successful and safer communities, the police protect the community, not "police" the community. This is an important distinction and one we recognize here in Fairfax. He discussed that police officers are human beings and have good days and bad days, just like the rest of us. We are all aware of the need to recruit more officers to ensure responsiveness and we all agreed that sharing critical information in a timely manner is important. 
Even through COVID times, and ups and downs in our crime data trends, Fairfax County continues to be the safest jurisdiction of its size in the United States. We are preparing for the newest police station to open in Lorton in spring 2023. This will better align our police precincts and support the growing Lorton community.
I have been a strong advocate with Davis and our public safety leadership for sharing monthly public safety statistics with the community. I believe this transparency and an understanding of the data help us all make better decisions and respond to concerns in real time. The best way to stay up to date with police issues in our community is to follow the Fairfax Police Department news https://fcpdnews.wordpress.com/. 
What can you do? Lock your cars and homes. Don't leave valuables in plain sight. And, if you see something, say something! Call the police non-emergency number at 703-691-2131 or, of course, in an emergency, call 911.