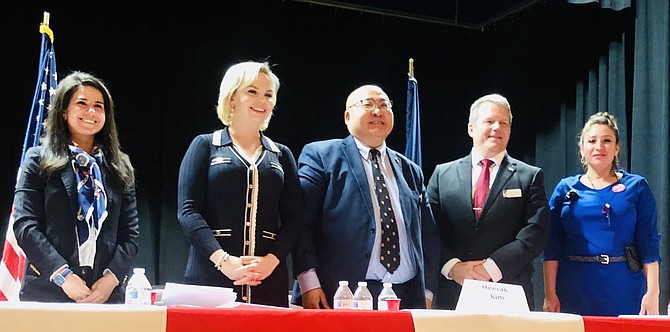 Usually Republicans have to recruit candidates to run against four-term U.S. Rep. Don Beyer (D-8). Not this year. Five Republicans are seeking the Republican nomination for the 8th Congressional District in a convention later this month. On the campaign trail, the G.O.P. candidates are calling for a prominent public health offiical to be jailed, undocumented immigrants to be deported, public educaiton to be privatized and controversial issues to be banished from the classroom. 
"These are make-a-statement candidates, playing to a small far-right base in that district," said Mark Rozell, dean of the Schar School of Policy and Government at George Mason University. "The real race for Congress in this district is always the Democratic nomination, the outcome of which is tantamount to election in November."
Beyer will be facing challenger Victoria Virasingh in the June 21 primary. Instead of choosing their candidate in a primary, though, Republicans will select their nominee in a May 28 convention at the Waterford Events Center in Springfield. The field includes immigrants from the Soviet Union and South Korea as well as an unsuccessful congressional candidate from the last election cycle. Most of the candidates are self-funded.
"I doubt the GOP will put any money in this race," said Rozell. "Why waste it when there are real competitive races in Virginia this year?
KARINA LIPSMAN has raised the most money out of the candidates, more than $60,000. Her top contributor is Brian Johnson, vice president of Veterans Guardian, a consulting firm that helps veterans file for disability benefits. Lipsman has a bachelor's degree from Towson University in 2009 and a graduate degree from Johns Hopkins University in 2012. She arrived in this country as a refugee from the Soviet Union, surviving on food stamps and living in low-income housing in Baltimore. She says she's running for Congress to bring change to the country and the district. During a recent candidates forum, she called for the detention of the longtime director of the National Institute of Allergy and Infectious Diseases, Anthony Fauci.
"Fauci should be jailed. We all know that," said Lipsman, prompting applause during a recent meeting of the Alexandria City Republican Committee. "We should do our own research."
Fauci has become a hated figure among certain elements of the right wing. During a recent rally in North Carolina, U.S. Rep. Madison Cawthorn (R-N.C.) also called for Fauci to be jailed. Similarly, U.S. Rep. Marjorie Taylor Greene (R-Ga.) introduced the Fire Fauci Act, which suggests the chief medical advisor to the president "failed to provide Americans with accurate information" about the pandemic. She also called for members of the Alexandria School Board to be "fired" in reaction to an alleged sexual assault involving students at the Minnie Howard campus of Alexandria City Public High School.
"We've seen it right there at Minnie Howard High School in October when the School Board and everyone associated decided to cover up an assault on a young lady, and it wasn't exposed until March of this year," said Lipsman. "Everyone on that board should be fired."
HEERAK CHRISTIAN KIM is a registered nurse who is a native of South Korea. He routinely calls himself the "MAGA America First candidate," and his website declares that he is the "Leonardo Da Vinci of our generation." He has a bachelor's degree from the University of Pennsylvania in 1990, a graduate degree from UCLA in 1991 and a graduate degree from Georgetown University in 2020. He says he's running to improve education, healthcare and governmental services. When asked about immigration at a recent candidates forum, Kim called called for millions of undocumented immigrants to be forcibly removed from the country.
"I want to build that wall, strengthen the borders and deport 13 million illegals who are already in America," said Kim. "Your grandchildren will pay for them if we do not deport them back to their country."
During a recent candidates forum, he said critical race theory and "LGBT grooming" are "forced upon the classroom." He said America is "plagued by fake news," adding that he trusts news sources like One America News, Newsmax and Fox News. If elected, he says, he would try to eliminate the H-1B visa program, which allows U.S. employers to temporarily employ foreign workers to specialty occupations. He routinely posts images of a Confederate flag on his social media accounts to make a point about free speech.
"Virginians have a right to fly their Confederate flag at their homes without being persecuted, without being fired from their job," said Kim. "They have the right to celebrate their cultural heritage."
JEFF JORDAN is seeking a second nomination to run in the 8th Congressional District. Two years ago, he was the Republican nominee to run against Beyer, and he received 24 percent of the vote. He served in the U.S. Army from 1998 to 2014, and he earned a bachelor's degree from the University of Montana in 1999 and a graduate degree from National Intelligence University in 2012. If elected, he says, he will work to defeat "the immoral and unjust ideology of socialism."
"Do not forgive student loan debt," said Jordan. "You will see a drastic decrease in the number of Humanities majors, and the cost of those majors."
Jordan says he's inspired by the writings of Ayn Rand, and that he's spent his life fighting against "the socialist left." He says progressives want to erase history and make people dependent on government, adding that the left "has a hard time defining what a woman is." If elected, he says, he would eliminate government programs that incentivize people who avoid work. When asked about education, Jordan said the federal government should play "no role."
"We need to move our education system to the private sector. We need to privatize it," said Jordan. "Make it a market-based system."
MONICA CARPIO is a stay-at-home parent, economist and political activist who has a bachelor's degree from Stanford University in 1993 and graduate degree from Cornell University in 1995. Her parents immigrated from South America in the late 1960s; she is a native of California who came to the Washington area to work at the Department of Labor and the Department of Commerce. She says "the media is just out of control," and she blames the length of the pandemic on journalists.
"The reason this pandemic lasted so long was because of irresponsible reporters," said Carpio. "Sure a lot of people got sick, but it was mostly people with underlying conditions and elderly people. There was no reason to close businesses and schools for so long."
If elected, she says, she would reduce the budget for the United States Agency for International Development because she believes the U.S. spends too much money helping other countries. She says she would like to see that money moved to the Department of Defense. She says America needs "strict border control," and that she can help achieve this goal because she speaks Spanish. When asked about education, she said some of the money diverted from USAID could be used to purchase metal detectors for public schools.
"Controversial issues should not be taught in public schools," said Carpio. "The government should try to promote old-fashioned subjects in schools like math, reading, science, music and literature."
KEZIA TUNNELL is a co-founder of Tunnell Enterprises, which she says specializes in "large commercial builds and remodels." She says the deficit is "astronomical and unsustainable," adding that she would support "smaller packaging of bills so that we can better evaluate where your money is being spent." When asked about immigration, Tunnell said she visited the southern border and saw cartels working with border control agents to bring undocumented immigrants into the country.
"Illegal immigration affects our immigrant communities, and it affects the safety of our communities," said Tunnell. "We have to say no human trafficking and to the drug problems that are coming across our borders every day."
If elected, she says, she would support school choice and a reduction in federal regulation of schools, including decisions about curriculum. She says she supports increasing the budget for national defense and increasing sanctions to curb threats to national security. She also says she supports American energy independence, which she says would provide jobs, lower energy costs and national defense.
"I grew up in the 90s, and they told us that we were running out of natural resources. I actually believed that until I became an adult," said Tunnell. "But that is not the case, and that is not truth. They continue to renew, and we must use those so we can get costs down immediately."
FUNDRAISING INFORMATION
KARINA LIPSMAN
total receipts: $60,341

total disbursements: $16,992

cash on hand: $43,349
TOP CONTRIBUTORS
$5,800 from Brian Johnson, vice president of Veterans Guardian

$3,250 from Charlie Platt, cybersecurity consultant at Arete Incident Response

$2,900 from Graham Abell, student in Baltimore

$2,900 from Thomas Henry, owner of Henry Wealth Management

$2,900 from Neil Patel, director of Neil Patel Consulting
HEERAK CHRISTIAN KIM
total receipts: $12,800

total disbursements: $11,241

cash on hand: $1,623
TOP CONTRIBUTOR
$12,400 loan from the candidate
JEFF JORDAN
total receipts: $9,125

total disbursements: $9,125

cash on hand: $0
TOP CONTRIBUTOR
$9,125 loan from the candidate
MONICA CARPIO
total receipts: $8,438

total disbursements: $8,165

cash on hand: $273
TOP CONTRIBUTORS
$5,000 from the candidate

$1,288 from Joseph Messina, finance manager at Koons Ford

$1,000 from Jorge Carpio, retired
KEZIA TUNNELL
total receipts: $0

total disbursements: $0

cash on hand: $0
source: Federal Elections Commission