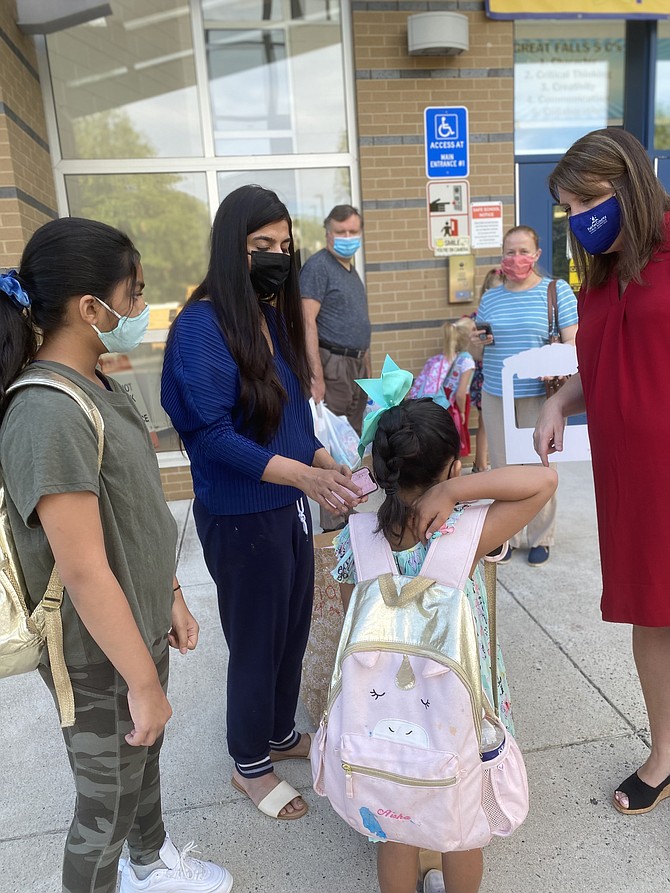 Virginia Gov. Glenn Youngkin (R) signed  Executive Order Number Two  on his Inauguration Day, Saturday, Jan. 15, to fulfill his promise "to empower Virginia parents in their children's education and upbringing by allowing parents to make decisions on whether their child wears a mask in school." The Order states that masks are not the only method to reduce transmission of COVID-19. It lists mitigation measures, including improvements to indoor air quality in school facilities. 
Fairfax County Public Schools issued a reminder that its policy on wearing masks has not changed. FCPS would continue to follow recommendations from local and national experts instead, requiring all students and staff to wear masks, except at times and on occasions already designated in (eating). Arlington Public Schools and Alexandria City Public Schools also announced masks would stay on.
FCPS Superintendent Scott Brabrand sent a message to parents: "As we return to school after the holiday weekend, we want to let you know that FCPS will continue universal masking for all students and staff … in alignment with CDC guidance. Our layered prevention strategies have proven effective in keeping transmission rates low in our schools. We know our students are best served by in-person instruction. Adhering to our layered prevention strategies, especially universal masking, keeps our schools open and safe places for students to learn."
According to Virginia Senate Bill (SB) 1303 effective July 1, 2021, each school board is to offer in-person instruction to students enrolled in the local school division "in a manner in which it adheres, to the maximum extent practicable, to any currently applicable mitigation strategies … to reduce the transmission of COVID-19 that have been provided by the federal Centers for Disease Control and Prevention."
Fairfax Sen. Chap Petersen, co-author and lead Democratic sponsor of the bill to reopen schools, said: "The law gives flexibility to local School Boards to open schools in a safe way while reflecting the practical realities of educating children. It does not require School Boards to follow any certain COVID protocols, such as mandatory masking for all children, nor does it preclude it."
But Petersen added that schools should have a plan to phase out mandatory masking in the "next few weeks or months. "Mandatory masking should not be a permanent feature of public education."
John Cook, former member of the Board of Supervisors, said on Twitter: "If we are concerned about parents' rights, do I have the right as a parent not to have the government compel my child to sit next to a maskless person all day?"
FCPS as of Jan. 14, 2022, reported 620 cases of COVID-19 for the month of January. That number might be lower than actual cases because schools were closed from Dec. 20, 2021 to Jan. 10, 2022 for winter break and then winter weather, according to an FCPS spokesman.
The Fairfax County COVID-19 Case Data for Fairfax Health District reported on Sunday, Jan. 16, the highest number of new confirmed COVID-19 cases to date, slightly over 10,000 for Week 1: Jan. 1-8 according to its Trajectory of Cases in the county.
The effective date of Youngkin's Executive Order No. Two is Monday, Jan. 24, 2022.
According to an FCPS statement, its 
layered prevention strategies
 have proven effective in keeping transmission rates low in schools. "We will continue to use data and science to guide our decision-making. In addition, the 
federal requirement from Feb. 2, 2021, 
is still in place on all forms of public transportation. Anyone riding a school bus is therefore required to wear a mask when embarking, disembarking and for the duration of the journey to prevent the spread of COVID-19."