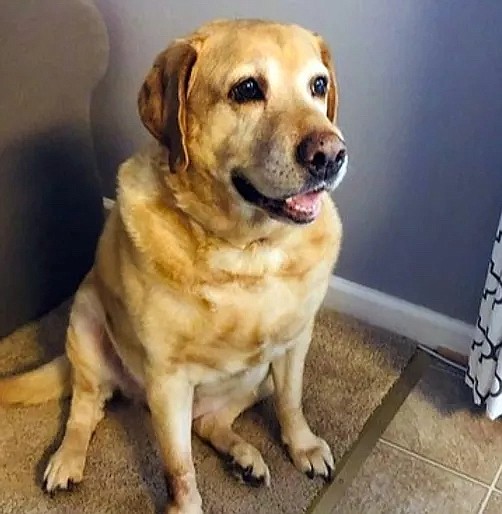 Senior dogs are Barbara Nugent's passion and calling. In her free time, Nugent, Park Services Division Director at Fairfax County Park Authority, is a volunteer for Lab Rescue LRCP, https://www.lab-rescue.org/, serving as a transporter for the non-profit organization. She drives the dogs to the vets, helps deliver them to their foster and adoptee homes, and welcomes often overlooked senior rescue dogs into her home, and adopts them herself.
As young as seven or eight years old, they are the dogs with the sugar muzzles of gray fur under their eyes, on their noses, and around their mouths. Nugent made the choice many years ago when her Labrador retriever, a "wonderful dog," died at 16 years. "I knew that I had room in my heart and my head to continue to address the issue of making sure that senior dogs have a forever home," Nugent said.
Chester and Sarge, a bonded pair, were Nugent's first adoptees when she returned to Northern Virginia, both 12 years old and from Lab Rescue. 
"Oh my, there was part of me that was saddened that someone would surrender a 12-year-old dog. You never know why, and I don't need to know the backstory," Nugent said. "I just hold on to them as long as I can."
Nugent continued to adopt older labs throughout the years, possibly a dozen in all, providing them forever homes. Some were the more typical bonded pairs who couldn't be separated, with one very old dog and one much younger, "So, I keep rotating through and making sure that when I lose an older lab, I can cycle into another lab. I typically have two," she said.
Nugent says they all deserve as good a home as she can provide them, and she spoils them. Currently, Nugent has Molly, thirteen, and Sadie, eight. Nugent takes Molly "water-walking" once a week to assist the muscles in her rear legs. Water-walking is a kind of zero-impact training in which the hydrostatic pressure of the water reduces weight or strain on the dog's joints. Warm water helps to relax the body and promote mobility.
"They have treadmills filled with water, and the dogs walk on the treadmill as the bottom moves. With Molly and some of the dogs, they will put up a small dish with suction cups and put peanut butter in it. Molly would walk all day if you do that," she said. Molly has improved, now able to hop on the bed and walk upstairs.
It's critical to rehome senior rescue dogs and place them with their second chance families; it is immaterial whether they end up in an apartment, townhouse, or detached home. "They need to be in a home so they can continue to work on their manners," Nugent added, rather than having them stay longer at shelters and kennels and possibly live out their lives there. "It's a challenge to find people who will foster and adopt older dogs. Lots of people like the puppies and the middle-aged dogs who are already house trained," said Nugent.
The American Society for the Prevention of Cruelty to Animals reports that older dogs are adopted at a rate of 25 percent. In contrast, younger dogs and puppies are adopted at 60 percent. As a consequence, senior pets are often overlooked. Prospective owners might reassess their expectations and consider adopting senior dogs to provide joy, and less stress than a puppy. 
An older dog can be the unexpected ideal fit, Nugent said. What you see is what you get. A puppy's personality and attributes may alter with time, but a senior dog's personality has already been established. Senior dogs also generally know all the basic commands. And although all dogs need medical attention, Nugent has discovered that the expenditures are not greater for senior dogs.
When she adopts a senior dog, she brings them to the veterinarian for a baseline senior panel to evaluate "how their kidneys, liver, and other things are doing." Then, if anything gets their attention, "we watch, monitor, and attempt to mitigate it," she said. 
Puppies, on the other hand, may be highly costly, and middle-aged dogs can experience severe injuries if they get loose or go to a dog park where there might be rough play. Senior dogs are more mellow in activity and are less prone to high-energy injuries.
Finally, senior dogs settle into a home better; they get each other, as Nugent said. She is not a "pup" herself. "I understand much more about senior dogs after all these years than I did before. I think I can read them when they are a little off," she said.
Finally, if something were to happen to Nugent, the dogs would be cared for. "With Lab Rescue, I signed a contract for each and every one of my dogs that if something happens to me, Lab Rescue takes the dogs back... to rehome them," she said.
Nugent considers it an honor to have been a part of the lives of the over a dozen dogs she has welcomed into her home, regardless of how long they have been there. Her story is one of honoring and paying homage, a tribute to her first Lab through her adoption of older Labs.
"I've done that since I've been in Northern Virginia. … All these dogs have been a tribute to her," said Nugent. "She was a wonderful dog. I miss her all the time."
Her name was Tribute.