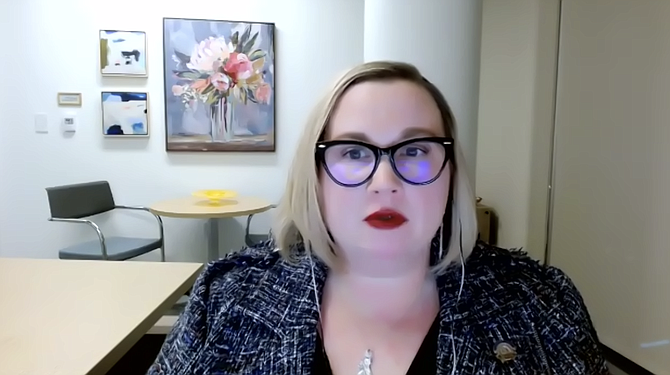 The national housing market is experiencing 118 consecutive months of home price gains and the greatest selling price to listing price ratio ever documented. A third of all listings sell for more than the asking price due to numerous bids. Adding to the mix, people have changed how and when they move. It's important to know that a 20 percent down payment isn't the norm. 
Dr. Jessica Lautz, vice president of Demographics and Behavioral Insights at the National Association of Realtors, examined these topics and more on Feb. 2 during her presentation, "Seeking Shelter: Changes in Housing Preferences" hosted by the Center for Real Estate Entrepreneurship at George Mason University School of Business. Fairfax County is in line with the national trend as home values and mortgage rates are expected to follow suit. 
According to Lautz, multiple factors come into play when attempting to purchase a home, work habits, support systems, and ready cash. On top of that, regardless of the buyers' age, the rising Gen Z generation, maturing millennials, or retiring baby boomers all face an extreme lack of housing inventory nationwide. "We have under 1 million units right now available on the market. That is the lowest level that we have recorded back to 1999 when we first started recording that data at NAR (National Association of Realtors)," she said.
According to Lautz, estimators say about 6.5 months of inventory is needed to have a balanced market. Instead, there is a strong seller's market. "They really are getting their asking price for that home," she said. In comparison to pre-pandemic 2019, Lautz reported a 30 percent increase in property prices and a 60 percent decrease in inventory.
Consumers who previously did not intend to purchase are now doing so, and COVID has altered household requirements. "Maybe not a home office, but two home offices or a room for kids to zoom school. Perhaps it is a place with a bigger yard where they can grow their vegetables and then put them in their brand new kitchen," said Lautz.
Younger millennials opt for more affordable markets, purchasing in suburban and small towns over urban areas. Aside from pricing and inventory, proximity to friends and family is another motivation. "We see that support systems have redefined themselves in the last two years, and people need their community around them in a different way than they had before," said Lautz.
Cash is king in the primary residence market. "What we see is that 17 percent of the market who are repeat buyers in the market are actually paying all cash as well. So that's an elevated share from what we have seen historically," said Lautz.
Homeownership is uneven, especially for Black and Latino communities. According to Lautz, among last year's successful homebuyers, Black homebuyers were more likely to have student loan debt than their white counterparts. "In fact, double that amount has student loan debt," said Lautz. Black homebuyers were more likely to be single-income households and single female buyers.
"We know that single female buyers overall are purchasing homes on a lower household income in comparison to single men. They are actually more active in the market …, especially among first-time homebuyers. But they're making more financial sacrifices to be able to enter homeownership. They have to save for a longer period of time," Lautz said. "We also know that individuals who purchase homes are more likely to be purchasing multi-generational homes, and they're equally likely to be Hispanic Latino buyers."
Lautz said African American homebuyers are more likely, one in six, to tap their 401k for the down payment. While it is positive that they are now homeowners and able to have the wealth gains ownership provides, they are degrading the wealth gains from their 401k.
The denial rate for mortgages for successful purchasers is also an issue. Compared to successful white purchasers, Black homeowners had a two-and-a-half-time higher denial rate. Although their debt-to-income ratio was low enough and they had enough savings in the bank, they were still denied a mortgage. 
Lautz cited the importance of this because net worth has to do with homeownership and the nest egg that is built into the home. A home buyer, regardless of race, who bought a home ten years ago, the equity that they have earned on their home in the last ten years has a net worth of $225,000. "When we think about homeownership or home prices increasing by 30 percent since 2019, we know that there is a lot of net worth and a lot of wealth gains that can be had for homeownership," she said.
Lautz dispelled the myths that young adults waste their money on avocado toast, transportation, and fancy cars. "Looking at the data, what we can see is that it is just not true," Lautz said. 
Younger millennials under the age of 25 spend a disproportionate amount of their income on housing, accounting for 35 percent of their income, compared to younger boomers at the same age, who spent 29 percent on housing. Student loan payments and spending on education out-of-pocket costs impact young adults' incomes. Transportation costs for young adults have declined over time, with the use of public transit and rideshare services.
Another common misconception is that homebuyers must put down 20 percent of the purchase price. "When we look at the typical down payment of individuals, what we can see is that for first-time homebuyers, it's been six to seven percent," said Lautz. She went on to say that repeat buyers typically put down 17 percent. One of the great resources available to first-time homebuyers is looking at hud.gov because it has low down payment options and programs that are available on a state and local basis…Also, an FHA loan is just 3 to 5 percent. "
Lautz concluded by talking about the use of agents. Homebuyers want that person's expertise when negotiating and closing. An agent can help sellers price their houses competitively, market them, close the deal, and move them onto their new property.
Question and Answer Session
Q: Are there homes available for buyers below 50 percent AMI (Area Median Income)?
A: That's where we're seeing the real lack of housing inventory for affordable properties right now. Those homes are moving even faster, and some of that has to do with investors coming into the market.
Q: These figures that you presented, along with rising interest rates, signal that this is becoming a nation of renters due to the affordability of homeownership.
A: It really is a very difficult time to become a homeowner if you're not already. But with rising rates, what we have seen is a rush to lock in rates. I have to say, too, that even though we have rising prices and even though we're facing rising rates, the wealth gains that homeowners have is outnumbered by anything that could be done on paper.
Q: Why are homeowners not selling their homes as much as they have been in the past years?
A: People are staying in their homes longer. We have seen the tenure in recent years rise to as high as ten years in a home before selling… Traditionally, people have moved because something in their lives changed — they had a baby, they got married, or they got divorced. So, all of those demographic changes are happening on a lower scale. The other big change is that in the last year compared to 10 years ago, we've seen a drop in people who are moving because of work change because you can work remotely.
Q: If the baby boomers are the biggest generation demographically and they are passing away, why aren't their homes helping the inventory of properties for sale?
A: Not all the baby boomers are dying off. I will say, we are seeing that people are living longer and they're working longer … We're seeing that perhaps it is a widow whose kids are all grown up, left and married, or just moved to different areas of the country. What we're seeing is that she's staying put in that single-family home.