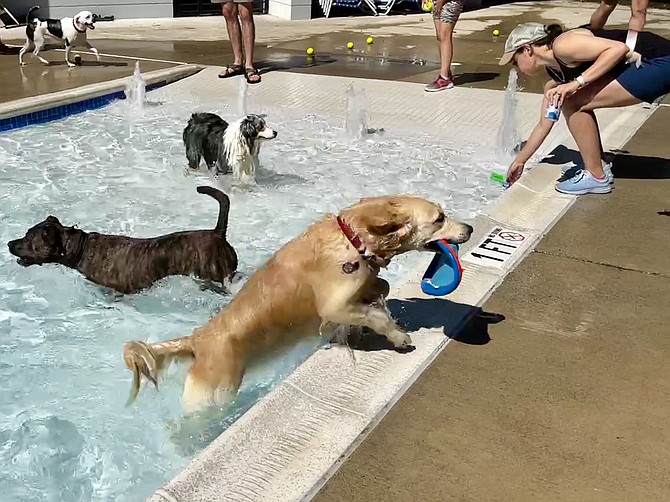 For local dog owners, the end of August and the approach of Labor Day weekend means one thing. It is an opportunity for them to visit dog swims with their four-legged best friends before staff drain and clean the pools. On Saturday, Aug. 27, Reston Association hosted the fourth of its five dog paddles, this one at Dogwood Pool. Dogs were welcome for 90-minute registered visits, sponsored by All Friends Pet Care.
The event proved a fun opportunity for Josh Light of Reston and Bailey. Not only were there other dogs for Bailey to play with on the deck and in the water, but the whipped cream biscuit-topped pup cup provided by Maria Queen, RA Parks and Recreation, added to the experience.
Reston resident John Bergmann brought Goose, his adult son's shepherd. Goose dove nonstop into the pool to retrieve tennis balls.
On the other hand, Luna showed she was unsure of the entire water experience. Susan Simpson, her human, moved her wary pet away from the group to calmer waters in the deep end. Simpson gently tried coaxing Luna onto a pup water ramp, but Luna was too scared to complete the final steps.  Simpson said that Luna would get in when she was ready.
Ashleigh Soloff, community event supervisor at Reston Association, said that the last day for dogs to swim in a pool closed for the season is Saturday, Sept. 24, at Ridge Heights Pool. Register online at reastonwebtrac.org.