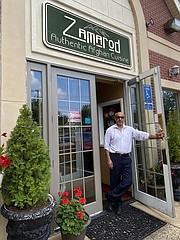 The United States and other countries have welcomed more than 150,000 Afghans and their families since the emergency evacuations began in mid-August. Kabul, the capital of Afghanistan, fell to the Taliban on Aug. 15 after withdrawal of most of the United States forces. The U.S. and other nations offered refuge to many Afghans who aided them during the last twenty years.
Afghan interpreters and translators who worked directly with the U.S. Armed Forces or under the Chief of Mission authority at U.S. Embassy Kabul applied to the U.S. for humanitarian visas known as a Special Immigrant Visa (SIV) for themselves and their family members.
With events rapidly unfolding and the U.S. racing to complete withdrawal, Three local Afghan Americans, twenty years apart in ages, share their perspectives on the troop withdrawal, rescue operation, and humanitarian crisis.
SENZEL SCHAEFER of Reston escaped Tehran, Iran, at age 5 when her family rushed to the airport in 1979. The family was in Tehran for her father's job, a city editor of the Tehran Journal, where he was printing anti-Khomeini articles. The Soviet-Afghan war began in 1979 also.
The family arrived in New York with two suitcases.
Because Schaefer speaks Farsi and Pashto, she spent these last two weeks volunteering for a company with 150 employees in Afghanistan trying to get out.
"Little did I know what I was getting into. These people are trapped in Afghanistan today," said Schaefer. "They call me day and night. They're pleading; they're crying; they're fearful. And so, between my work, my children, and my life, I've spent the better part of six, seven hours a day emailing and messaging them through WhatsApp or talking to them on the phone, trying to calm them down. I have nothing to offer them. They have no way out of the country. You have to understand [it is] 150 people (employees). And an average family of five or six people." Schaefer added that President Biden said the evacuations wouldn't stop after the withdrawal, but she questioned how that would look.
"You cannot wrap your head around the impact of a decision that hits 38 million Afghans but also millions of people around the world that were involved in this so-called War on Terror for 20 years. I think 750,000 Americans [military] filed in and out of Afghanistan on tour. It's the biggest of anything of that nature in our country's history," Schaefer said.
Schaefer hoped for the women of Afghanistan to have found their voices through education and employment. Now she worries about potentially half of the country's population to be shut down.
Schaefer said Afghans who settle in this area are prepared to help new arrivals. She told of the outpouring of the local community, including an attorney who is helping process the refugee paperwork.
Of Americans, she says: "We're in a state of shock because our government does things that we don't agree with; it gets us into these situations, and we are left to pick up the pieces. … The level of pain that reverberates through all of America is immense.
"We cannot be ungrateful to this host country that took us in. … I have lived a great life because of that."
DOR NIAZ, Great Falls restaurant owner, left Afghan alone in 1984 at age 17; later he was able to bring family members, including his parents, to join him in the United States.
"As for myself, my family, and my kids, we feel responsible," said Niaz. "Because America, if it takes the risk to bring them over, … then it's our time to back it up."
"My heart, I'm crying to those people, those moms, and dads [left behind]. You grab your kids, your wife, and if you are lucky, you get out; your parents you are leaving behind. … There is no welfare system. How will the elderly get on? They are being kicked out on the street. This is the fabric of a country that has been destroyed," Niaz said, with tears.
Niaz will donate, he will volunteer to serve as a translator. He will tell the refugees who have arrived in the United States that they are "in the land of opportunity. … There is nothing like it. It will take time for you to understand it. It's not easy, but you have to be able to adjust and be flexible."
Niaz said the terrorists who killed 13 United States Servicemembers, at least 160 Afghans, and injured many more, "are the scum of the earth. They need to be dealt with."
"America leaves on Tuesday…then you will see the killing fields…When you kill one, the second one is just like a moth you kill. No problem … God says when you kill one human being, you are killing the entire family," Niaz said.
AUROZO NIAZ is 21 years old and lives in Vienna, an Afghan American born in the United States and daughter of Dor Niaz.
"The past two weeks, I have been in touch with the whole Afghan diaspora. We're trying to support each other at this time, mentally, emotionally; whatever we can do for one another because we are suffering abroad as we are, domestically. We have been trying our best to come together and get donations and organize the donations … cash, and materials so that they go directly into the hands of the refugees," Aurozo Niaz said.

She described Go Fund Me solicitations, collections of money for apartment rentals, furnishings, hygiene kits, clothes, and school supplies for the children. Aurozo Niaz said that A-1 Carpet Service in Chantilly coordinated a drop-off site, and trucks were assisting. "We have 20 to 30 people at a time unloading full on. We organized these donations," said Aurozo Niaz. "We want to contribute as much as we can because these people coming here are our family … It's a collective culture."
Aurozo Niaz added that pain, loss, and grief are a permanent part of the Afghan identity. "We're in constant mourning. I ache for my country that I will never have the chance to visit … step on the soil of my roots. I ache for the children of Afghanistan who have known nothing but war; for the refugees, my brothers and sisters, who only wanted peace in a world of greed and violence."
Aurozo Niaz said she and other Afghan Americans are angry and experiencing survivor's guilt. They can freely walk down a street in the U.S. without a man beside them and have access to all the resources offered here.
"The reason I'm a refugee right now is complete luck. I was born in America and not one of the most overexploited, destabilized countries in the world… I think that's why we put so much effort into having these donations."
She said the U.S. goes into countries "under the guise of freedom and defense, and it conquers, leaving the country in absolute chaos, abandoning the promises to take care of it. … Now our government destroys and destabilizes these countries, then pats itself on the back accepting the refugees that they displaced."
Aurozo Niaz said the withdrawal is not a partisan issue; blame is not for one President or another but on the U.S empire as a whole. The United States had been intervening in Afghanistan since the Carter administration, Aurozo Niaz said.
"We just failed the people of Afghanistan."
Kerrie Wilson, Chief Executive Officer, Cornerstones said: "We're worried about the families that we serve here who have relatives that are coming over or still stuck there [in Afghanistan] … We work with our partners to direct people to the right places, Catholic Charities, Ethiopian Community Development Council, Lutheran Social Services, and some of the other groups that have been the frontline …They are the organizations that have always worked with immigrant refugee families. [They] are set up to help the process, help them connect with relatives, or help them connect with other short stay places."
Right now, it is "triage," Wilson said. "The first thing you do is make sure they are fed and have a safe place to stay. Then you can begin your wraparound services." Several faith groups and congregations, like St Mark's Orthodox based in Fairfax, have connected with Cornerstones.
Cornerstones and some other county providers offered safe, short-term quarantine sites for refugees to isolate if needed due to COVID. Organizations like Cornerstones are the backbone of human service that would be here for families as they settle in.
"We are the second wave…We will embrace those families and individuals in our programs, as we would any other families," said Wilson.
How to Help
The local resettlement agencies for the Northern Virginia area are:
Catholic Charities https://www.ccda.net/need-help/immigrants-and-refugees/migration-and-refugee-services/
Lutheran Social Services https://lssnca.org/take_action/afghan-allies.html
Ethiopian Community Development Council https://www.ecdcus.org/
Because Fairfax County has a sizable Afghan population, it is anticipated that many refugees will eventually resettle here.