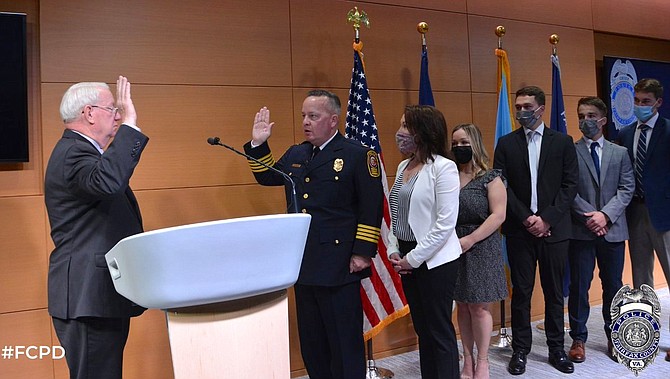 On Monday, May 10, the Fairfax County Police Department (FCPD) tweeted, "This morning, Chief Davis was surrounded by family, senior staff, and members of the Board of Supervisors for his ceremonial swearing-in as Chief of Police." Davis was sworn-in by John T. Frey, the clerk of the Fairfax County Circuit Court.
Davis became the police chief on May 3 following his appointment by the Fairfax County Board of Supervisors on Friday, April 23. As chief, Davis holds the top rank in the agency formed 80 years ago. Headquartered in Fairfax, FCPD employs 1,402 police officers and 368 civilians covering a jurisdiction of 407 square miles.
On May 4, 2021, the Board of Supervisors approved the following appropriations to the General Fund for the police department beginning July 1, 2021, and ending June 30, 2022: Compensation-$186,374,506; Operating Expenses-$34,770,258; Work Performed for Others-($697,406); Capital Outlay-$381,600 - Total $220,828,958 according to Fairfax County.