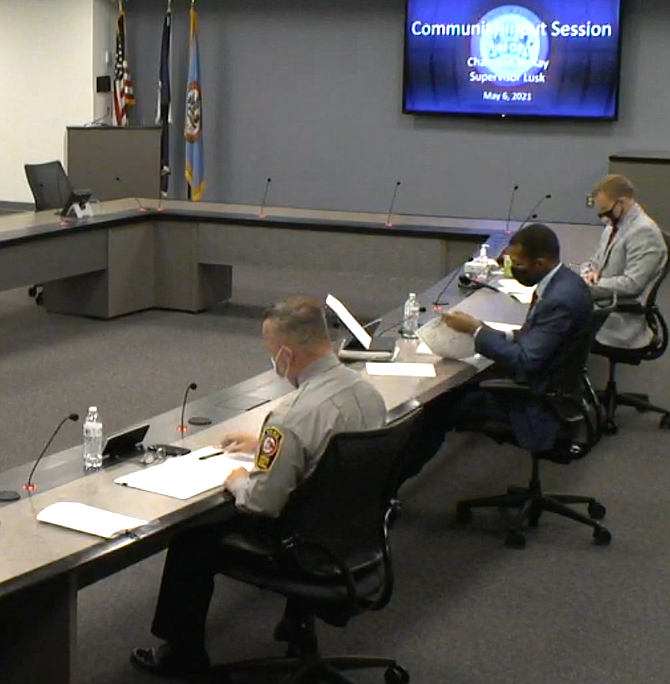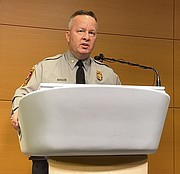 On day four in his new position as Chief of Police Fairfax County, the ghosts of Kevin Davis' law enforcement past clung heavily in the County's public arena of the May 6 virtual Community Input Session hosted by Chairman Jeffrey C. McKay (D-At-large), Fairfax County Board of Supervisors, and Supervisor Rodney Lusk (D-Lee). The problem was the community's concerns were no longer confined to the Board's hiring process and appointment of Davis as chief of police. While the non-disclosure of decades-old civil lawsuits with judgments entered against Davis from incidents as a young sworn law enforcement officer, including use-of-force and ruling of violation of constitutional rights was old news community concerns escalated with new findings and reactions the week of May 3.
County residents questioned a litany of recent incidents, 2016-2018, that came to light, this time with Davis employed not as a young cop in 1993 and 1999 but in high-ranking law enforcement leadership roles. These and other matters shook the trust and unhinged for many any possible faith in Davis's ability and transparency as Police Chief of Fairfax County.
Davis shared at the forum three words that held meaning for him-transformation, accountability, and transparency. "I'm all about accountability, both for police officers [and] myself; and people who commit crimes. There has to be a pathway back to success," he said. "My track record of nearly three decades is a journey," Davis said. As reported May 7 by FCPD: "I think 2021 is the perfect opportunity for me to return to what I love. – Chief Kevin Davis"
The two-hour virtual engagement on May 6 provided a platform for Davis to share his track record, lay out his vision for policing in Fairfax County, and community speakers to comment and question him and Chairman McKay with immediate response.
McKay said they were aware of Davis' incidents that caused community concern. 'We believe in Fairfax County and community engagement, not one session, not one meeting, not one phone call, not one testimony," He added, "No one is perfect. No agency is perfect. We always strive to improve."
Chief Davis opened by saying that he learned the importance and value of community early in his police career, to hear the voices of those telling how they want to be protected. "We cannot be successful without a diverse and engaged community. And neighborhoods cannot be safe without a police department that serves and protects with integrity and trust," he said.
Davis provided background information by listing his recent accomplishments as police chief in Prince George's and Anne Arundel counties, Police Commissioner Baltimore City, and recipient of a 2019 fellowship award. Davis said he was the first police chief in the region to insist police officers carry Naloxone. He helped negotiate the terms of the consent decree for the Baltimore Police. The Open Society Foundations announced him as one of its 2019 recipients of its Leadership in Government Fellowships. According to Davis, he was the fifth police chief in the country to implement Law Enforcement Assisted Diversion, "an immediate opportunity for police officers to offer those suffering from drug addictions to break the pipeline to prison."
Davis did not refer or allude to negative incidents, such as lawsuits where juries ruled against him in his role as a sworn police officer, incidents 1993 and 1996. He did not disclose the findings of "excessive use of force" by a Police Internal Review Board.
Davis did not disclose when a Cessna with Persistent Surveillance Systems' cameras secretly flew over the City of Baltimore for eight months in 2016. The Baltimore Police Department, with him as Commissioner, used the plane to investigate crime, sometimes 10 hours a day, and the public did not know. It was only when citizens found out the program stopped. Baltimore Police released logs tracking flights over eight months, taking over 1 million snapshots of the streets below.
Davis omitted his six-day lockdown of Black Harlem Baltimore in 2017, resulting in an ACLU lawsuit after African American Baltimore police homicide Detective Sean Suiter was killed with his service revolver. Davis did not say the detective was to testify to a grand jury regarding police corruption.
There was no discussion by Davis about his termination as Baltimore Commissioner by Mayor Pugh, who cited rising crime.
Davis failed to bring forward the 2018 Independent Review Board report on the death of Baltimore police homicide Detective Sean Suiter. It accuses him as former Baltimore Police commissioner of misleading the public: "The Commissioner repeatedly shared unverified and ultimately inaccurate information with the public, despite the emergence of forensic and other evidence:"
Davis previewed his 100-day plan for Fairfax County. He focused on critical areas the community demanded improvement: use of force--particularly, time, distance, and de-escalation; tactical repositioning of police officers in critical situations; implicit [unconscious] bias training and use of CompStat [Computer Statistics] that gathers real-time information and intelligence. Davis said FCPD would realign with One Fairfax. The department's community-oriented policing strategies meant to reimagine policing would include a strong focus on a co-responder program. "I'm a big believer in that," said Davis. The model involves police and mental health medic collaboration.
According to Davis, with his "strong executive experience as a progressive and reform police chief, he understood that police reform could not be punitive, done to police officers. "It must be done with them, and through them, and in collaboration with the community," he said. "I look forward to meeting you in the days to come and working with you in the years to come as we move Fairfax County forward,' Davis said.
Highlights of Comments during the Community Input Session Q & A
Alicia Plerhoples of Dranesville testified regarding the County's process in hiring the chief. Addressing the Board of Supervisors, she said they must now do the difficult work to ensure racial justice in County policing. She said, "That begins with acknowledging your mistakes in hiring Chief Davis whose past misconduct was not disclosed to the public and possibly to the Board of Supervisors prior to his appointment." Plerhoples cited the two civil suits against him [incidents: 1993 Spann v. Davis, 1999 Romjue v. Prince George's County, Md, et al. Defendants (Davis and others): "In which his victims, at least one of whom is black, proved charges against Chief Davis for use-of-force and false imprisonment." Plerhoples called on the Board "to remove Chief Davis from his position and conduct a transparent and thorough search for a new Chief of Police."

Jeremy Monat of Burke addressed the Supervisors, saying while they defended their selection of Davis since incidents [1993, 1999] occurred decades ago, "contrary to the thrust of your statement, those are not the end of Davis's abuses of power." Monat said that in 2016, Davis, as Commissioner of the Baltimore Police Department, worked secretly with Persistent Surveillance Systems to fly a plane over the city of Baltimore. Referencing a story by Bloomberg Business Week, Monat said, the wide-angle cameras captured an area of roughly 30 square miles." [It] continuously transmitted real-time images to analysts on the ground...Even the mayor and the city council had not been told. Davis' response did not take responsibility." Monat said Davis should not be in another position of authority, this time over the people of Fairfax. Monet asked, "Chief Davis, do you pledge not to use mass surveillance against the people of Fairfax County?"
Davis did not answer yes or no. He said, "I've certainly changed, and grown, and learned many lessons throughout the course of my career... I have served communities that not only need public safety, but good public safety, and I look forward to bringing those reform efforts."
Amanda Andere of Reston is the Ex. Director of Funders Together to End Homelessness. She served on Chairman McKay's Task Force on Equity and Opportunity, leading the Equitable Communities Committee. She said, "We need to start over. We need a process, rooted in equity, equity, that starts and ends with community input." Andere said that a root problem identified during the task force was that "people of color and people who have lived expertise do not have the power to influence decision making." She believed then that the Board embraced the essence of the recommendations in decision-making during the task force, and the Board would use them going forward.
"And so, I felt like my time on the chairman's committee was in vain and disrespected,' she said. "I "hope you understand that how we feel about the process, the result, and your response to our concerns does not build trust in communities where government mistrust has been central to our experiences."
Vicki Fishman is the Director of Government and Community Relations for Northern Virginia, Jewish Community Relations Council of Greater Washington. It is the public affairs arm of the organized Jewish community, representing over 100 synagogues, schools, and institutions throughout the region. "As a community, we expect those empowered to preserve and protect a just society for all its members to conduct themselves in keeping with the law they are charged to uphold, adhering to the highest standards of decency, accountability, and responsibility," Fishman said.
Fishman expressed disappointment at the lack of transparency by the Board of Supervisors in the hiring process and the need for adequate stakeholder input. "The trust and safety of the Fairfax community should have been the top concern...Soliciting written input from advocacy groups and sponsoring a hastily organized community call-in after the fact are completely insufficient measures."
Ron Kuley is the president of the local firefighters' union. He said McKay and Supervisor Lusk conducted countywide meetings to seek community input before the selection. He understood that Lusk put in considerable time meeting with community representatives and employee groups. "As a longtime employee and labor leader, I have faith in Chairman McKay, Supervisor Lusk, and the Board of Supervisors in their process and selection of Chief Davis," he said
Kuley asked, "How do you, Chief Davis, plan on overcoming the negative comments and feedback that we've been hearing this evening and in the last couple of days here in Fairfax?
Davis responded: "By being the best, Chief of Police, you can possibly be. And that's what I intend to do, and I'm going to put in the work and demonstrate to the entire community that I am the right person to lead this great agency."
Terry Adams said that hundreds of police officers served in Prince George's County who never used excessive force during Davis' years of service. "It is difficult to sue a police officer for the performance of his or her duties... It's even harder because of qualified immunity to find a police officer liable. Mr. Davis was twice found liable for either excessive force or false imprisonment," Adams said.
"I am disappointed in the decision of the Board...So, when you are a 21-year-old, you get a badge. You get a gun; you swear to protect and defend the Constitution of your locality, as well as the United States, and you violate that not once but twice there can be personal redemption. Professional redemption cannot be part of that. Not today."
In one of his final statements. Davis said he chooses not to get into public battles about 1993 and 1999 because "the six most important words in the English language are, "I admit; I made a mistake."
"I have learned. I've grown, and I've matured. And I've served elsewhere with distinction," he said.
Chief Davis called his first News Conference the next day, May 7. He retold his background story he shared the night before. Davis added that the criminal justice system is best when it has a "redemptive mindset" for offenders.
In his first five days as chief, Davis said he participated in several virtual and telephone meetings and stood at a homicide scene. He described seeing the hard work of Fairfax County detectives and crime scene investigators. "They care. This community cares. And I'm not going to let this community down," Chief Davis said.
On Sunday, May 9, Diane Burkley Alejandro, ACLU People Power Fairfax reflected on the Public Input Session. "Virtually everyone who spoke voiced strong opposition to the process used to select Chief Davis and questioned his past misconduct, including the six-day lockdown of a Black Baltimore neighborhood in 2017, which resulted in an ACLU lawsuit. This wasn't a conversation with the community; we were simply allowed to vent. Many specific questions were asked about what happened, but we received no answers at all from Chair McKay and nonresponsive ones from Chief Davis. He now says what's past is past, it is time to move on. We will work with him on police reform and intend to hold him to his progressive words. But this process has shaken community trust in Fairfax, including the Board and the Chief. Unanswered questions and a trust deficit is not a good way to start," she said.
Kelly Hebron Chair, Fairfax Democratic Black Caucus started a petition to Chair, Board of Supervisor Jeff McKay and Rodney Lusk Lee District Supervisor, Fairfax County Board of Supervisor, and Penny Gross Mason District Supervisor, Fairfax County Board of Supervisor to recall Kevin Davis as Fairfax County Police Chief. Petition · Recall Kevin Davis as Fairfax County Police Chief · Change.org.