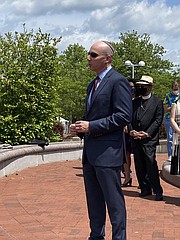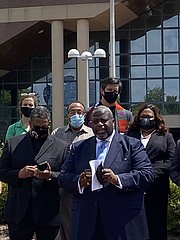 Approximately thirty interfaith leaders from across Fairfax County gathered in the "First Amendment" area outside the Fairfax County Government Center at noon, Tuesday, May 4. They exercised their Constitutional right of free speech to lead a prayer vigil in response to the Fairfax County Board of Supervisors' recent selection of Kevin Davis as the County Police Chief. Inside the Government Center, the Fairfax County Board of Supervisors meeting was about to get underway at 1 p.m.
"[The hiring of Davis] was a decision made in the dark," said Denise Wilson, President of Baptist Ministries of Northern Virginia.
Moderator Rev. Dr. Vernon Walton, the First Baptist Church Vienna senior pastor, addressed his fellow faith leaders from different traditions, denominations, and worship styles, yet holding a common interest. Walton said that they were there to pray and lift to God the concerns of their people and those of County residents about the selection of Kevin Davis as the new police chief.
"No one, especially a police chief, should begin a job with a trust deficit," said Walton, senior pastor of the First Baptist Church Vienna.
"Specifically, many are concerned about the integrity of the process and the more recent findings that have become public since the announcement of the hire. Many are concerned about the lack of transparency and obvious due diligence in this search process," said Walton. "Speaking the truth is not always comfortable, but it is necessary. Either we are facing a process issue or values issue. Either way, there's a flaw," he said.
Walton referenced incidents involving Davis solely by the years 1993 and 1999 when Davis was a police officer. He did not say the incidents led to lawsuits against Davis with claims he used excessive force. Walton did not need to; those gathered learned from the media and other sources after the County Supervisors selected Davis in a closed door meeting.
Walton said Supervisors acknowledged they were not aware of the 1993 or 1999 incidents regarding the new Chief. "That's a flaw," Walton said. He questioned how the Board could make an informed decision without dialogue. "Either you, [Supervisors] knew of the history of our Chief and have made a determination that it was so insignificant that you are standing by your choice. Or you didn't know of these events. And as a result, you are grieved by the fact that critical information with regard to one's professional career has been purposely withheld, and you want to revisit your decision," he said.
Walton said it is the Board of Supervisors' responsibility to tell the community why they selected Davis, and in light of recent findings, why they are remaining with him. Walton said the trust deficit is not Davis' alone to own. It is a burden the Board of Supervisors also carries.
"The moment there is a questionable stop, or God forbid, something worse, it will also be on your hands [Supervisors] because of your decision-making process. And so, we gather to pray, praying for God's will to be done."
Faith Leaders: Why are We at the Vigil:
"Justice, transparency that can shed light on truth. That the Supervisors do not operate behind closed doors in the process of a police chief. We, the People, have the right to hear the whole story." – Bishop Carroll A. Baltimore, C.A.B. Outreach International Ministries, Inc. Chantilly
"To shine a light on the truth." – Rev. Jacquelyn Hollingsworth, Ret. Pastor of AME Church
"I'm here to ask the County Supervisors to fix their mistake and rescind the contract of the new police chief… We need the right person for the job." – Rev. Sean S. Roberds, First Baptist Church of Herndon
"Lord, you are about that work of building the beloved community…and you are about that work right here in Fairfax County…Let your spirit fall upon all who are citizens of this County. Let your spirit fall upon the Board of Supervisors. Let your spirit fall upon the Police Department." – Rev. Dr. Scott Ramsey, Pastor at Lewinsville Presbyterian Church in McLean
"We are here to do what is right and just for the Fairfax County community." – Rev. Dr. Paul A. Sheppard, First Baptist Church of Merrifield
"It's appropriate for us to be here today as clergy because what we are talking about is atonement … The mistakes that we have to accept, the hardest ones, are the mistakes we make. Atonement comes when we are given the opportunity to make the same mistake, we choose a different path. And we can only do that when we know what we've done is wrong." – Rabbi Michael G. Holzman, Northern Virginia Hebrew Congregation, Reston
"We would like to see justice served by the rescinding of the contract of new Chief Davis. The residents of Fairfax County are depending on us to do the right thing." – Rev. Dr. Denise Wilson, Baptist Ministries of Northern Virginia