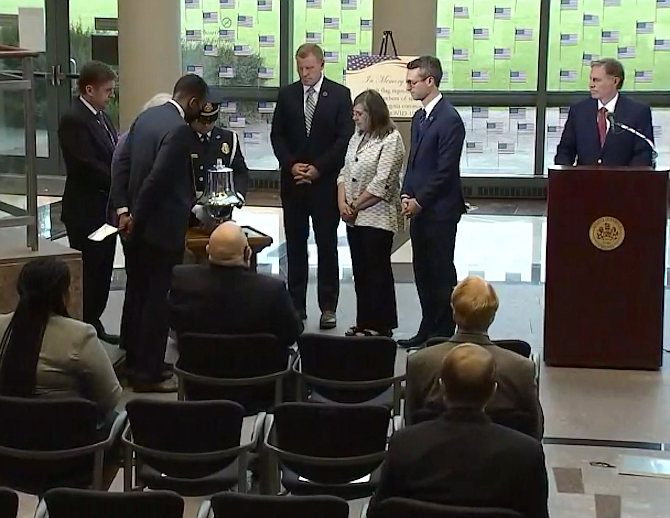 On March 21, 2020, the Fairfax County Health Department reported its first death of a resident due to COVID-19. Four hundred and forty-six days later, on June 9, 2021, at the Fairfax County Government Center, the Northern Virginia Regional Commission held a solemn Remembrance Ceremony for those lost to the COVID-19 pandemic. Community leaders gathered to remember the 2,364 souls thus far and reflect on the pandemic's terrible toll on the region. The Northern Virginia Regional Commission is a consortium of 13 local governments representing more than 2.5 million residents.
"We come together to grieve... for all the lives that have been cut short. We mourn our mothers and fathers, brothers and sisters, aunts and uncles, grandparents, children, friends, and neighbors," said P. David Tarter, Chairman, Northern Virginia Regional Commission.
Jeffrey McKay, Chairman, Fairfax County Board of Supervisors said, "Today... we're gathered specifically to honor those who we have sadly lost. Behind me, you will see 236 flags. Each flag represents ten people we lost to COVID-19 across our Northern Virginia region, totaling 2,364 people. This number, of course, isn't complete."
Regional cooperation in fighting the pandemic had been critical, McKay said. He told those gathered they may have noticed when they came into the County Government Center that county flags remained at half-staff to honor those in the community who died and thank the first responders and frontline workers for the sacrifices they made.
"They have been relentless heroes throughout this pandemic. ... We hope to honor all of those who have died and who gave so much during this crisis through a permanent memorial that's in its very early stages of planning," McKay said. "We will never forget the real human toll of this pandemic, the people, the personalities that these flags behind me represent, and we will always honor those who we have sadly lost."
Dr. Gloria Addo-Ayensu, Director, Fairfax Health District said that as the community begins to heal and recover from the "unprecedented season of loss," people must do everything in their power to protect the most vulnerable who remain at risk for severe disease and death. "The vaccine is the best tool available for ending the pandemic. … We haven't reached the level of immunity required to stop the COVID virus from circulating in our community."

While many have been vaccinated, many others have not yet had access to the vaccine or decided to get vaccinated. "Children under 12 are not yet eligible. So, our work is far from over...We need everyone's participation, government, schools, businesses, nonprofits, faith leaders, and parents, to achieve the highest level of immunity within our community."
Fairfax County Chief of Police Kevin Davis told of a man he never met, Lawrence "Larry" Magni of Reston, Va., who died on Aug. 25, 2020, from complications related to COVID-19. Magni served in the challenging role as the Police Department's Resource Management Bureau Director of Facilities and Security.
"All the leaders of the police department that I spoke to asked me to tell you a little bit about Larry. And Larry's name and Larry's story are not unlike the ten names that each American flag behind me represents. His story is not uncommon, but it is worth telling." Magni was "beloved" by the Fairfax County Police Department family just as each of the 2,345 other individuals who died from COVID-19 complications was also beloved by those who knew them best.
Fairfax County Fire Chief John Butler compared his three weekly morning calls with "Dr. G," [Dr. Gloria Addo-Ayensu, Director, Fairfax Health District] as a time of "global war."
"We've all lost loved ones and watched as our lives and lives of many other friends and family were turned upside down. Earlier this year, President Biden said to heal us, we must remember. Remember those we lost and those who are left behind. So today, we recognize the profound loss we've all suffered, and we remember. We remember those who are no longer with us," said Butler.
The tradition of firefighters ringing a bell is symbolic and used to represent the end of an emergency and return to quarters. When a firefighter dies in the line of duty, the mournful toll of the bell announces the passing and shows great honor.
"Today, we adapt that symbolic ceremonial act in a slightly different way," said Butler.
One by one, Tarter called out the 13 jurisdictions, the bell ringing three times for each: "Arlington County, Fairfax County, Prince William County, Loudoun County, City of Alexandria, City of Fairfax, City of Falls Church, City of Manassas, City of Manassas Park, Town of Dumfries, Town of Herndon, Town of Leesburg, Town of Vienna." Following, he said, "You'll now hear Amazing Grace from our bagpiper. This concludes our ceremony. Thank you, and let us always hold dear the many we have lost."
A video of the ceremony can be viewed on Chairman McKay's official Facebook page.