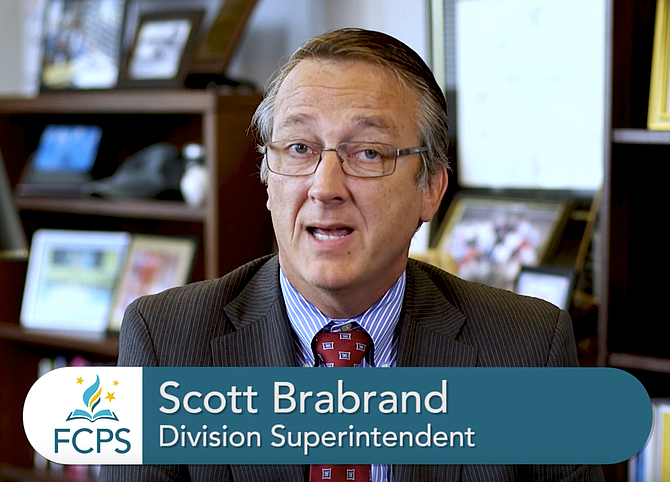 Dr. Scott Brabrand, Superintendent of Fairfax County Public Schools, announced on a YouTube video released Thursday, July 15, 2021, that he is leaving FCPS at the end of the next year, consistent with his FCSB contract. Brabrand gave no reason why he was stepping down after almost 30 years intermittently with the division. He said that through "caring connections, we make a lasting impact on our students, our community, and each other."
During its Thursday, July 15 Meeting, the School Board considered authorizing the Request for Proposal for the Superintendent Search Firm to be released no later than 5 p.m. on July 19, 2021. Vice-Chair Rachna Sizemore Heizer thanked Dr. Brabrand for his service. "I thank you for your big heart and your hard work and your love for our system. And for your grace. We are going to miss you," Sizemore Heizer said.
School Board representative Karen Corbett-Sanders (Mount Vernon) provided insight into the process. She said that it takes quite a long time to hire a superintendent, and the Board would obtain the services of an executive search firm. She added that the Board was "casting a wider net" in its search, expanding it to professionals in K-12 and college environments. In addition, the Board would be asking for specific skills, including being able to engage in multiple languages with the community. There would be a "robust community engagement process" as the Board developed the Profile of a Superintendent. The Board would engage the community in how best to vet potential candidates.
"So, this is really the beginning of the process," Corbett-Sanders said.
The Board unanimously approved the resolution.
The Fairfax County School Board appointed Brabrand as Superintendent of Schools on June 8, 2017. Brabrand changed careers to become a teacher after being inspired by volunteer work in the schools. He began his career in FCPS as a social studies teacher in 1994. He served as an assistant principal at Herndon High and an associate principal at Lake Braddock Secondary School before being named principal at Fairfax High School in 2005. In 2009, Brabrand was promoted to Cluster Assistant Superintendent. Brabrand spent five years as Superintendent of Lynchburg City Schools before returning to head FCPS.
School Board Elects New Chair and Vice-Chair
Fairfax County School Board unanimously elected Stella Pekarsky (Sully) as Board Chair. Before the vote, Megan McLaughlin (Braddock) said Pekarsky would be "stellar" in the role because of her willingness to "always presume positive intentions, to always think broadly … [and] to make [the Board] a safe place … to share points of view." Following the vote, Chair Pekarsky said she hoped the Board would collectively center its efforts on "building community over chaos on the board."
The Board unanimously elected Rachna Sizemore Heizer (at-Large) as Vice-Chair. Elaine Tholen (Dranesville) said Sizemore Heizer's expertise in special education would be helpful as the Board continued its audit of special education services.
School Board Adopts 2021-22 Student Rights and Responsibilities, Redefined
With the board poised to take recommended action to adopt Regulation 2601.34P, Student Rights and Responsibilities, Paul Woodbridge provided comment. Woodbridge said he is the parent of two FCPS graduates, gay and trans, and proud of the school board's progress in promoting affirmative support and the rights of LGBTQ individuals. He especially commended the progress the board made on updating non-discrimination policies and adopting the state-mandated guidelines for supporting transgender and non-binary students. Woodbridge said his son was denied bathroom access and was asked inappropriate questions about his anatomy. His son took it upon himself to educate school administrators on how to support him and his needs. "No kid should have to play that role," said Woodbridge.
Speaker Olivia Johnson, a parent of a gender-diverse child, said, "I have watched in horror as hate groups gather around Virginia to attack their gender-diverse kids and families." She said transgender children are in danger of self-harm and suicide. "The best way to support them and ... prevent suicide in these kids is to affirm them. … The only thing we are doing is affirming our children's pronouns, their names and allowing them to dress and express in a way that feels authentic."
School Board Member Karl Frisch, the Board's Providence District representative and first openly LGBTQ member, sponsored the motion. He said like the school division, the changes to Student Rights and Responsibilities were a work in progress when it came to increasing equity and achieving the strategic objective "of seeing every child by name and by need."
"In the face of alarming discipline disparities experienced by students of color and with special needs," work had been done to make Student Rights and Responsibilities "less biased and punitive and more focused on restorative justice."
"That spirit of progress continues in this revised document," Frisch said.
The document identifies several rights for gender-expansive and transgender students. "Tonight's vote will not sweep away the pain and hurt you have experienced at the hands of careless peers or adults who should know better, but the changes we approve in this new Student Rights and Responsibilities document demonstrates our commitment to your success and safety in Fairfax County Public Schools," Frisch said. "They are long overdue."
The Fairfax County School Board unanimously adopted the 68-page updated School Rights and Responsibilities, Regulation 2601.35P. The regulation explains expectations for student behavior, parent engagement, and adult responses.
Highlighting some changes as stated in the regulation: "[It] expanded language regarding School Resource Officers (SROs) and included specific examples of behaviors of concern… added language regarding School Resource Officers that further defined safety concern and harm [and] replaced "should" with "shall" regarding FCPS administrators questioning students for the purpose of student discipline."
Arlington and Alexandria public schools, as well as Montgomery County, Md., have removed police from schools and defunded the School Resource Officer programs.