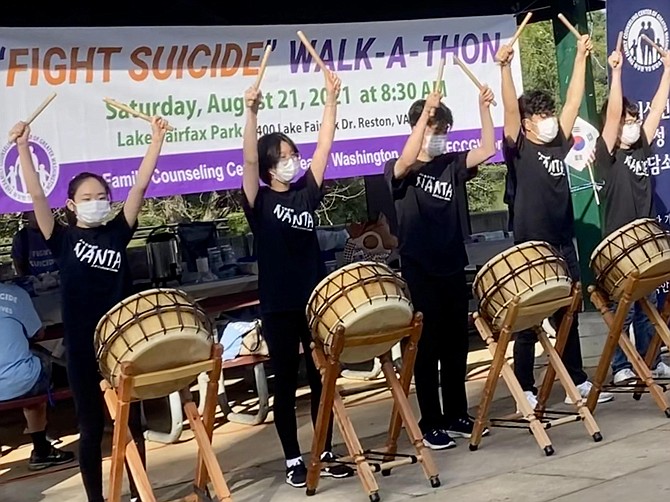 The pandemic's psychological and socioeconomic fallout may be driving an accelerated trend in depressive symptoms and suicide ideation, attempts, and deaths in Fairfax County, reported experts in mental health at the "Fight Suicide" Walk-a-Thon at Lake Fairfax Park in Reston held Aug. 21. The need exists for the community to offer a hand to those who cannot ask for help or treatment.
Prolonged social distancing and self-isolation imposed by the pandemic are compounded by the daily burden of worries about family and self-employment, income falling, and Covid health and safety of loved ones. These concerns are raising the risk of mental health issues. Some individuals are at the breaking point into "darkness" and the "ultimate act," suicide, yet stigma and prejudice associated with reaching out for help stops them from doing so.
On Saturday, Aug. 21, the Family Counseling Center of Greater Washington located in Vienna hosted the "Fight Suicide" Walk-a-Thon. Partnered with the Fairfax Health Department, the event's purpose was to bring attention to mental health and the stigma that can be associated with it.
Daniel Park is the Executive Director of the Family Counseling Center of Greater Washington in Vienna. "Suicide is not a matter of personal concern. It is a matter of the community's responsibility," Park said. "This is why we must work together, especially for the Asian American community. It is not ready yet to speak about suicide because of stigma."
Cultural factors influence some Asian- Americans whether or not they seek access for behavioral or mental health concerns. Depending upon the individual's degree of acculturation, socioeconomic status, immigration status, and their given culture, Chinese, Japanese, Korean, Vietnamese, etcetera, these factors may influence whether individuals seek diagnosis and treatment or not.
Cindy Han, Chair of the Board of the Family Counseling Center of Greater Washington located in Vienna, said that the practice's primary purpose is to serve those with mental illnesses. It offers to counsel individuals experiencing life's serious challenges.
THE IMPACT OF THE PANDEMIC crisis on suicidality appears related to the increase in mental health problems. Han said, "We have encountered many families who have lost their loved ones to suicide and families struggling with a family member contemplating suicide.
"A person dies by suicide every 11 minutes in the United States," said Han. Suicide is the second leading cause of death among teenagers, particularly many Korean teenagers who take their lives with suicide, according to Han.
Binbin Yang, Community Health Specialist with Fairfax County Health Department works with the Asian and Pacific Islander communities. "The American public is not aware that suicide is a national crisis," said Yang. "People seeking our mental health services have increased threefold since 2020 compared to 2019."
According to Yang, the impact of the pandemic is negatively compromising lives with "anxiety, depression, and a sense of hopelessness." She said the purpose of the day's event was "to bring people from darkness out into the light."
Yang said, "Mental health is nothing to be ashamed of. It is no different than having any other bodily ailment that you go seek a specialist for a cure." Yang added that when people suffer, have challenges, they need to talk to others, so they do not go unnoticed.
"We want to be sure that it does not lead to the ultimate act. How devasting suicide is," Yang said.
Gloria Addo-Ayensu, MD, MPH, is the Director of Health for Fairfax County. She said that given the level of COVID transmission in the County and its isolation, people are not doing what they did previously. "When individuals have challenges with their mental health, isolation further exacerbates the problem… Silence fuels the stigma," said Addo-Ayensu.
School Board Member Melanie Meren (Hunter Mill District) said, "Mental health is just as important as physical health for our students and staff. This year we know that we must pay attention to the risk of suicide and listen to our students who are asking for help."
Robert Rigby is a teacher at West Potomac High School in Alexandria. He said that suicide touches LGBTQ+ students "very dearly." "I'm here to stand up for and represent all the students who are struggling and need someone to support them."
Shyamali Roy Hauth is the 1st Vice-Chair of Democratic Asian Americans of Virginia. According to Hauth, the Asian community needs to make sure they speak about suicide prevention. "Last week, we held a panel on mental health with the Democratic Asian Americans of Virginia…Speaking about mental illness, mental health, and suicide prevention is very important to our community."
GRACE NOH, 17, of Clifton, attended the walk-a-thon. According to Noh, the event was important to her because she knew people struggling with depression. "I thought this was a way to support them," she said.
Ester Lee, 17, of Centreville, said she saw a flier about the event and thought it a good way to connect. She, too, told of a friend who had been struggling with depression.
Sophia Yu, 13, of Springfield, came to the walk-a-thon with her mother. Sophia said what she learned that day was that someone in the United States dies by suicide every eleven minutes. Asked what she might do if she felt negatively overwhelmed, Sophia said, "I would talk to somebody, someone I was close to, if I felt sad or depressed."
Gabriel Yu, 11, of Springfield, said that he learned teenagers were "dying by suicide." If I felt depressed, I would talk with my mom or dad."
Thomas Rayner's father died by suicide. While not a mental health expert but holding personal knowledge, Rayner said, "When people get into that space, they don't see any other alternatives. They don't think about the impact they have on people around them and their loved ones. It's not that they're selfish, but they just can't think of another way."
Anthem HealthKeepers Plus, one of the event sponsors, offers Medicaid and FAMIS (Family Access to Medical Insurance Security Plan, the Virginia health insurance program for children). Open enrollment runs through Aug. 31.