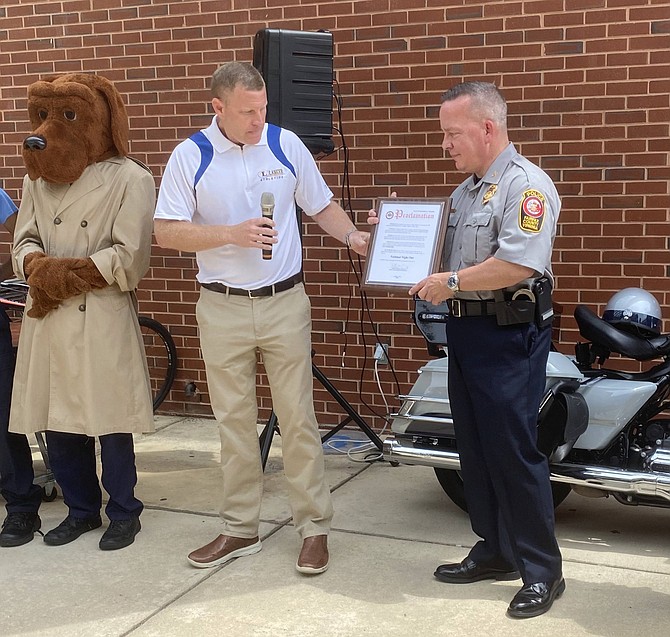 National Night Out is a time to celebrate, whether the clock that day says noon or 8 p.m. It is a time to have community fun, to say thank you to law enforcement officers, and get more involved in the community. That is how, according to Jeffrey C. McKay, Chairman of the Fairfax County Board of Supervisors (D-At large), Fairfax County remains the safest jurisdiction of its size.
Shortly after noon on Tuesday, Aug. 3, McKay welcomed all to the first National Night Out 2021 event in the county at Hunters Woods Plaza in Reston. "We're all excited to be out here and to be able to celebrate community and our partnership with law enforcement," said McKay. In his hands, McKay held a walnut finish certificate plaque with a proclamation. McKay said that the Fairfax County Police Department sponsored National Night Out 2021 to promote the importance of community-police partnerships, neighborhood safety, public awareness of crime prevention programs and that the longest sustained Neighborhood Watch Program in the nation was located in Fairfax County.
"Be it resolved that the Fairfax County Board of Supervisors, on behalf of all residents of Fairfax County, does hereby proclaim Tuesday, Aug. 3, 2021, as National Night Out," said McKay. Signed by the chairman of the Board of Supervisors but adopted by the entire board.
Before presenting the plaque to Kevin Davis, Chief of Police Fairfax County Police Department, McKay said how inspiring it was after what everyone had been through, to see the county's young people at camp "laughing, enjoying each other, having a good time, the way we're supposed to be."
McKay reminded people how important it was to get vaccinated. He said, "If you do it for no one else, do it for our frontline workers, our first responders, and our small children… They are not eligible to be vaccinated yet."
McKay added he was so proud of the men and women of the Fairfax County Police Department, Fire and Rescue Department, Sheriff's Office, and the first responder community. "You've heard the statistics, you know, we're the safest community of our size, anywhere in the United States of America and that is in large part because of the men and women in our department, but also because of our community…National Night Out celebrates something we do really well in Fairfax County, but something that we always want to build on, which is community relationships with law enforcement and our residents," said McKay.
Chief Davis thanked Chairman McKay for his "constant support" of the police department. "One staggering statistic that I just can't get out of my head is the fact that in our 400 plus square miles here, there are over 140 National Night Out events, just today… And that says it all. It says the relationship between the community and its police departments, while not perfect, we're always looking to improve it and make it stronger."