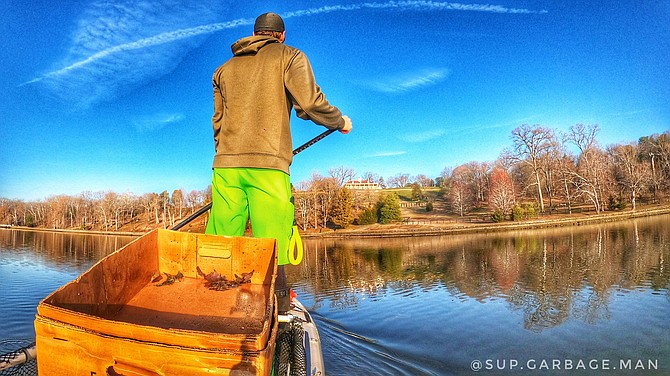 When Fort Hunt resident Joe Wright left the office to get his lunch the other day, he saw a trash can floating in a creek right off the Potomac River, and since he is the "SUPGarbageman," it was only natural that he'd stop, launch his paddleboard into the creek and retrieve the can. While he was at it, he got a few other pieces of trash from the waters too. That's what self-proclaimed SUP Garbagemen do.
"If I hadn't forgotten my lunch, I wouldn't have seen that," he said. "I usually have my board with me just in case."
Since last May, Wright has made cleaning up garbage out of the Potomac River his mission. When he's not working, that's how he spends the remaining daylight hours a couple days a week, on a stand-up paddleboard, retrieving garbage out of the Potomac River, and its tributaries around Mount Vernon and National Airport. "It's never ending," he said.
"It's your trash, I just pick it up," is his jingle on the website. He's not looking for notoriety or fame, he just wants trash reduction to be the focus. His mission: "Haul trash out of our waterways and raise awareness by sharing my finds with the world," he says on his website. "I want people to see anyone can do it," he said.
SUP, for "stand-up paddleboard," can present a challenge, but Wright has only fallen once when the rudder hit something underwater. He wears a wetsuit in the colder months and noted that he doesn't get that wet, but every once in a while the water does wash over the surface of the board. This April will be his first Earth Day, but he doesn't have big plans. Afterall, being the garbageman is a full time Earth Day role. "I think I just live Earth Day," he said.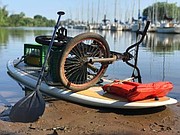 Wright's efforts with trash have attracted some outside attention as well. Some see him on the water and think he's just paddling around, and maybe fishing in the warmer months, but somehow the company "Werner Paddles," got word, and sent him a paddle, and a sponsorship. "They've reached out to me," he said, and all he has to do is to attach their link to his web posts. Werner has a healthy waters section in their company and Wright's efforts go right along with that. Werner is also linked to the Sierra Club, American Rivers, American Whitewaters and other outdoor organizations. "Taking responsibility to protect the places we paddle, we created our Healthy Waters initiative," Werner said.
Somehow, the folks at the French Embassy in Washington, D.C. heard about him too, and made him a "G7 Eco Citizen." Wright met with the French ambassador Philippe Etienne in December. In the picture of Wright with the ambassador, Wright is wearing the G7 AWAKE watch, which is a 100% sustainable product made from recycled fishing nets that was worn by President Emmanuel Macron and world leaders at the G7 summit.
In addition to his international recognition, Wright has nearly 1,000 followers on his social media channels, and uses social media as a platform for his efforts. He has a website, Facebook and Instagram accounts. Several online publications have run stories about him, and others are using video as well.
Wright wouldn't call himself an environmentalist, and didn't grow up in a "green," house, but he does date his efforts back to walks around the neighborhood in Florida where he grew up. His mother would point out trash, and link each piece of trash to the letter it started with, so this was a reading lesson as well. "That made me realize how much trash is on the ground," he said.
On instagram, SUP.Garbage.Man
Online www.supgarbageman.org