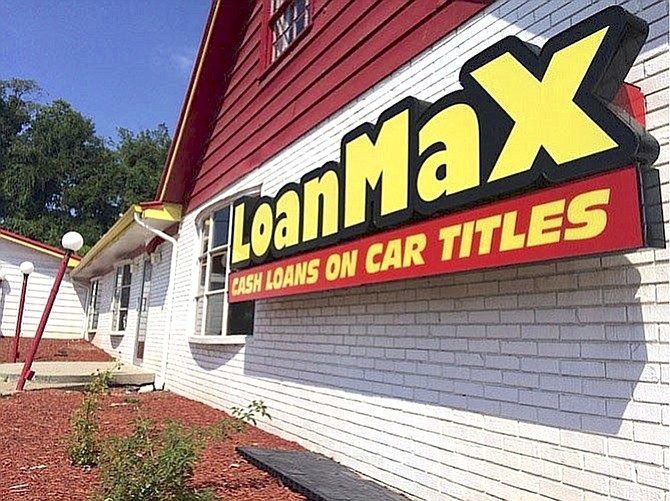 The days of unregulated high-interest lending may be coming to a close in Virginia. Now that Democrats have seized control of the General Assembly, members of the Legislative Black Caucus say cracking down on predatory lending is one of their top priorities for the 2020 session. Del. Lamont Bagby (D-74) and Sen. Mamie Locke (D-2) have introduced a legislative effort they're calling the Fairness in Lending Act. The bill would cap all loans at 36 percent and institute a maximum monthly fee of $25.
"All of these lenders make the same loans in Colorado and Ohio and charge one third as much as they charge Virginians," said Jay Speer, executive director at the Virginia Poverty Law Center. "So it's pretty clear they charge the maximum they're allowed to charge and it has nothing at all to do with market forces."
The current state of Virginia law is a hodgepodge of different approaches for different loans. Some are regulated and capped at 264 percent. Others are totally unregulated, so nobody knows how many of them are being made or what the interest rates are. The Fairness Lending Act would require all lenders get a Virginia license and register with the State Corporation Commission, which would track how many loans are made and many other details about the transactions. Advocates for reforming the system say the current system takes advantage of people who are already in a vulnerable financial situation.
"It's designed to bankrupt them," said Mark Levine (D-45), who introduced a bill to regulate open-end lines of credit. "It's designed to take every single asset they own."
HIGH-INTEREST LENDERS have been under increasing scrutiny in recent years, and campaign-finance disclosures show these companies are spreading their money around to Democrats and Republicans in an effort to influence the General Assembly. During the last election cycle, the industry gave $1 million in campaign contributions. Car-title lender LoanMax was the top contributor, giving $250,000; online lender Enova gave $176,000; open-end-line-of-credit lender Check Into Cash gave $88,000.
"There's no question that when it comes to car-title lenders, that has been controversial," said Bob Denton, professor at Virginia Tech. "Republicans have protected that industry by and large."
Republicans are no longer in charge, and that has created a momentum for reforming an industry that many lawmakers believe preys on vulnerable people who are desperate for money and don't fully understand the consequences of getting caught in a debt trap. One of the key Republicans who helped thwart efforts was former Del. Tim Hugo (R-40), who was chairman of a subcommittee that often served as graveyard for reform efforts. He was one of the four Republican incumbents unseated last year, giving Democrats a majority in the House and shifting the balance of power.
"Far too often I'm riding into work or into session, and I hear the commercials on the radio knowing that there's somebody listening to that who desperately needs a loan to pay for their electrical bill, to pay a child care payment, pay a college loan," said Bagby, who is leading the reform effort in the House. "They are going to be calling that number that's on the radio or online to receive that loan not knowing what the rates are, and not understand what the fees are associated with that."
ONE OF THE KEY PROVISIONS in the Fairness in Lending Act is that it creates a cap on how much these companies can charge in interest and fees — no more than 50 percent. This is designed to prevent these companies from bilking consumers into forking over significantly more money than they borrowed in the first place, a key feature of the industry that helped earn the title "predatory."
"We want to make sure that the borrowers have terms that make sense and are reasonable because they can't negotiate those terms," said Jennifer Carroll Foy (D-2). "All they know is that they need the money, and they need it now."
Current rules allow for a wide variety of lending. Some are regulated and some are not. For example, payday loans and car-title loans are monitored by the State Corporation Commission. But open-end lines of credit and installment loans made online are not, leading to confusion about the scale of the industry and what kind of interest rates they charge. That's why the Fairness in Lending Act requires all businesses making loans in Virginia get a license, which will allow state regulators to track their activity. Critics say this creates a new loophole.
"We have no statute to cover somebody offshore," said Terry Kilgore (R-1). "It's going to drive a lot of people to the internet and offshore lending."
Supporters of the bill say the legislation has a solution to that problem: the attorney general.
"All you do is complain to the attorney general, and you don't have to pay a single dime," said Levine. "Sorry Russian company. Sorry German company. You're getting none of it back because under Virginia law, the loan is void."