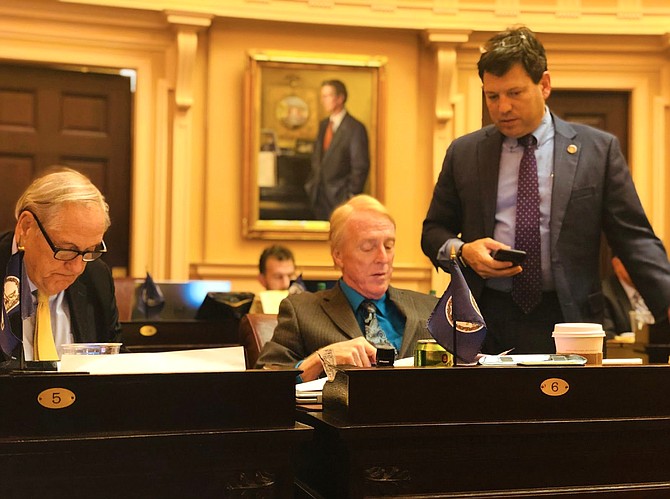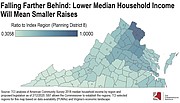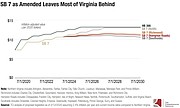 It's shortly after 7 p.m. on a Tuesday night, and state Sen. Scott Surovell (D-36) is working the Senate chamber to save the minimum wage increase. This particular Tuesday isn't just any day of the week. It's the final deadline for Senate bills to cross over to the House, so the pressure is building as the clock winds down. Senators are tired and cranky, and they will be working past midnight.
Surovell is skipping from senator to senator, engaged in one-on-one conversations as he tries to cobble together a majority. The effort to raise the minimum wage is perilously close to failing, a development that could have been a disaster for the new Democratic majority who got elected, in part, to make this happen. A handful of senators are holding out for a regional approach to the minimum wage, one that would recognize the income disparity between Northern Virginia and the rest of the commonwealth. The leader of that bloc is Sen. David Marsden (D-37), who tried and failed to create a regional approach to the minimum wage during a meeting of the Senate Commerce and Labor Committee.
"I just want to slow this down a bit and give the business community an opportunity to adjust," Marsden explained during the committee meeting. "I'm very concerned this will have a huge impact on the state budget, and it'll have a huge impact on Virginia's economy."
Now Marsden has an opportunity to revive that approach. His idea may have failed in committee. But at the last minute before the final deadline, it's making a comeback on the Senate floor. Without the handful of senators holding out for a regional approach, Democrats won't have the votes to make the increase happen. The bill to increase the minimum wage was introduced by Senate Majority Leader Dick Saslaw, an indication of how important it is to the agenda of the new majority. The amendment creating a regional approach was introduced by Surovell, who acknowledges it was crafted to cobble together a majority.
"There's some members of my caucus that didn't feel comfortable going to $15 across the commonwealth," says Surovell. "We had to structure a bill that would get 21 votes, and that's what we did."
A REGIONAL APPROACH to raising the minimum wage is prohibited under current law, which establishes on minimum wage across Virginia. But the bill that emerged out of the Senate last week pegs it to the median household income, which is about $120,000 in Northern Virginia but only $62,000 in Hampton Roads.
The Commonwealth Institute calls the regional approach adopted by the Virginia Senate "one of the most complicated and inequitable minimum wage laws in the country," accelerating inequality rather than alleviating it.
"For every dollar increase in the minimum wage in Northern Virginia, Hampton Roads would receive only 51 cents," says Laura Goren, research director at the Commonwealth Institute. "As a result, low-wage workers in Hampton Roads would not see $15 until 2034 or even later."
Under Senate Bill 7, Virginia's minimum wage would increase to $11.50 across Virginia by 2023. Then Virginia's Commissioner of Labor and Industry would create a series of "regions," and set different minimum wage rates based on median household income. The region with the highest minimum wage would receive $1 annual increases to the minimum wage until it gets to $15 an hour. Other regions would receive less. Richmond and Hampton Roads would take the biggest hit, being stuck with a lower wage for years to come.
"The regional approach is needlessly complex and unpredictable for businesses," said David Broder, president of SEIU Virginia 512. "This bill that aims to help alleviate economic inequality is actually going to bake it in even more."
HOUSE DEMOCRATS took a more straightforward approach, increasing the minimum wage to $15 an hour across Virginia by 2025. Senators are now considering the House version, although it'll face the same group of Democratic senators who are concerned about the business community. Meanwhile, over in the House, momentum is heading in the other direction. Instead of making the bill more friendly to big business, House Democrats took action to shed a vestige of slavery by removing the exemption for farm workers.
"It's common knowledge many of Virginia's exemptions to the minimum wage law were rooted in race," Del. Elizabeth Guzman (D-31), who introduced a bill to remove the exemption "It's past time we give these workers the same protection as everyone else."
The Senate also voted to end some discriminatory exclusions, including ones for domestic workers and piece workers. But critics of the regional approach fear that black workers could once again be left behind because many of them live in communities with low median household incomes. That means Senate Democrats are feeling a pull in two separate directions, one in favor of low-income minorities and the other big business and their allies.
"Working people have been leading the fight to raise the minimum wage in Virginia for years now. They have taken this fight to the streets, to the ballot box and now to the legislature," said Broder. "They helped elect Democratic majorities in the House and the Senate, and it's time for legislators to deliver for working families."