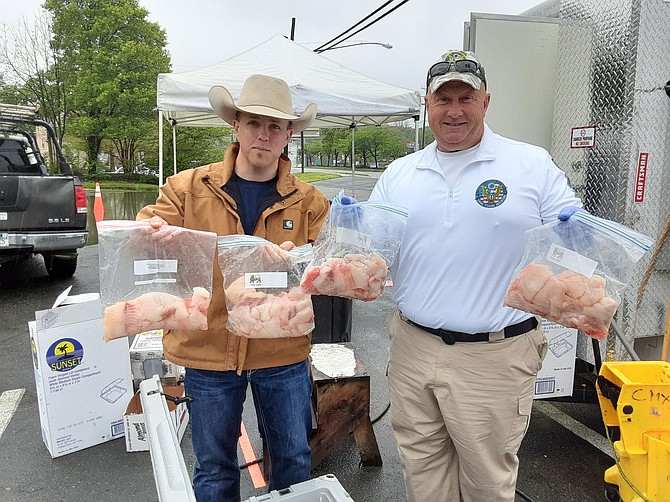 Thanks to a fishing spot under the Route 301 bridge down south and a secret family recipe for catfish, mid-day meals were handed out last Sunday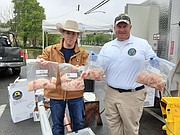 for anyone that needed them, courtesy of Deacon James Myers and others at the Greater Morning Star Apostolic Church in the Gum Springs area.
Ed Moore is the captain of the boat that makes the trip south each week to the fishing spot, and he's also one of the keepers of the secret recipe. "We have a pretty good spot near the bridge," he said, "it's near Colonial Beach."
In March, when the coronavirus pandemic started, Moore shifted from taking veteran's out fishing to reeling in the catfish for a weekly feast. Many of the residents in the Gum Springs area of Mount Vernon are working in the service industry at restaurants and stores that are closed, so they have no paycheck coming in and may not have food on the table. The catfish meals with coleslaw and other sides were being handed out to anyone that showed up in the parking lot, said Deacon Myers. "We feed anybody that comes out, last week we got 500 people," he said.
When Moore pulled into the lot with his converted fire truck pulling the big boat, which resembles a miniature version of a Navy PT boat, the event took off. Moore and a friend, Darry Cross, opened the cooler full of catfish filets. "Wait til you taste it, they're fileted perfectly, he said. "It's his grandfather's secret sauce we use," Moore said, pointing to Deacon Myers.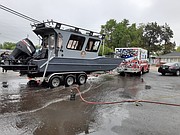 Maria DeHay pulled in the lot, which is right off Richmond Highway, and handed over a few dishes of rice, salad and mixed vegetables. She's a friend of Moore's who lives in Springfield. "We know Ed, figured we'd help out," DeHay said.
They also got a $500 check from Beltway Drywall and Paint for the effort. "Everybody is just reaching out," said Tim Smith, a volunteer that was helping set up the tents and tables.
In better times, Moore uses the boat to take veteran's out to fish as a rehabilitation measure and has made a name for himself and the church in that regard.
"Since we can't take people out, we can help people out," Moore said. "We'll try to do it every Sunday until this thing is done," he added.