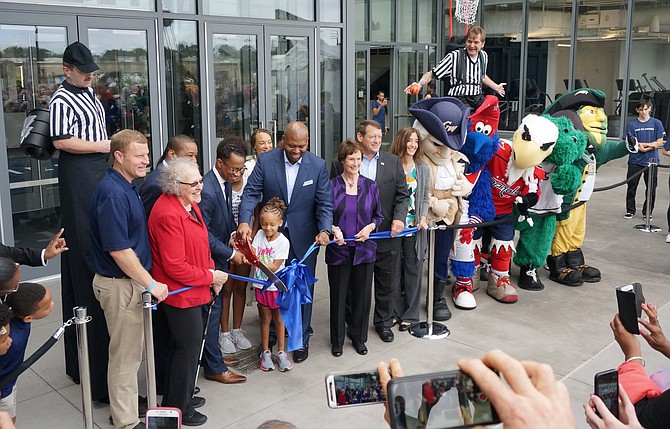 The stars of sports and politics aligned Sept. 15 as The St. James, a 450,000-square-foot sports, wellness and active entertainment complex, celebrated its grand opening in Springfield.
"This is a major investment in our youth," said Lt. Governor Justin Fairfax, who attended the College of William and Mary with co-founders Craig Dixon and Kendrick Ashton. "The St. James sends a signal to our county and to the country what it means to have a vision and to dream big."
Super Bowl champion Darrell Green and Stanley Cup champion Alex Ovechkin, a founding member of the St. James, were on hand for the opening day festivities.
"This is a great place to spend time with the family," Ovechkin said "It's a place to help raise sport, be healthy and just have fun."
Located on a 20-acre campus at the intersection of I-395 and I-495 in Fairfax County, The St. James combines sports training and competition venues with wellness, lifestyle, hospitality and active entertainment services. The 24-hour center is membership based but non-members are able to sign up for programs.
Fairfax County Board of Supervisors Chairman Sharon Bulova praised the impact the facility has had on the county.
"This is a game changer for Fairfax County and the region," Bulova said. "I am grateful for the more than 300 jobs The St. James has brought to the county."
Opening day showcased the facilities at The St. James, which includes a Field House with a FIFA regulation-sized turf field, four full-length regulation basketball courts that convert into nine volleyball courts, two NHL regulation-sized ice rinks, a 50-meter Olympic regulation-sized competition pool, six batting cages and pitching machines, a squash and golf center, gymnastics center, a climbing and bouldering wall, a water park and a 50,000 square-foot health club.
Also on site are a medispa and a retail store featuring performance activewear. Celebrity chef Spike Mendelsohn will open a cafe in November and a MedStar Health and Sports Medicine Center is slated to open in the spring.
Following their time together in college, Ashton pursued a career in finance and Dixon a career in law. Five years ago, they collaborated on their vision for The St. James.
"We participated in youth sports and now we are parents of kids participating in youth sports," Dixon said. "We are the customer and we tried to create an environment that is special."
The St. James, which is backed by diversified real estate investment firm Cain International, expects to open a second flagship destination in the northern suburbs of Chicago in early 2021 and is working to bring The St. James to additional markets around the country.
"Today is incredibly gratifying," Ashton said. "We had a vision to provide a deep array of services to the D.C. region – to bring together all ages and all walks of life. Today shows that is possible."
For more information, visit thestjames.co.