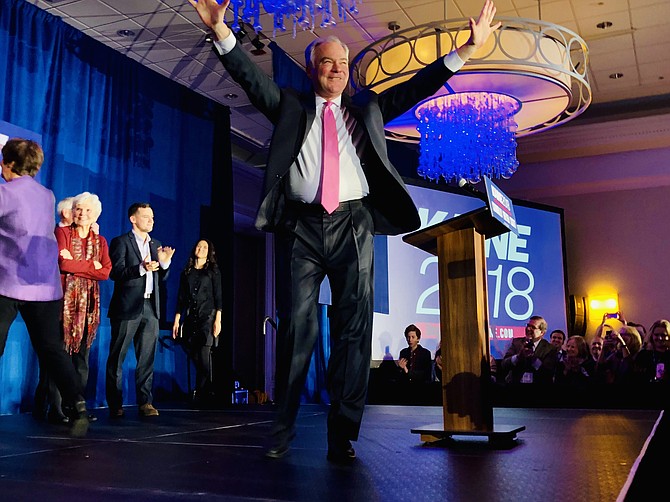 Results
U.S. SENATE
Democrat Tim Kaine: 1.9 million votes, 57 percent
Republican Corey Stewart: 1.4 million votes, 41 percent
Libertarian Matt Waters: 62,000 votes, 2 percent
HOUSE DISTRICT 10
Democrat Jennifer Wexton: 203,000 votes, 56 percent
Republican Barbara Comstock: 158,000 votes, 44 percent
The loss of two-term incumbent U.S. Rep. Barbara Comstock (D-10) means Republicans are down to one lone elected official in Northern Virginia, Del. Tim Hugo (R-40). The blue wave that started last year unseating Republicans like Del. Jim LeMunyon (R-67) and Del. Bob Marshall (R-13) continued this year, when state Sen. Jennifer Wexton (D-10) was able to flip a seat that had been in Republican hands since a young military lawyer named Frank Wolf beat incumbent Democrat Joe Fisher back in 1980. For a region that once had Republican heavyweights like U.S. Rep. Tom Davis (R-11) and U.S. Sen John Warner, the prospects for Republicans in Northern Virginia now seem pretty bleak.
"It's going to be a tough road ahead for Republicans in Northern Virginia. Essentially, it's gone," said Republican consultant Dan Scandling, who served as Wolf's chief of staff. "Redistricting is not going to help. The seats now in Northern Virginia are going to be Democratically controlled for a generation."
Although the controversy surrounding the nomination of Brett Kavanaugh to the U.S. Supreme Court helped some Republican candidates for Senate in places like North Dakota and Missouri, it provided a huge burden for Comstock. Kavanaugh and Comstock had been friends since they served together as young Republican staffers trying to impeach Bill Clinton in the 1990s. This year, Wexton was able to use sexual assault allegations as wedge to charge Comstock was guilty of an "unacceptable failure of leadership." In the closing days of the campaign, television ads branded the incumbent "Barbara Trumpstock."
Incumbent Sen. Tim Kaine easily beat back a challenge from Republican Corey Stewart, whose message of an invading caravan of foreigners failed to resonate outside rural Virginia.
"Corey Stewart and Barbara Comstock followed President Trump's playbook. They stoked fear about immigrants. Both lost big," said Frank Sharry, founder and executive director of immigration-reform group America's Voice. "It seems evident the people of Virginia are just not interested in Trumpism, with or without Trump."
"It's going to be a tough road ahead for Republicans in Northern Virginia. Essentially, it's gone." — Dan Scandling, former chief of staff to U.S. Rep. Frank Wolf (R-10)
KAINE CELEBRATED an early victory Tuesday night, taking the stage at the Falls Church Marriott Fairview Park as one of the first Democrats to deliver a victory speech. He quoted scripture, thanked longtime supporters and cracked a few jokes about how the race was called one minute after the polls closed. The former fair-housing attorney got his start in Richmond politics before becoming lieutenant governor and governor. This year he faced a candidate who promised a "vicious" campaign and delivered by suggesting — without any evidence — that Kaine had somehow been charged with sexual misconduct. Kaine said voters rejected that approach.
"You rejected the politics of peddling lies to try to get ahead," said Kaine. "You rejected the politics and the economics of it's about a few and not about all."
Wexton celebrated victory at the Washington Dulles Airport Marriott, thanking supporters and volunteers that helped her win in the most expensive congressional race in Virginia. Democrats targeted the race and pumped millions of dollars into an effort to knock on doors and appear on television screens.
Comstock ended up raising more money, $6 million in total, from Northern Virginia business stalwarts like Northrop Grumman and Capital One. But national Democrats flooded the race with money, and Wexton tapped her experience as a Loudoun prosecutor to gain funding from law firms like Wilmer Hale and Jones Day. In the end, she said, suburban voters rejected the Trump playbook of racial division and economic nationalism.
"I have been saying from the beginning of this campaign that change is coming, and change came today," said Wexton. "That kind of change doesn't just happen, it happened because of you."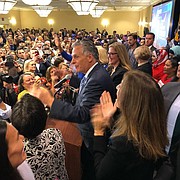 WITH DEMOCRATS seizing control of the House of Representatives, the Fairfax County delegation stands to gain a new sense of prominence on Capitol Hill. U.S. Rep. Gerry Connolly (D-11) is expected to take a key role on the House Oversight and Government Reform Committee, which is expected to start investigating the president's political involvement with Russia and economic ties to foreign leaders. For Connolly, it's an opportunity to reprise the role he played on the Fairfax County Board of Supervisors, where he had a reputation for aggressive supervision.
"Tonight we get a mandate for oversight and accountability," said Connolly during Kaine's victory party, which was in his district. "And I just want to say to all my friends in the Trump administration: You better put on your rollerblades because you're going to be skating to Capitol Hill a lot."
U.S. Rep. Don Beyer (D-8) also stands to gain a new sense of prominence, possibly taking a position as chairman of a subcommittee on federal land or on space. Beyer says he would probably prefer chairing a subcommittee on federal land because he is the only former park ranger in Congress. Beyer also says he also wants to play a role on a new Select Committee on Climate, which Democrats have been planning for some time.
"The centerpiece of my leadership these last five years has been trying to be the strongest and clearest voice to fight climate change as I can be," said Beyer. "So being on that select committee would make a lot of sense."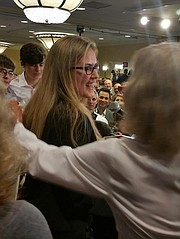 WEXTON'S VICTORY opens a cascading series of special elections in Northern Virginia that are going to keep consultants and volunteers busy for the next few months. Del. Jennifer Boysko (D-86) said Wednesday, Nov. 7, she will run for that seat. Her House seat in Herndon would open if she were successful, initiating a rapid-pace series of special elections to install new members of the General Assembly ahead of the January session. And it's likely the House seat would not be filled by opening day. State Sen. Adam Ebbin (D-30) says Boysko is "the overwhelming and obvious choice."
"She's known in Fairfax and has been spending a lot of time in Loudoun County, and she's got a really strong fundraising ability," said Ebbin. "She's got a great legislative ability, and she does a lot of community events in the area. So I think she'd be pretty formidable, and I'd be surprised if she didn't win."