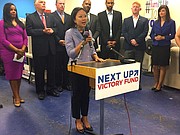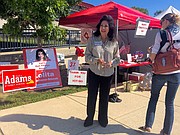 One is from Ecuador. The other is from Vietnam. Both are successful professional women hoping to fill the seat vacated by retiring Del. Dave Albo (R-42). But only one will prevail in November, creating one of the fiercest political contests on the ballot in Northern Virginia this year.
Republican Lolita Mancheno-Smoak is a proud supporter of President Donald Trump, a man she calls a "positive disruptor." Democrat Kathy Tran has emerged as a leading voice of the opposition to a Republican White House, and her campaign is enjoying support from groups like People for the American Way and billionaire environmentalist Tom Steyer.
"My opponent is a Tea Party activist who says that Trump is her ideal presidential candidate," said Tran, shortly after appearing at a press conference with Steyer. "She wants to defund Planned Parenthood, and she hasn't walked back any support of Trump."
Mancheno-Smoak is against Medicaid expansion, and she wants to defund Planned Parenthood. But like Albo, some of her views are not necessarily orthodox Republican. For example, she says she would vote in favor of closing the gun show loophole. And she says she would vote in favor of allowing local governments the ability to remove Confederate statues. As for the allegation that she is a Tea Party activist, Mancheno-Smoak rejects that description. She acknowledges that she spoke at several Tea Party meetings, but she says she was asked to speak as a candidate when she was running for the Fairfax County School Board. As for her early support for Donald Trump, she stands by the controversial president who lost her district by 20 percent.
"Sometimes in order to generate change, in order to get new energy to actually feel passionate about a new beginning you need positive disruption," said Mancheno-Smoak while campaigning for votes at the Burke farmer's market. "I see Trump as a positive disruptor."
THE 42ND HOUSE DISTRICT stretches from West Springfield south into Colchester into Fort Belvoir and Mason Neck. It includes the historic estates of both George Washington and George Mason. Although Republican Bob McDonnell beat Democrat Creigh Deeds in the district back in 2009, its recent history in statewide elections has been solidly blue. Last year, Hillary Clinton beat Donald Trump in this district — 57 percent for the Democrat, 37 percent for the Republican. That puts this race at the top of the agenda for Democrats, who see the retirement of Albo as one of the best possibilities of the year.
"There's no question that HD-42 is one of the Democrats' top pick-up targets and therefore one of the main down-ballot races to watch this year," said Geoff Skelley at the University of Virginia Center for Politics. "Without the popular Albo running for the GOP, the crossover support that he received in the past will surely be harder to come by for Mancheno-Smoak."
Campaign finance numbers show that Tran has a sizable fundraising advantage over the Mancheno-Smoak, an indication that Democrats in Northern Virginia and beyond are focusing attention and cash on this district as one of the most likely opportunities to turn a red district blue this year. Tran has raised almost $120,000 while Mancheno-Smoak has raised less than $10,000. And heading into the most heated part of the campaign season, the Democrat has about $45,000 cash on hand while the Republican has about $1,000.
"Given Tran's fundraising edge and the fact that the district had a Democrat lean in statewide elections before 2016 — McAuliffe won it by seven points in 2013, as did Obama in 2012 — the seat is vulnerable with Albo out of the picture," said Skelley. "And considering Clinton's 20-point win here in 2016 and Northern Virginia's likely strong performance for Ralph Northam at the top of the Democratic ticket, most signs are good for Democrats in HD-42."
MANCHENO-SMOAK, 58, is a native of Ecuador. She came to America as an infant, resettling in Manhattan. She moved to Northern Virginia in 1999, attracted to the region by a job working for the United States Postal Service. She has a bachelor's degree in engineering from Columbia University and a master's degree in engineering from the University of Miami in Florida and a doctorate in business from NOVA Southeastern University in Fort Lauderdale. Professionally, she started her career working for a German pharmaceutical company before becoming a management consultant.
"I just want to be a stronger voice for our district, for our community," said Mancheno-Smoak. "We need to focus on ensuring that there is economic growth across the commonwealth so that other parts of Virginia become more self-sustaining and then we have less of a burden of being Virginia's ATM."
If elected, she says, she would introduce legislation to restructure business, professional, and occupancy licenses. Instead of calculating the taxes on gross receipts, she says, they should be based on net profits to create a "more level playing field." She says she would also introduce a bill that would change how funding for secondary roads is allocated by the Virginia Department of Transportation, creating a similar set of objective criteria that already exists for primary roads. Mancheno-Smoak says she would also like to change the composite index that moves tax dollars from wealthier areas like Fairfax County to poorer areas like Radford or Dickenson County.
"We need to incorporate our cost of living, and our cost of living is higher than any other place of the state," says Mancheno-Smoak. "And if we could at least incorporate that, it would give us a better stance with the kind of funding that we need for our public school system."
TRAN, 39, is a native of Vietnam. She came to America as an infant, resettling in Southern California. She moved to West Springfield about three years ago, attracted to Northern Virginia by the public school system. She has a bachelor's degree in history from Duke University and a master's degree in social work from the University of Michigan. She was at the United States Department of Labor for 12 years, working in different leadership and management positions shaping national workforce policies. Then she went to work in immigration advocacy at the National Immigration Forum, working at the intersection of immigration policy and workforce development policy.
"I'm doing this for my kids," said Tran. "I'm a mom of four, and I want to make sure that my kids have the best and brightest future and not just them but all the other children and families in my community, and that's what this election is really all about."
If elected, she says, she would vote against hospital construction standards for abortion clinics and for closing the gun show loophole as well as allowing local governments the ability to remove Confederate statues. If elected, she would introduce legislation that would encourage recycling of coal ash, the byproduct of coal-fired power production. She says she would also introduce legislation strengthening career and technical education programs by creating stronger partnerships with employers who would provide input into the curriculum.
For Tran, the biggest priority would be expanding Medicaid to the 400,000 people who qualify but don't currently have health insurance because of Republican opposition.
"For me, it's a moral issue because I believe that everybody has a right to health care," said Tran. "It's also an economic issue because we've left more than $10 billion on the table, and so that's our taxpayer dollars that we're not utilizing."