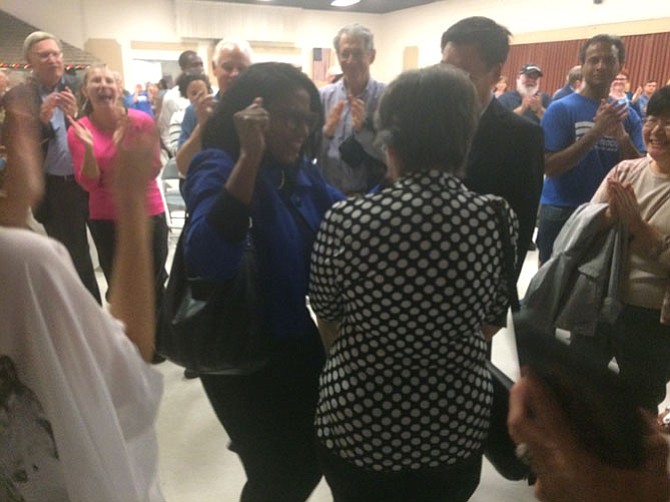 Election Results
Karen Keys-Gamarra: 41,436 votes, 64 percent
Chris Grisafe: 21,315 votes, 33 percent
Michael Owens: 1,408 votes, 2 percent
Sandra Allen: 787 votes, 1 percent
Fairfax County — Guardian ad litem and Fairfax County Planning Commission member Karen Keys-Gamarra swamped Republican Chris Grisafe and two other candidates in a special election this week, one that Democrats say is a sign of strength for their party heading into the fall. The seat was vacated by Republican-endorsed former School Board member Jeanette Hough in May, days before the deadline for the race to be on the ballot in November. Democrats cried foul, attacking the Republicans throughout the campaign for trying to rig the vote by engineering an August special election so the voters would be older and whiter and ostensibly more inclined to vote Republican than the much larger pool of voters in November.
"It backfired," said at-large School Board member Ryan McElveen, adding that the cost to taxpayers was about $300,000 for the special election. "That became the narrative, and it's what people were talking about."
After it was clear that she had won more than 60 percent of the vote, Keys-Gamarra arrived to a raucous crowd of campaign volunteers and party faithful assembled at the Elks Lodge in Pine Ridge. Lt. Gov. Ralph Northam introduced the victorious Democrat with a speech that some in the crowd compared to the kind of delivery popularized by professional wrestlers, a newfound sense of ebullience for the typically buttoned-down candidate for governor. Keys-Gamarra thanked those who worked on her campaign without the benefit of a list, which she said she said she had been too busy to write.
"Today is so much bigger than me," said Keys-Gamarra. "This sends a message that every student, every citizen, deserves a voice."
On the campaign trail, Keys-Gamarra focused on a theme of leveling the playing field for students across the county. She would frequently say that all students deserve the same opportunities no matter what ZIP code they live in. That was a message that resonated with voters in Virginia's most populous county, which has pockets of poverty scattered around some of the wealthiest neighborhoods in the county. Supporters say that was the right message for an at-large seat on the School Board, which represents all parts of the county.
"Karen was really focused on this issue of equity," said Tamara Derenak Kaufax, who represents the Lee District on the School Board. "She understands that poverty brings challenges, and that was something she talked about at every campaign appearance."
"Today is so much bigger than me. This sends a message that every student, every citizen, deserves a voice."
— Karen Keys-Gamarra
SOME DEMOCRATS were worried that the controversy surrounding the recent vote on renaming J.E.B. Stuart High School might undermine Keys-Gamarra, who agreed with those wanting to change the name. But as the precinct numbers rolled in Tuesday night, it became clear that issue might not have been the flashpoint some had feared. Democrats were closely watching precincts like Belvedere and Barcroft for a sense that voters there might be pushing back against the move to strip the high school of its controversial Confederate name.
"If there was going to be a backlash, that's where you would have seen it," said U.S. Rep. Gerry Connolly (D-11). "But she won those precincts."
Campaign manager Peter Dougherty acknowledged that turnout for the August special election was low compared to November. But he said the numbers this week exceeded his expectations, which he assumed would be maybe 6 percent or 7 percent of registered voters. Instead turnout was closer to 10 percent. Keys-Gamarra ended up with more than 41,000 votes — 64 percent, almost doubling the turnout of her Republican-endorsed opponent. Dougherty said he was surprised to see his candidate win in precincts like Fairfax Station, which is traditionally GOP territory.
"I think this shows that Democrats are really excited right now," said Dougherty. "Voters wanted someone who would stand up to what we saw in Charlottesville, and I think Karen's message was the antidote to that."