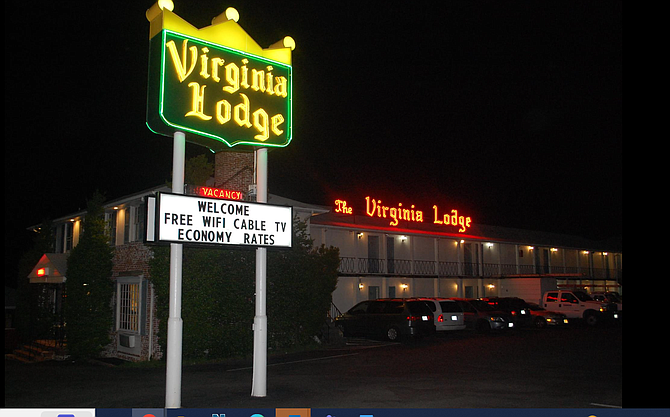 Under the old sign at the Mount Vernon Car Wash, George, a nearby resident, was getting his car washed as he looked across at the sign at the taco place. "Taco Lucas, that has nostalgia, been there close to 50 years," he said. But it turns out, the car wash sign has been there a long time too, "maybe fifty or sixty years," said the owner. Both signs are old and a little faded, but they're still doing the job as well as they did in the early days.
Changes are coming along Richmond Highway in Mount Vernon, but a handful of old signs are still advertising business. There is a bigger purpose though, and that's their value in placemaking and wayfinding for the community and the traveling public.
According to the International Sign Association in Alexandria, a sign is an "eye-popping way to grab the public's attention," their website said. Signs are an opportunity to grab the attention of the passerby. The five factors of sign visibility are size, angle, location, luminance and contrast. They don't mention familiarity or duration – factors the older signs along Richmond Highway have.
David Hickey, International Sign Association's vice president of advocacy, called many of the signs "community landmarks," and cited a few famous examples such as the Domino's Sugar sign in the Baltimore Harbor and the Citgo sign outside Fenway Park in Boston. "The value of that kind of branding is significant," he said.
Neon Needs No Introduction
Many businesses use neon signs to bring in more attention, particularly after dark. They are full of the nostalgia factor that attracts many. According to Neon Creations sign company, neon signs were developed by French engineer Georges Claude in 1902, and patented by 1910. He started experimenting and found that when he added different elements to the tube created different colors. The first ever neon light was two neon-tube lamps created by Claude in Paris in 1910, Neon Creations said.
Neon was big through the 1960's but suffered a downfall when a neon sign was looked at as "tacky." Today they are coming back though. People are beginning to see it as an art form, Neon Creations said. Actual neon has been pushed aside though in the name of going green. "The trend for signs is LED signs," Hickey said, "it still looks like it's neon." The Domino's sign in Baltimore did go LED in recent years.
There is a movement to save the old signs and the International Sign Association has a study of best practices called "Saving Historic and Vintage Signs," conducted by James Kellaris, professor at the University of Cincinnati. They polled 100,000 consumers in all 50 states and found that 77 percent agreed that vintage signs are worth preserving. Neon signs are frequently the big purchase on the "American Pickers," reality show.
Believe it or not, there are sign museums across the country:
MUSEUM OF NEON ART (MONA):
www.neonmona.org (Glendale, CA)
AMERICAN SIGN MUSEUM:
www.americansignmuseum.org (Cincinnati, OH)
TENDERLOIN MUSEUM:
www.tenderloinmuseum.org (San Francisco, CA)
NEON MUSEUM:
www.neonmuseum.org (Las Vegas, NV)
IGNITE SIGN ART MUSEUM:
www.ignitemuseum.com (Tucson, AZ)
NATIONAL NEON SIGN MUSEUM:
www. nationalneonsignmuseum.org (Dalles, OR)
NEON MUSEUM OF PHILADELPHIA:
www. neonmuseumofphiladelphia.com (Philadelphia, PA)