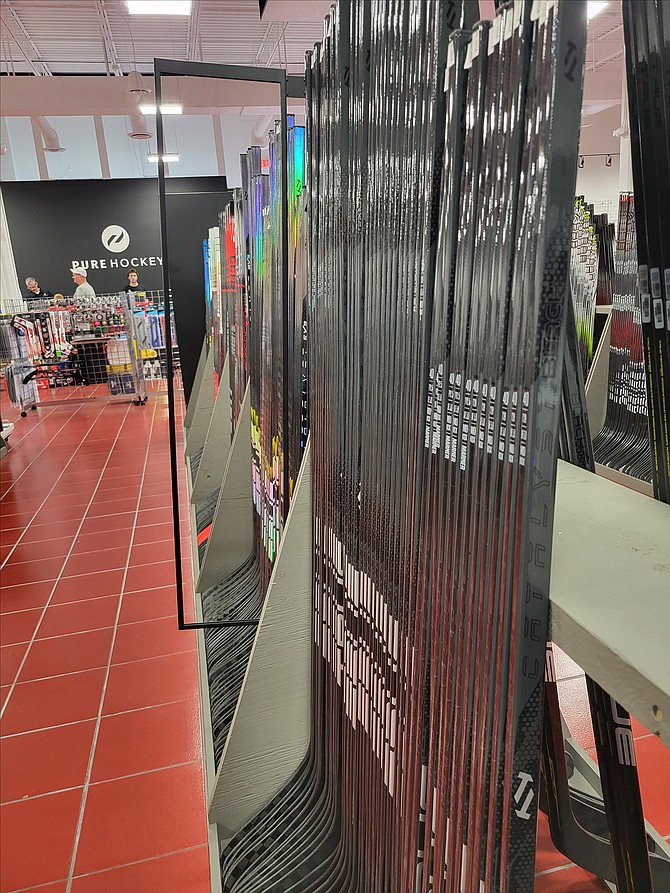 Before the first puck drops on the 2023 ice hockey season, Pure Hockey opened their doors in Springfield to make sure every hockey player and parent in the area has the proper skates, sticks and helmet to make it all happen.
Mike and Hunter Schlipp came in on opening weekend, and Mike was sporting a Hershey Bears shirt, a sign he's no stranger to the hockey world. The Hershey Bears are a minor league team up in Pennsylvania that won the championship last year but most fans around here know the Washington Capitals as their pro team. "I grew up in Michigan playing hockey," he said. "This is good to have a hockey store nearby, the next closest is in Ballston."
Son Hunter, 8, plays street hockey and ice hockey. His favorite player in the NHL is Connor McDavid of the Edmonton Oilers. "I like shooting and playing with my friends," he said. He got a new stick and other equipment to make that happen.
They're part of a larger fan base that's growing in Fairfax County. The closest rinks to the new store are at the St. James Sports Complex in northern Springfield in the Edsall Road area. At St. James there are ice rinks, soccer fields, weights, swimming pools and more at this private indoor facility. A membership is required to use the facilities at the St. James.
Fairfax County has ice rinks too, and the closest to Pure Hockey is over at the Mount Vernon Rec Center, although this facility is closed until 2025 for major renovations. Ice Skating is available at the Fairfax Ice Arena in the City of Fairfax, and SkateQuest, and in the colder months at the outdoor Reston Town Center Ice Rink.
Pure Hockey began as a small shop in Worcester, Massachusetts by two parents, David Nectow and Sal Tiano who had children involved with sports and it grew from there. The closest Pure Hockey stores to Fairfax County before the Springfield store opened were in Sterling and Rockville, Maryland. 
The Springfield store is in a space where Pier 1 Imports was located, next to TGI Fridays restaurant across from the Springfield-Franconia Metro Station.