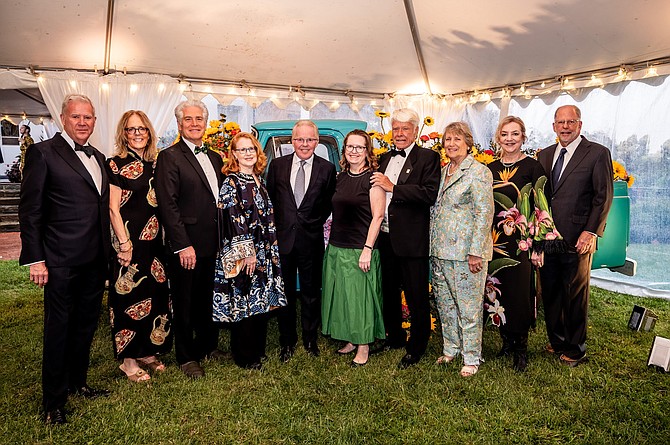 Bouquets of vibrant flowers outshined the grey clouds and rain at the American Horticultural Society's annual Gala on Sept. 23. Despite the inclement weather, over 250 members, neighbors, elected officials, horticultural experts and gardening enthusiasts from across the nation joined the AHS in celebrating 50 years at River Farm. Themed "Simple Pleasures of the Garden," the magical night raised $350,000 for River Farm's maintenance, critical improvements, beautification, and preservation and reaffirmed AHS's enduring commitment to its beloved historic headquarters.
Led by Gala Chair and AHS Board Member Laura Dowling and Gala Co-Chairs Cindy Conner and AHS Board Member Amy Golden, the celebratory evening featured a cocktail reception, magnificent dinner, and dancing. Renowned designer, author and philanthropist Charlotte Moss served as the Gala Honorary Chair and was awarded the prestigious AHS National Achievement Award, and Scott Arboretum Director Claire Sawyers was awarded the AHS Liberty Hyde Bailey Award, AHS's highest award for significant lifetime achievements across numerous horticultural fields. Emcee Barry Dixon skillfully conducted the night's activities, and auction host and local Alexandrian Bill Coffield's high energy and humor kept the audience entertained, resulting in enthusiastic participation during the live auction and paddle raise. For the first time, the Gala featured an After Party, hosted by Young Friends After Party Chair Cameron Hardesty and Co-Chair Pamela Wurst Vetrini, concluding the evening on a sweet note with desserts and dancing.
Suzanne Laporte, AHS President and CEO, expressed her gratitude for the overwhelming support and enthusiasm of the attendees. The gala "brought together individuals who share our passion for horticulture and the beauty of River Farm. The funds raised will support the continued maintenance and preservation of the community's cherished River Farm." 
River Farm is located on 25 acres of George Washington's original farmland along the Potomac River. Through a visionary gift of $1 million in 1973 from philanthropist Enid Annenberg Haupt, who loved gardens and horticulture, AHS found a home where it could live its mission. The property, with stunning gardens, historic buildings, and breathtaking views, serves as a hub for horticultural education and inspiration. The Gala highlighted the importance of preserving and enhancing this unique historical and horticultural gem as a cornerstone of the community.
Additional notable attendees included: Society of American Florists CEO Kate Penn, Rizzoli publisher Charles Meirs, FLOWER Magazine Founder and Editor-in-Chief Margot Shaw, Historic Alexandria Foundation Executive Director Mary Sterling, and AHS Board Members Scott Plein (Chair) Doug Barker, Skipp Calvert, Tim Conlon, Holly Shimizu, Phil Tabas and Marcia Zech. Local officials attending included State Senator Scott Surovell, State Delegates David Bulova and Paul Krizek, Franconia District Supervisor Rodney Lusk, and Mount Vernon District Supervisor Dan Storck.
www.ahsgardening.org