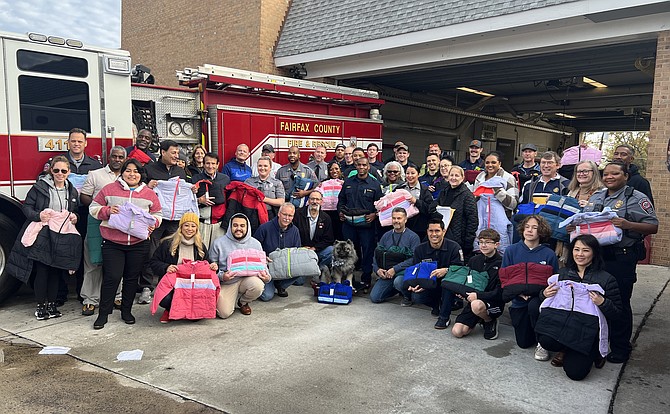 Fairfax County Fire and Rescue Chief John Butler, Mount Vernon District Supervisor Dan Storck and Franconia District Supervisor Rodney Lusk joined first responders and volunteers from throughout Northern Virginia to help distribute more than 2,000 new coats destined for children in need as part of the Oct. 31 Firefighters and Friends to the Rescue annual coat drive.
Held at Fire Station 11 in the Penn Daw section of the Route 1 corridor, Butler, Storck and Lusk helped prepare coats that were distributed to representatives of more than 50 schools, shelters and nonprofits. Children from the Mount Vernon Head Start program in Gum Springs were on hand to pick out their own coats.
"Today is always one of the best fall days," Storck said. "I see kids who are excited and energized to get a new coat and they get to pick out their own coat – that's really unusual that they can feel so empowered and get so much joy from doing something that many of us take for granted. It's the best day of the year."
Bailey founded the Firefighters and Friends to the Rescue nonprofit as part of a holiday toy drive more than two decades ago. The coat drive began 18 years ago.
"This is the 18th year distributing coats to the community," Bailey said. "We have come a long way. The first few years we gave away a few hundred used coats. Now fast forward 18 years later and with the help of Operation Warm we are providing thousands of new coats to families in need."
Coats are obtained through the national nonprofit Operation Warm with local volunteers sorting and distributing to those in need throughout the region.
"The work Willie does here on behalf of the fire department supports those in need in the community," Lusk said. "We both grew up in austere conditions so we understand what it's like to sometimes not have food or other things that normal people have. Making sure that those in this community get that support, whether it be backpacks, coats, toys for the holidays, Willie and the fire department have been exceptional. For me personally it's great to see the kids' facial expressions when they get their coats on – it really is very special."
In addition to Operation Warm, sponsors for the event include: Ken & Kelly Savittiere Family Fund; Apple Federal Credit Union; Firefighters and Friends to the Rescue; Progressive Firefighters of Fairfax Inc.; Local 2068; Fire & Rescue Retirement Association; PROMAX Management, Inc.; Nationwide Credit Corporation; Fairfax County Federation of Teachers; Medocracy, Inc.; Modern Technology Solutions, Inc.; Mount Vernon Connection; D & D Services; and Primo Family Restaurant.
"Our job is always helping people," said Domenick Iannelli, president of the Fairfax County Retired Firefighters Association. "This is a way to give back after we have retired – our way of still being involved in the community."
Added Bailey, "A new coat means so much to a child. It provides a child both physical and emotional warmth. It helps a student attend school, socialize with their peers and play outside with pride. And it reminds them that there are those in their community that care about their well-being and future."