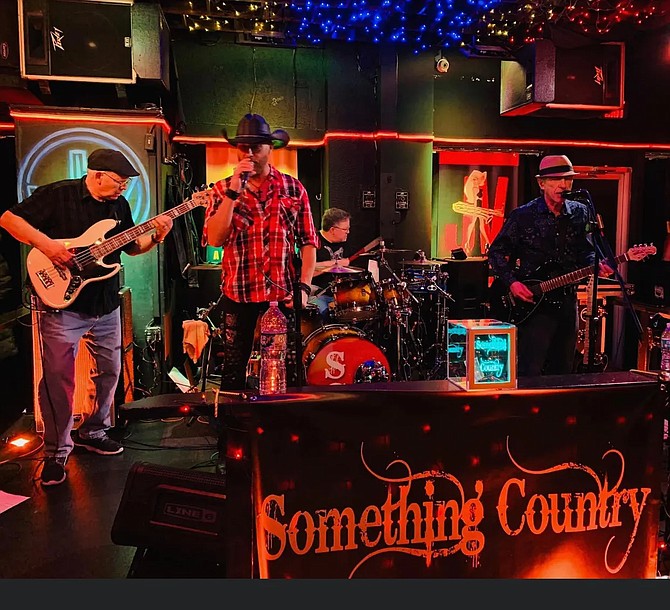 Country music has something that many other forms of music lack, and that's line dancing. A good song brings out the line dancers and the comradery so the band soaks it up, good times for all.
Mount Vernon resident Dan Futrell sees this happening when he is with his band, Something Country. "We tailor our music to dancing," he said. Dan Futrell is the lead singer and band manager. "There's a line dance for every song, they can all dance together," he added, "we have a large following."
Something Country is accustomed to getting the audience familiar with country line dancing, as appropriate, to increase the fun. They have professional level equipment, including sound and lighting, to fit medium to large event venues. They play hits by all the big country names such as Chris Stapleton, Luke Combs, The Osbourne Brothers, Brantley Gilbert, Dierks Bentley, Randy Houser, Keith Urban, Kenny Chesney, Tim McGraw, Toby Keith, Johnny Cash, Brooks & Dunn, Garth Brooks, Hank Williams Jr., Dwight Yoakam, John Denver, Steve Earle, Waylon Jennings, and Willie Nelson.
Garth Brooks is a big influence, Futrell said. "My passion is music," he added.
In this area, they used to play at Nick's which was a country venue off Van Dorn Street in Alexandria. Now some of their area venues include the Electric Palm in Occoquan, Vantage Brewery in Leesburg and Pete's in Springfield. They've also played at various American Legion halls throughout the area. "They can't get enough of us," Futrell said.
The line up on stage includes Dan Futrell on lead vocals, Larry Orf on guitar and background vocals, Dave "ZMan" Zilinkskas on bass, Tad Ferris on drums and Don Kahl manages the sound. During the work week, the drummer is an international lawyer and the lead guitarist "is one of the best in the area," Futrell said.
Something Country Upcoming Shows:
Saturday, May 20, at the Vanish Farmwoods Brewery, Leesburg

Friday, June 9 at the Electric Palm in Woodbridge,

Saturday, July 29 at the Vanish Farmwoods Brewery, Leesburg