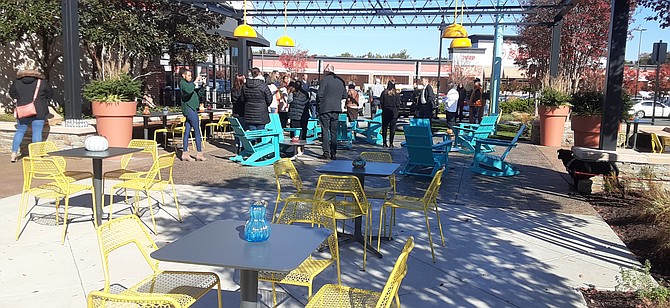 A sense of community was in the air at the first "parklet," opening on Tuesday, Oct. 19 in the Mount Vernon Plaza shopping center.
The parklet is a creation of Federal Realty and the Southeast Fairfax Development Corporation to introduce a 3200-square-foot gathering space that features a trellis, green space, porch swing benches and soma stones along with new café seating, lighting and landscaping. Construction began last May.
"It started with an idea," said Evan Kauffman of the SFDC. "We're trying to find creative ways to enliven this corridor," he added.
Supervisor Rodney Lusk (D-Franconia) and Dan Storck (D-Mount Vernon) are also part of the efforts going on in this area to spruce up the environment and modernize things. "This is just the beginning of what's going to happen on this corridor," Lusk said.
It was the fourth ribbon cutting ceremony Storck has attended in the last two weeks so that's a sign things are changing on the Richmond Highway corridor. Following the parklet ribbon cutting, the community organizers and elected officials walked across the parking lot and cut another ribbon on a new restaurant, "Della J's,'" part of the improved picture this area is experiencing.
Enliven an Enhance
Last spring, the SFDC was involved with the first of three murals in the "Paint the Corridor," project in Mount Vernon. There are two more murals on the drawing board for this project. SFDC is already in talks with other Richmond Highway shopping centers about creating their own parklets.
Kauffman talked about the new mural planned for the Penn Daw area on the side of a Zips Dry Cleaning building there that will brighten this area up, especially after a devastating fire rolled through there about two years ago. They are currently talking with artists, and are looking at some time this winter to start painting.
The big element that's coming to this area is called "Embark Richmond Highway," largely the brainstorm of Supervisor Storck. Embark is an initiative focused on creating a multimodal future for Richmond Highway Corridor where residents, workers, and visitors can walk, bike, take transit or drive to the places they want to go. A bus rapid transit rolling down the middle of Richmond Highway is the key element of Embark, with communities growing around the planned stops.