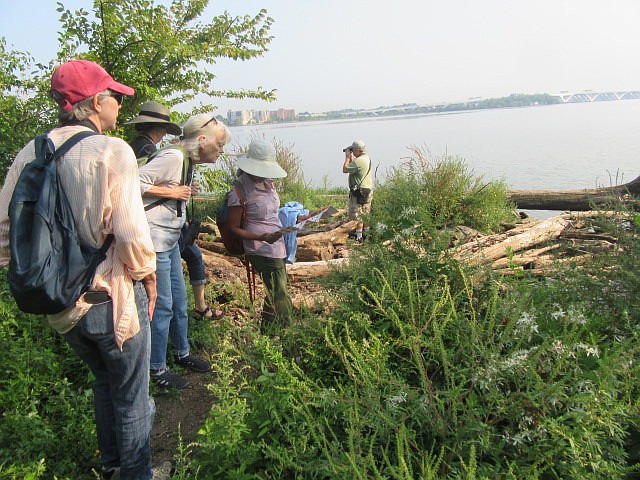 To know a park, you must visit it. On Sept. 24, Jai Cole met her goal of visiting all 420 county parks in her first year after being appointed executive director of the Fairfax County Park Authority in the fall of 2021. Cole completed her list and checked off the final park, number 420, Lake Fairfax in Reston, coinciding with National Public Lands Day. It is the nation's largest single-day volunteer event for public lands. 
Standing at the park, her back to the lake and families fishing from the dock, Cole said that she spent her childhood in Reston. Its green and blue spaces, as well as those of Lake Fairfax, served as her playground. Part of her job for the past year had been to revert to her childhood self. From the fall of 2021 to the fall of 2022, Cole traipsed through the Park Authority's forests, lakes, wetlands, ponds, meadows, and streams. She gained first-hand knowledge of their assets, characteristics, and needs.
"I am a finisher, so if I start something, I finish it." She had asked herself how she could fight for something important to so many people if she didn't know about it. Cole described how she gained knowledge from staff, volunteers, and visitors.
"I think the main thing [of visiting all the parks] was seeing the reactions of people when they talk about a need for their park. I know my head is nodding because I have seen it, or we are already working on fixing that thing," Cole said.
Sitting in an office differs from visiting and seeing people using facilities, Cole said. She described parkgoers having fun getting healthy, children having fun with athletics, and others having fun being contemplative while walking through the forest.
"Sometimes in this business, we forget that we are in the business of fun. That is what we do," Cole said.
William G. "Bill" Bouie, Chairman of the Fairfax County Park Authority Board and Hunter Mill District representative, welcomed everyone to Lake Fairfax Park. "One of the crown jewels of the Park Authority where you can fish, walk, play, do all sorts of things. The bottom line is it provides a multi-day experience of camping, skate park, classes, camps, everything." 
Bouie paused before making an announcement. "We will be opening a full-size, in-line skating facility up on the upper field in partnership with the Washington Capitals and the National Hockey League," he said.
Bouie explained that since its inception in 1994, National Public Lands Day has traditionally been the single most significant day of volunteerism in the nation. It promotes environmental stewardship and encourages the use of open space for education, recreation, and other benefits.
U.S. Rep. Gerry Connolly said that Fairfax County has the right proportion of open and recreational space for people to live, work, and play. "We are creating an environmentally sensitive and vibrant community for all," he said. Connolly reminded everyone that the county would soon celebrate 10 percent of its landmass being Park Authority land.
"That reflects the values of a community that cares about creating open space opportunities and recreational opportunities for all of its residents." "That is very consistent with the One Fairfax that the Board of Supervisors has adopted," Connolly said.
Jeffrey C. McKay said, like many families in the county, he would benefit from visiting at least four county parks before the end of the day. That would be for his children's soccer games and his usual mental health break on Saturday afternoons, a quiet walk through Huntley Meadows Park. 
McKay said that the Park Authority was founded in 1950 with 15 acres, two employees, and a contribution of $250 to support the park. "Today, we invested over $80 million directly into the Fairfax County Park Authority. And when you add some of the other fees and other funds that come into the parks, you are talking about a $100 million enterprise to run Fairfax County Public Parks," McKay said. The Board of Supervisors is constantly expanding park space, improving facilities, and ensuring that all residents have affordable and, in most cases, free access to the parks, he said.
McKay addressed the urgent climate crisis, saying it requires the board to act. "We have put in place with our Board of Supervisors a goal of being carbon neutral by 2050."  Public open space, green space, preserving and protecting elements of the environment are critical in that effort. "Parks play an essential role in achieving that in Fairfax County."