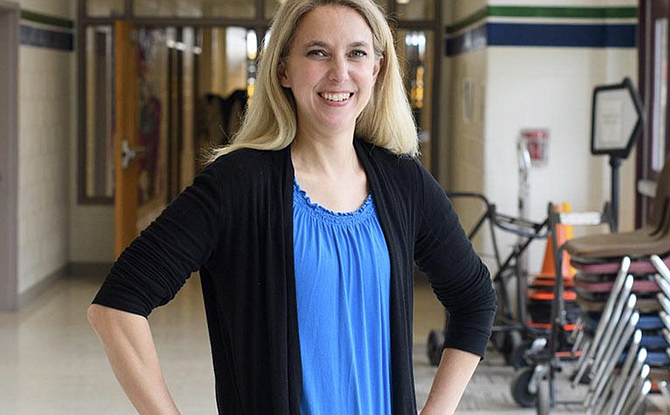 At its Honors Reception and Recognition Ceremony on Wednesday, June 8, Fairfax County Public Schools paid tribute to its employees who excelled in teaching students, leading schools, and providing support throughout the 2021–2022 school year. One of the twelve outstanding award recipients is an FCPS employee at Kilmer Middle School in Vienna. Amy Miller received the Outstanding Principal Award.
The program may be considered the school division's Oscars celebration, recognizing exceptional individuals serving in both instructional and operational roles.
Sponsored by Educate Fairfax, over 730 employees, including 71 finalists and 12 winners in 12 different award categories, were recognized at FCPS Honors, held at George Mason Center for the Arts. Fairfax County Public Schools has nearly 25,000 employees.
"You navigated the unexpected with grace and inspired those around you to do the same," Dr. Scott S. Brabrand, superintendent of Fairfax County Public Schools, said during his opening remarks at the event. "Life is unpredictable, and adaptability is a great asset to have. Instead of focusing on the difficulties, you viewed them as opportunities."
Colleagues, parents, students, and community members could nominate FCPS employees who had to meet certain position-specific requirements. Award liaisons from participating schools and departments collaborated with the employee awards team throughout the selection process.
The following comments are sourced from releases by FCPS and the Awards Program. 
When Amy Miller took over as Principal of Kilmer Middle School in 2020, it was evident that developing connections and cultivating a community of belonging was at the heart of who she is as a school leader. "She immediately connected with each person in the building. Her open-door policy provides a warm and nurturing spirit. She ignites and inspires a new sense of passion and professionalism. Amy enables teachers to teach at their best and students to learn at their utmost."
The Twelve Outstanding Countywide Awardees
* Outstanding Principal Award- Amy Miller, Principal at Kilmer Middle School in Vienna
* Outstanding New Principal Award- Ellen Mukai, principal of Brookfield Elementary School in Chantilly
* Outstanding Elementary Teacher-Essel Linton Music Teacher
 Annandale Terrace Elementary School in Annandale
* Outstanding Elementary New Teacher- Shelby Megan Press Second Grade Teacher Riverside Elementary School in Alexandria
* Outstanding Secondary Teacher - Kathleen Jacoby Herndon High School Band Director in Herndon
* Outstanding New Secondary Teacher- Matthew Fredericks at Hughes Middle School in Reston
* Outstanding School-Based Professional Employee: Blair Smith, Assistant Director of Student Activities at Centreville High School in Centreville
* Outstanding Nonschool-Based Professional Employee: Rebecca Jo Pollard, Project Support Coach Willow Oaks Administrative Center in Fairfax
* Outstanding School-Based Operational Employee: Frank Sarfo Custodian I Little Run Elementary School in Fairfax
* Outstanding Nonschool-Based Operational Employee: Cassandra Ann Allen, Transportation Instructor Forte Center in Springfield
* Outstanding School-Based Leader: Bianca Aiello Director of Student Services, Poe Middle School in Annandale
* Outstanding Nonschool-Based Leader: Melissa Russell Director II, Payroll Management Gatehouse Administrative Center in Falls Church
For a complete list of all Outstanding Awardees, Finalists, and School Recipients, visit the 2022 FCPS Honors Program at https://www.fcps.edu/sites/default/files/media/pdf/2022-fcps-honors-program.pdf.