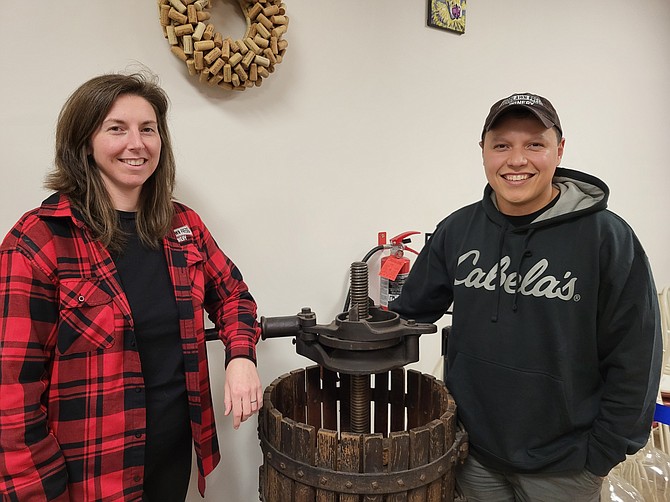 A sense of family is one of the driving forces behind the Woodlawn Press Winery in Mount Vernon. From the hand-written recipe that was found in a 1950s wine barrel to the grape press from the 1920s, tradition is a part of the success, according to owners Bonnie and Andrew Rosado.
"We were opening a barrel and found this recipe," said Bonnie Rosado. The handwritten recipe for a certain red wine they make is in a frame by the door and is labeled, "A Copy of Joseph Evangelista's Red Wine Recipe."
Now they produce about 2500 gallons of wine a year and have about 20 varieties to choose from. Their most popular wine is their signature red called the Bourbon Barrel Aged Malbec. "We've got something for everybody," said Andrew Rosado. They started with four sweet wines, two reds and two whites.
Everything is done on the premises too. In the backroom, there are stainless steel vats and oak barrels, a couple of corking presses and the materials to make the labels. "We do everything manually," said Andrew Rosado. He is there just about every day making wine. Bonnie Rosado only has limited hours during the week because she has a full-time job with the government.
The family got into wine making in the 1920s when relatives started making wine and a grandmother went to jail briefly for a licensing violation, which they joke about now. They have a cousin that makes wine up in Pennsylvania and a sister that has a micro winery in Virginia Beach. 
"We share ideas," said Bonnie Rosado. "We talk about wine flavors all the time."
Three years ago, the Rosado's opened the Woodlawn location, but there were some laws in place that made it a bumpy road for the couple. They contacted Virginia Sen. Scott Surovell (D-36th) and he enacted a law that helped the winery get going. At that time, there was a law in place that said their wine needed to use only fruits grown in Virginia.
Surovell noted that the limited space in the Mount Vernon corridor is not conducive to a big winery, but the Rosado's took advantage of the micro-winery technology. 
Virginia has over 230 craft breweries, 45 craft distilleries and 300 wineries, Surovell noted. "These local businesses help to keep local dollars in our local community and help define the culture of our area," Surovell said.
Wine Pairing
Their location in a small strip mall off Richmond Highway wasn't ideal, but the rental price was right. Since then, they've become acquainted with "Momo Poke," next door, a Hawaiian restaurant run by another husband-and-wife pair. 
"We're always doing something with them," said Bonnie Rosado. It started out with Momo Poke delivering food to the wine tasting room and now the Rosado's are helping them get a alcohol license so the wine can be served next door as well.
Around town, the wine from Woodlawn Press Winery is now served in Del Ray Pizza and River-Sea Chocolate in Chantilly. They've also had their wine at festivals in Fredericksburg, the Occoquan Arts Festival and an event at River Farm in Mount Vernon.
Mount Vernon Supervisor Dan Storck supports local businesses and picked the winery as a partner last summer at the Mount Vernon Nights Summer Concert series. "We are always happy to welcome new, local businesses to our area, but even more so when they are owned and operated by local residents," he said.
Woodlawn Press Winery is in the 'Made in Fairfax' gift guide too, Browse the guide at https://www.fxva.com/blog/post/made-in-fairfax-holidaygift-guide/
Woodlawn Press Winery
www.wpwinery.com
8733 Cooper Rd, Alexandria
(703) 828-7120