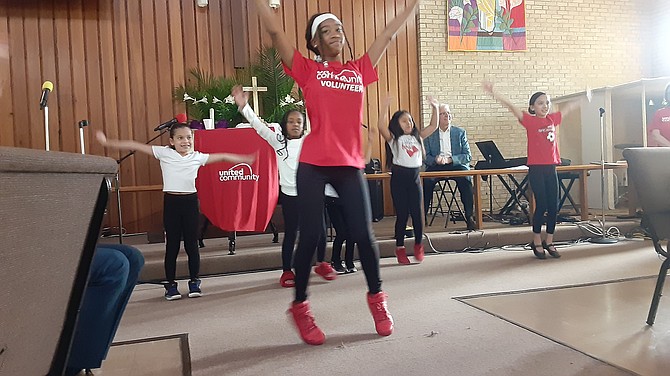 If the Washington Metropolitan area is looked at as a mixing bowl of cultures and ethnicities, Hybla Valley may be the center of that mixing bowl, with Reverend Dr. Keary Kincannon leading the way. For all that he achieved, Kincannon was recently awarded the Gerald W. Hyland Humanitarian Award in front of a church full of residents that recognized his efforts at the United Community's Volunteer Appreciation Day ceremony on Saturday, April 23.
Although Kincannon was grateful to be recognized, he was not about to leave all the others out, especially the number of volunteers at United Community, and his wife Judy. "I would never have been able to do this alone," he said, "I share this award with you."
United Community's Board of Directors created the Hyland Award in 2017 to recognize  outstanding individuals who have demonstrated a long-term, sustained commitment to  serving people in need through empowering, transforming and enriching the lives of residents of the surrounding communities. The award is named for Gerald W. Hyland, a former member of the Fairfax County Board of Supervisors who represented the Mount Vernon Community for 28 years prior to his retirement in 2015. United Community worked together with Kincannon and continues today, even with Kincannon retired from his position as pastor of Rising Hope Mission Church.
Hyland was at the ceremony too, via a video monitor, and he acknowledged the efforts of Kincannon. "No words can really express my thanks to him," Hyland said. "Thank you for your selflessness which is an inspiration to us all," Hyland said.
Others were in line with those thoughts. "His main strength is love for all mankind," said Ellen McClure, who puts in many hours with the United Community effort.
"He led our community in prayer and action," added Supervisor Rodney Lusk (D-Lee). "Pastor Kincannon has dedicated his life to helping others." 
"We are just 'one'," said Eva Webb who leads a group of volunteers from a part of the community that includes Jenna Lee Avenue, an area that Kincannon worked on. "He's open minded, we're all inclusive," she added.
Gala of all Galas
The morning started out with tables of food in the hall of Woodlawn Faith United Methodist Church and lots of smiles around the church. Then there were speeches, dancing and poems to set the mood. Tom Curcio, the chairman at UC, was the master of ceremonies and he reflected back on the volunteer efforts with the food distribution which picked up after Covid hit. In 2021, they recorded 3,500 volunteer hours "and we were able to feed 6,000 families," Curcio said.
Niema Knight from the Sacramento Community Center did the poetry reading followed by a dance performance led by Bethany Barber, an eighth grader at Carl Sandburg Middle School. Other participants included Candace Brown, Rev. Dr. Brian K. Brown and Carla Claure who spoke in her native language which was a factor she overcame when she immigrated to Mount Vernon from South America. Blanca Vasquez translated through the event.