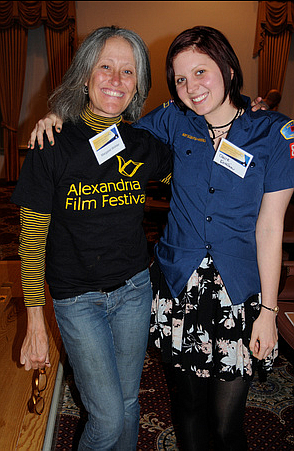 The parallels between a growth in family relationships, and a recipe for the family's sweet potato pie all come together in Sam Houston's indy film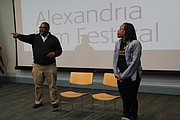 "12 Ingredients Over the Generations." What stays and what gets left behind? Houston asks in the film's introduction. It's one of the locally produced pieces in this year's Alexandria Film Festival which is coming up in early November.
"The pie is a metaphor for how things change as you go through the generations," Houston said.
Houston is a former resident of Hollin Hills and this is the fifth year he has been part of the film festival. He moved to Hollin Hills in 2005 and became immersed in the "Docs in Progress," program in Silver Spring before recently moving out to Seattle to be with his children, who are now adults. The sweet potato pie film was filmed entirely in Alexandria.
Documentaries are the film genre that Houston likes the most, and through the years, subjects he's touched on include a film about a city woman dreaming of moving out to the country, a film about transgender transition, an African American doctor, and one about an Asian artist, to name a few. His "exploring issues of race, gender and culture, primarily from a personal perspective, is driven by the belief that storytelling through film is one of our most efficient tools to ignite empathy and inspire social change," he said.
But as films evolve, so do his subjects. Houston's next documentary is about a friend that finds a rare British car sitting unnoticed in a barn in Texas. Turns out, this car is a rare MG he says is "the oldest-known Morris automobile imported from the UK to the US." It is now in Woodstock New York being brought back to life after 71 years, and will be featured in MG Motors 75th anniversary celebration. "It's a really big deal," he said.
Houston loves the film festival atmosphere and has been in many throughout the years. "It's a great opportunity to go and meet your peers, and learn from other filmmakers," he said. He's been recognized in the DC Independent Film Festival; the Social Justice Film Festival - Seattle; Seattle Transgender Film Festival; Utopia Film Festival - Greenbelt, Md.; and the Miami Independent Film Festival in Miami, Fla.
He is dedicated to socially conscious filmmaking, even if the antique car film he's working on is not in that genre. "I decided to do something completely different," he said.
Alexandria Film Festival
The Alexandria Film Festival is in its 13th year and continues to showcase up and coming faces in the film industry on a local scale. This year the festival runs from Nov. 12-15 at 500 Alexandria Avenue. "The Alexandria Film Festival brings high-quality short and feature length films, documentaries, filmmaker panels, and arts presentations to the historic port city of Alexandria, Virginia," the website states. In addition to Houston's documentary, this year's films touch on subjects such as love at first sight, mothers finding comfort in each other after a tragedy, deportation, and big brother's watching eyes – they're everywhere.
This year, the Alexandria Film Festival and the Alexandria Symphony Orchestra are partnering with a combined expertise to produce a special blend of orchestral music and original film. The two organizations will commission five new films to be screened "live to picture" with American orchestral pieces performed by the orchestra.