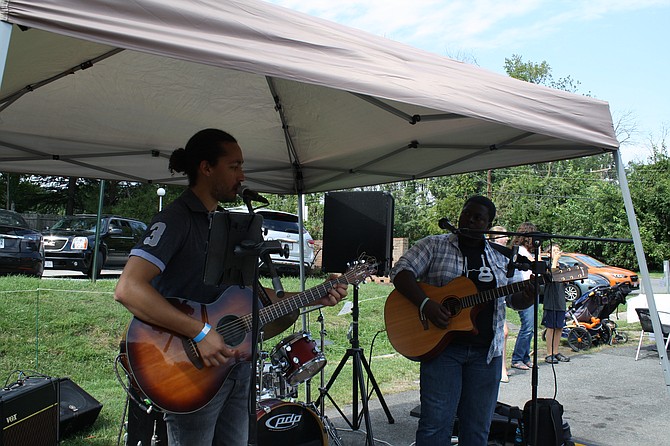 Mount Vernon — When the Del Ray Pizzeria opened a second location in Belle Haven, the neighborhood embraced them and their relationship as the local hangout has grown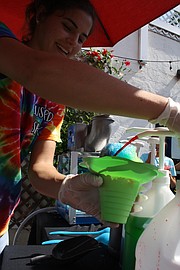 ever since. The restaurant paid them back on Saturday, Sept. 22, throwing a block party with beer, food, ice cream, balloon animals and a band called "A Note Two Self."
"The community has been so welcoming to us, we wanted to give something back," said Erin Eley, DRP's assistant general manager.
Eley saw the band at Southside Restaurant on Washington Street, and thought their mix of cover tunes would be an ideal fit for the event.
The band kicked off with a tune from The Cure, and mixed in Led Zeppelin and others throughout the afternoon.
The front parking lot at DRP was a collection of breweries from the area, a pizza table, the frozen custard stand and a snow cone stand, where Claire Taylor, 16, dished out the frozen treats. She is a senior at nearby West Potomac High School and was glad to get a spot by the band, but noted how the colorful flavors are a big draw.
"Kids enjoy them because they get to pick their colors," she said.
A group of Mount Vernon residents got out their Oktoberfest outfits of dirndls and lederhosen even though it was still September. "We are a party," said Ines Thornburg, who was there with her husband Mike, and neighbors Volkmar and Laurel Heratsch.
In the Port City tent, sales manager William Bruder was pouring their Belgian style wheat beer called "Optimal Wit," and was proud of the fact that the wheat they use had a local hook. Port City is located over on Wheeler Avenue on the west side of Alexandria.
"It's a Belgian-style wheat beer, all Virginia wheat, it's nice to know you're supporting the state's agriculture," he said.