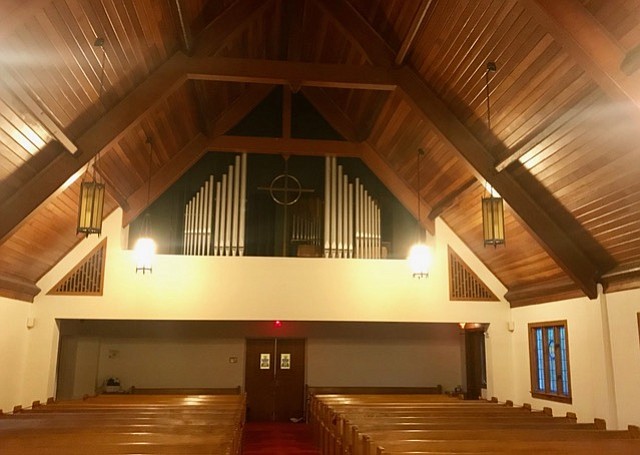 Two years ago, the congregation of the Arlington Presbyterian Church made a difficult choice. The church would be demolished to make way for an affordable housing apartment complex.
The church, which originally was chartered in 1908 on Columbia Pike, was destroyed by a fire just before Christmas in 1924. While little could be salvaged from the church after the 1924 fire, many components from the church would be salvaged in 2016, including the pipe organ that had been a cornerstone of parishioners' experience at Arlington Presbyterian for decades.
When Arlington Presbyterian began publicizing the availability of its organ, the 40-year-old organ at Calvary Presbyterian Church, on Old Kings Highway in Alexandria, had recently been diagnosed with "metal fatigue," a death sentence for an organ. Learning of the availability of the organ from its neighboring congregation in Arlington, Calvary put together a letter of intent to be considered for relocation of the pipe organ.
Calvary submitted its letter in March of 2016 and learned a few weeks later — just after Easter — that Arlington had selected them as the new home for its organ from among many suitors based on corresponding need and cultural fit. The next potential obstacle was whether the pipework of the organ – with its 14 "ranks" and 854 individual pipes – could physically fit in Calvary's sanctuary. Out came the measuring tapes and, low and behold, the pipes would fit like a glove within the church's balcony. Moreover, the baroque-like appearance of the pipes would find a comfortable home in Calvary's sanctuary, which was constructed in 1954 and remains faithful to the traditional style of churches from that era.
However ideal the fit, the move and installation nonetheless was an extended process that required the effort of a team of architects, engineers, carpenters,electricians, construction contractors, asbestos remediators, consultants, inspectors, and organ technicians.

It was more than two years from Calvary's selection for the instrument to be installed and operational, following a celebratory and cathartic pipe washing party.
Today, looking upward from the pulpit of Calvary's sanctuary on Old King's Highway, the pipe organ looks right at home. As the sounds of the instrument fill the sanctuary on Organ Dedication Sunday — Sept. 23 at 10: a.m., it will be clear that the transplanted pipe organ from Arlington Presbyterian has gained new life at Calvary Presbyterian church.
See www.calvarypres.org.