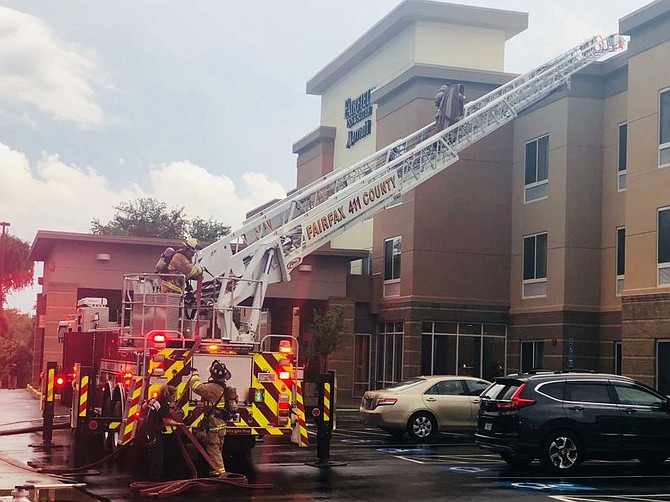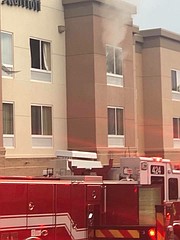 Units from the Fairfax County Fire and Rescue Department and City of Alexandria Fire Department were dispatched Friday, Sept. 7, at approximately 6:05 p.m., for a report of smoke in a building in the 6400 block of Richmond Highway in the Belle Haven section.
Units arrived on scene and found a three-story hotel with no fire or smoke visible from the outside. Upon further investigation, crews located a fire in the mechanical room on the roof, attic, and walls between some of the third floor rooms. Fire sprinklers activated and assisted in limiting the spread of the fire, minimizing property loss, and helping occupants safely evacuate.
A second alarm was requested for additional firefighting resources and assistance with evacuating hotel guests. A Fairfax Connector bus was requested to provide shelter for displaced guests. There were no reported civilian or firefighter injuries.
Twenty-five rooms with a total of 50 guests were occupied at the time of the fire. The on-duty hotel assistant manager discovered the fire after he heard a loud lightning strike outside followed by a loss of power to the hotel. The fire alarm system and smoke alarms activated.
Fire investigators determined that the fire in the attic space was caused by a lightning strike. The fire was contained to the attic and extended over two unoccupied rooms.
Fifty guests were displaced because of the fire. Red Cross assistance was not needed due to the hotel relocating the guests. Damages as a result of the fire were approximately $65,000.